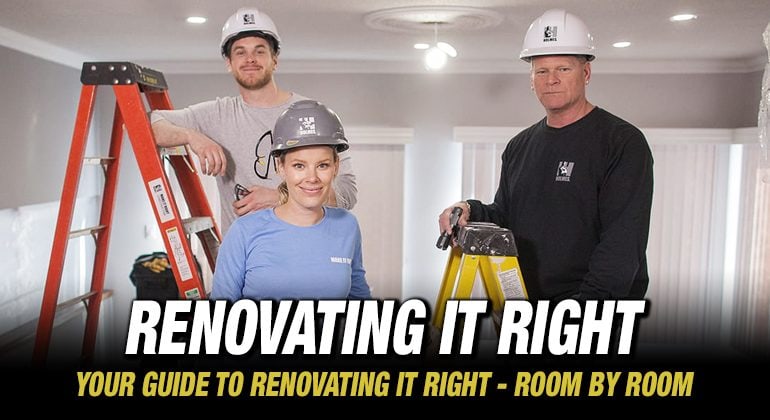 Your Guide to Renovating It Right – Room By Room
By Mike Holmes
Tuesday, March 9th, 2021 @ 1:52pm
I get thousands of emails and messages on social media every year asking for my tips about home renovations. When planning a remodel- there's a lot to consider. Your home is the biggest investment you'll ever make – and I like hearing from homeowners with their questions because it means they're committed to doing it right.
The problem is, I can't answer every single one (believe me, I wish I could) – and while I try my best, I just fall short. In lieu of that, I am publishing the ULTIMATE home reno guide, Holmes style.
So are you planning to renovate your kitchen? Your bathroom? Basement? Click or scroll down to the relevant section and start reading.
Hiring the Right Team
Exterior Renovations
Important Interior Systems
Electrical Safety
Kitchens
Bathrooms
Basements
Living Room & Home Offices
Backyards & Decks
Landscaping Upgrades
Upgrading to a Smart Home
Creating A Healthy Home
HIRING THE RIGHT TEAM
---
It starts with picking the right team for your renovation. You want a contractor who will do the job right – including pulling the permits, hiring the right sub-trades, and working WITH you to design a renovation that suits your needs. Here's where you start.
How To Hire A Contractor – Get It In Writing
Remember, hiring the RIGHT contractor can take just as long as it takes to do the project itself. Do NOT rush this step – it could mean the difference between your dream renovation, and a nightmare.
How to Hire a Contractor – Do A Background Check
Make sure that your contractor has the right licenses and insurance before you hire them for your job. If they don't – move on to the next contractor on your list.
When building a new home, not all builders are created equally. I started my Holmes Approved Homes program to help do the legwork for you. If one doesn't live in your area and you're building a new home, here's a guide to choosing the right one.
10 Tips for Choosing Your Roofing Contractor
A written contract is a must for any renovation project – the days of the handshake deal are OVER.

9 Signs You've Hired a Bad Contractor
Unfortunately, sometimes you can do all the right homework, and still hire the wrong person for your team. Here are the red flags you want to keep an eye out for when your contractor starts work.
EXTERIOR RENOVATIONS
---
I always say to fix your home starting from the outside in. If your home's building envelope is in bad shape – the elements will enter, wreaking havoc with your interior systems leading to mold, rot, and a whole host of other problems. Your first renovation priority is to ensure that the home's exterior is in good shape.
6 Types of Exterior Building Envelopes
Your building envelope is a key component to keep the elements out of your home, and keeping the good, warm air inside. Here you can explore your options with 6 different types of exterior building envelopes, including Vipeq's Spray Cork.
If you're careful – painting makes a great DIY job. Why? Generally, since it's just a cosmetic change, if you do make a mistake, you're not compromising the integrity of your home's structure. Here's my guide to painting outdoor structures.
You don't realize how important a good quality roof is until yours starts to fail. Choose the right type of shingle with a good warranty. Installing a new roof needs to be left to the pros. Here's my guide to roof it right.
3 Tips for Choosing Your New Asphalt Roof
When it's time to choose a new roof – make sure you're choosing a quality material. Asphalt shingles have come a long way – but you need to ensure they're installed properly and include a good warranty. That's how you get a roof that lasts a lifetime.
IMPORTANT INTERIOR SYSTEMS
---
Once you've taken care of the outside, your first indoor tasks should be ensuring that the main systems of your house are safe, secure, and strong. I'm talking about things like your furnace – as well as ensuring your electrical setup is safe.
Do You Know What's In Your Furnace Room?
Your HVAC system is what keeps your home breathing. It's important to understand all the fundamental systems that live there. For example, if your home has a Heat Recovery Ventilator (HRV), it's important that you do not shut it off. Here is where you can learn the ins and outs of your furnace room.
If you're looking to replace your furnace you might want to consider investing in a heat pump. A residential heat pump is an HVAC system that uses refrigeration and electricity to provide heating and cooling to a home. They are very energy efficient, and can reduce your electricity consumption by 50% compared to electric resistance heating such as furnaces or baseboard heaters.
You generally have two options for your crawl space. One: keep it a cold zone separate from the rest of the house. Or two: insulate it with the rest of the home, giving you a small increase in space. Which is the right option? Here's your guide to help you decide.
ELECTRICAL SAFETY
---
For most renovations, you're going to be opening up your walls – and that's a great opportunity for you to take a look at your electrical and ensure everything is in good shape. Any time you're making upgrades that involve your electricity, you must acquire the proper permits to do so.
All electrical work must be completed by a licensed electrical contractor.
How to Protect Yourself From Electrical Fires
Electrical fires account for around 20% of all house fires in Canada. Make sure you've taken steps to keep your electrical set up safe. Next time you're doing a renovation that opens up the walls, allocate some of your budget to bring in a licensed electrician to check things out.
Your Main Electrical Panel – Explained
It's important to understand your main electrical panel – not so that you can tackle repairs on your own. But it's important to have an understanding of how it works, and how you can best protect it. One way you can do so is by installing whole-home surge protection from Eaton.
KITCHENS
---
A kitchen renovation is a big-ticket item that can seriously raise the value of your home – if it's done right. But you have a lot of things to consider from proper lighting to material selection, as well as layout and finishes. Here are a few articles to get you thinking about your next kitchen upgrade.
5 Tips to Upgrade Your Kitchen and Increase its Value
Your kitchen renovation can provide a great return on your investment – provided it's done right. That means going above and beyond making aesthetic changes, and ensuring that the change you're making is worthwhile.
Top 10 Kitchen Problems and Solutions
Here are some of the most common kitchen problems I come across – and how you can solve them.
Ventilation in Kitchens and Bathrooms
Having the right kind of ventilation in spaces where you accumulate a lot of moisture like kitchens and bathrooms is so necessary. Your kitchen renovation should include a check of your ventilation system to make sure it can properly pull out all that excess moisture you make when you cook.
Does your kitchen provide enough task lighting over your work surfaces? Here's my guide to getting the right kind of light in your kitchen.
Choosing a Kitchen Sink for Your Remodel
You've got a ton of options to choose from when it comes to your new kitchen sink. The Clean Home Series from Kraus actually have non-porous surfaces that reduce places where dirt and grime can hide, contributing to a cleaner home.
Your Post Kitchen Renovation Checklist
Just because your renovation looks done, doesn't mean it's there yet. Before you hand over that last payment to your contractor, read this first.
BATHROOMS
---
Bathroom remodeling projects are also going to increase the value of your home. Adding or expanding a bathroom can provide a great return on your investment, and make your home a lot more usable as well.
Bathrooms are a tricky renovation because you're dealing with a room that gets a lot of water. You have to take steps to ensure that everything is protected against potential mold growth. The reason we exclusively use Schluter products on our shows is that they help us create that water-tight bathroom that we need. Here's how to get started on your bathroom renovation.
How To: Pick Materials for Your Next Bathroom Remodel
In a bathroom, you need to ensure things are water-tight so you don't invite mold growth into the space. There's a reason we always use Schluter Systems products in our bathrooms – we know that it will do the job right.
Do's and Don'ts of Your Bathroom Reno
Bathrooms are another big money area of the home. When you renovate it right, you can increase the value of your home – but if you do it wrong, you could be looking at serious mold and rot. Here's what to do.
Flooring Guide for your Bathrooms – Do's and Don'ts
When you're redoing your bathroom floors, you need to have your contractor take out the old floor and inspect the subfloor below. Do not ever put new flooring over the old.
RELATED:
Ventilation in Kitchens and Bathrooms
Your bathroom fan needs enough power to be powerful enough to pull all that moisture out. Try the tissue test: turn the fan on, hold
a piece of tissue up to the fan and let go. If the fan holds it in place, your fan is in good shape. If it falls to the ground, call your HVAC specialist.
Benefits of Adding a Shower to your Basement
Adding a full bath to your basement is a great investment. It supports a growing family, an income suite, and will increase the value. But it has to be done right.
Shower Benches – Why You Might Need One in Your Bathroom
A shower bench can provide a lot of utility – either as extra storage space, or to meet some accessibility needs. Schluter Systems has a line of prefabricated shower benches to meet any need.
BASEMENTS
---
Like your bathrooms, basements are a place where moisture can be prevalent, so your renovation efforts here need to focus on creating a warm space free from water intrusion. A basement makes a great space for an extra bathroom, a man cave, games room, bar, or whatever inspires you. Here's what you need to know.
19 Basement Ideas to Inspire You
If your basement is unfinished, it's a totally blank canvas that you can design into the space of your dreams. Here are some ideas to get you thinking.
5 Common Mistakes I See in Basement Renovations
Basements are moisture magnets – and if you don't take the right steps to waterproof it, you'll create a breeding ground for mold. Here are 5 mistakes I want you to avoid in your basement renovation.
Preventing Heat Loss in Your Basement
The basement is one of the most common areas you'll see heat loss in your home. Here's how to properly insulate your space to keep it warm and cozy.
Read This Before Renovating Your Laundry Room
Like it or not – a laundry room is one of the most used spaces in your home. Here's what you'll want to know before you renovate your laundry room.
LIVING ROOM & HOME OFFICE IDEAS
---
The pandemic changed the way we interact with our homes, and many of us had to design home offices on the fly, carved out of space from our main living areas. This section is all about getting inspiration for your new living room and home office spaces, as well as talking about how what we need from our homes has changed since 2020.
9 Budget-Friendly Living Room Ideas That Can Make Any Space Feel Big
Learn how to make a multi-functional living room to incorporate our new normal and working from home.
13 Creative Home Office Ideas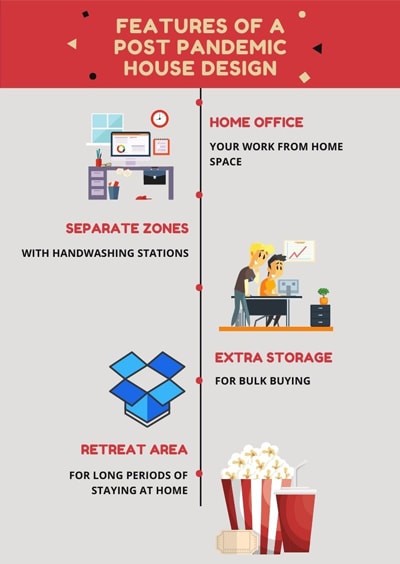 Have you transitioned to working from home? Get inspired by these 13 creative ideas for your new home office.
9 Home Trends That Resulted from the Pandemic
The way we've used our homes completely changed in 2020. If you're looking for ideas to pandemic-proof your home – here's where to start.
BACKYARDS & DECKS
---
Building a beautiful backyard oasis can take on many forms. For me, my Ultimate Backyard included a new deck, my beautiful pool, and an outdoor kitchen. Yours might include a fire pit, a beautiful barbecue space, or maybe lots of sprawling vegetable gardens. The choice is yours, but here are some ideas to get you started.
4 Important Features for Deck Safety
Your outdoor structures like decks need to be built with safety in mind. Here are 4 features all decks need to remain safe.
8 Ways to Prevent Slips & Falls on Deck Stairs
Here are how to properly maintain your deck stairs and railings to prevent any nasty spills
Always hire a contractor to build your new deck and have it inspected if it's more than five years old.
Swimming Pools 101 – Everything You Need to Know Before Adding a Pool
Here are my tips for choosing the right pool for your backyard. The pros at Leisure Pools can have your pool installed quickly and easily.
Here are my tips to installing a hot tub the right way – including getting the proper permits.
Things to Consider When Building a Garden Shed
A shed can add some necessary outdoor storage on your property – but even a small shed might require a permit. Here are my tips for building it right.
LANDSCAPING UPGRADES
---
You might not think about it, but the changes you make outside your home can actually cause issues on the inside. By adding a garden, a new walkway, or replacing a retaining wall, you may be altering the grading of your property in such a way that you are allowing water to travel directly towards your home.
Making landscaping upgrades can do a lot for your home's curb appeal. Here's where to start.
Great Backyard and Patio Ideas
Your backyard is full of potential – and it's your opportunity to put down your unique stamp. If you need some inspiration to take your backyard to the next level, here are some ideas to get you thinking.
Protect Your Home from Spring Flooding
Your landscaping can be your greatest friend or biggest foe when it comes to managing water. Here's how to keep that water flowing away from your home.
Do's and Don'ts of Outdoor Home Projects
Just because your outdoor space is a canvas, doesn't mean you can paint all over it. There are some jobs that any homeowner can manage on their own, but some need to be left to the pros.
UPGRADING TO A SMART HOME
---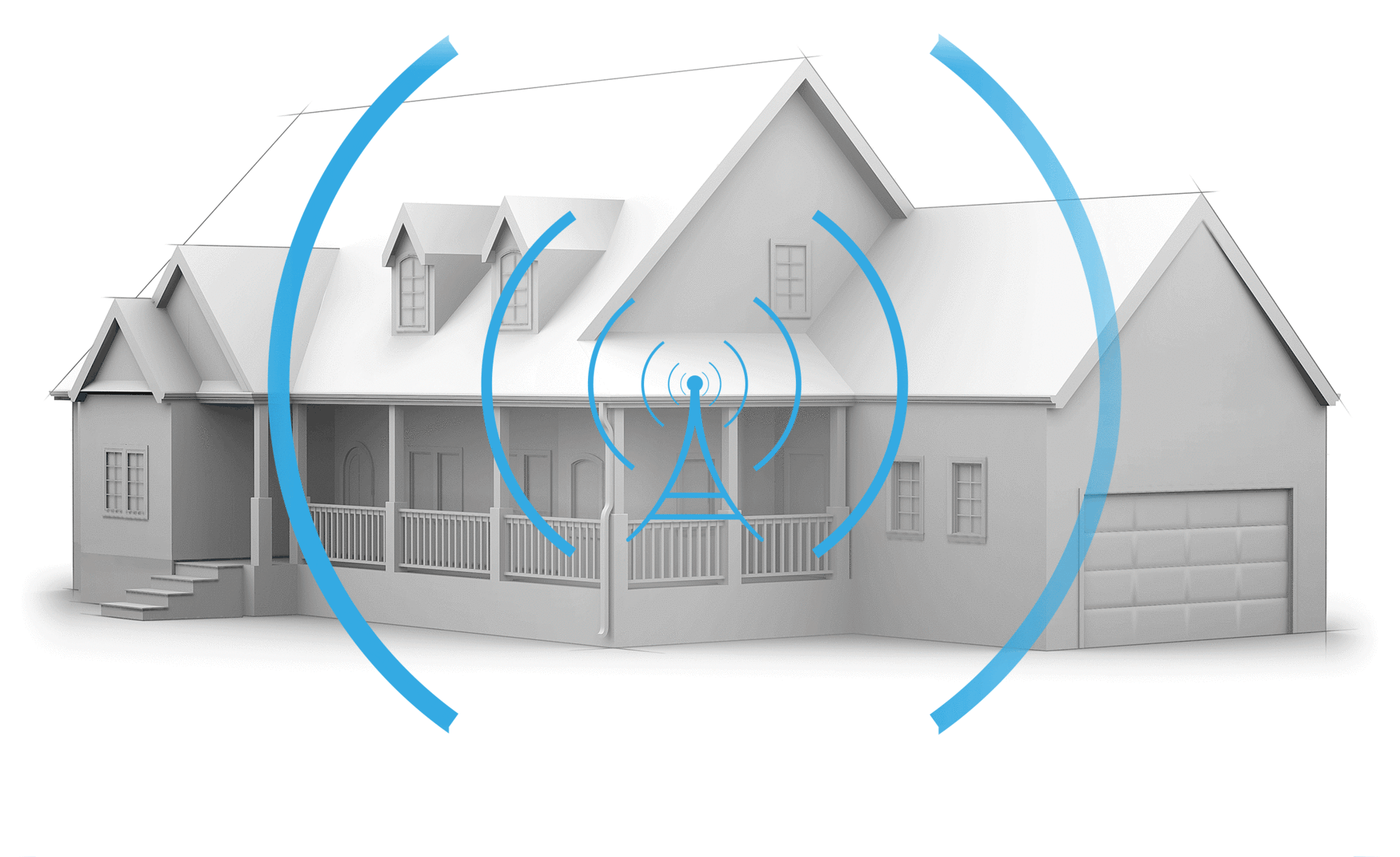 I love adding smart devices to my home, and on most projects I work on. Being able to monitor things like my energy efficiency in real-time is really awesome – and it lets me take immediate steps to lower my monthly energy bills.
Smart locks have a lot of great benefits too, like being to let my dog walker in while I'm away, to monitoring when my son visits my garage to "borrow" one of my tools. Here are a few considerations to make when upgrading to a smart home.
5 Easy Ways to Create a Smart Home that Works For You
Smart homes give you the ability to monitor your home's major systems no matter where you are. If you're a total smart home newbie, here are a few easy additions, some that you can even install yourself, like a Schlage Canada smart lock.
8 Reasons Why You Should Get a Smart Lock
Smart locks provide a lot of function for any home. You can provide digital keys to your contractor, monitor who comes and goes from you home, and even keep track of who visits your garage to borrow your tools.
9 Home Improvement Products to Protect Your Home for Less
Renovation items don't have to break the bank. These inexpensive items can protect your home from a flood, repair your concrete walkways, and even protect all the electronics and appliances in your home.
CREATING A HEALTHY HOME
---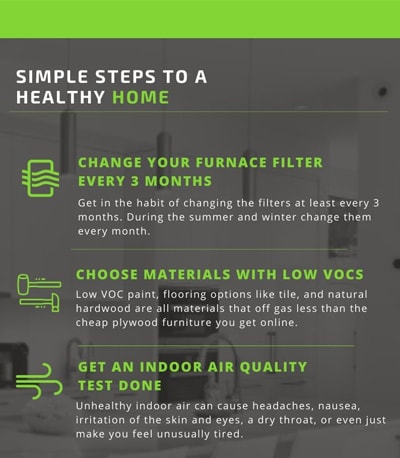 We know that the air quality in our homes dictates the way we feel day-to-day. Creating a healthy home means buildingand renovating with better building materials. That means choosing paints without volatile organic compounds (VOCs). It also means building with air quality in mind. So testing for – and mitigating radon. Creating a space that's free from mold growth. These are all things we need to keep in mind if we want to build a healthy home.
Here are a few articles to get you started.
Make these 12 items a priority for your next renovation.
A high-performance home is one that can use its systems as efficiently as possible. This is a big thing for driving down your monthly electricity bills. Here's my guide to getting a home that takes efficient care of you.
5 Ways to Improve Your Home's Energy Efficiency
Learn how to make changes, both big and small to make a serious dent in your monthly energy bills.
How To: Improve the Quality of Water Flowing Through Your Home
You may think that if you use city-provided water, it's 100% top quality, but that's not always the case. A water test by the pros at Kinetico is always a good idea.
5 Safety Measures to Baby Proof Your Home
You might not think about indoor air quality as a baby-proofing item – but the air we breathe in our homes contributes to how we feel every day. Here are 5 things you might not have thought about before the baby's arrival.
How to: Mitigate Radon in your Home in 100 Days or Less
Radon is the leading cause of lung cancer among non-smokers. Testing and mitigating radon isn't an expensive or lengthy process. Here's how to do it in100 days or less.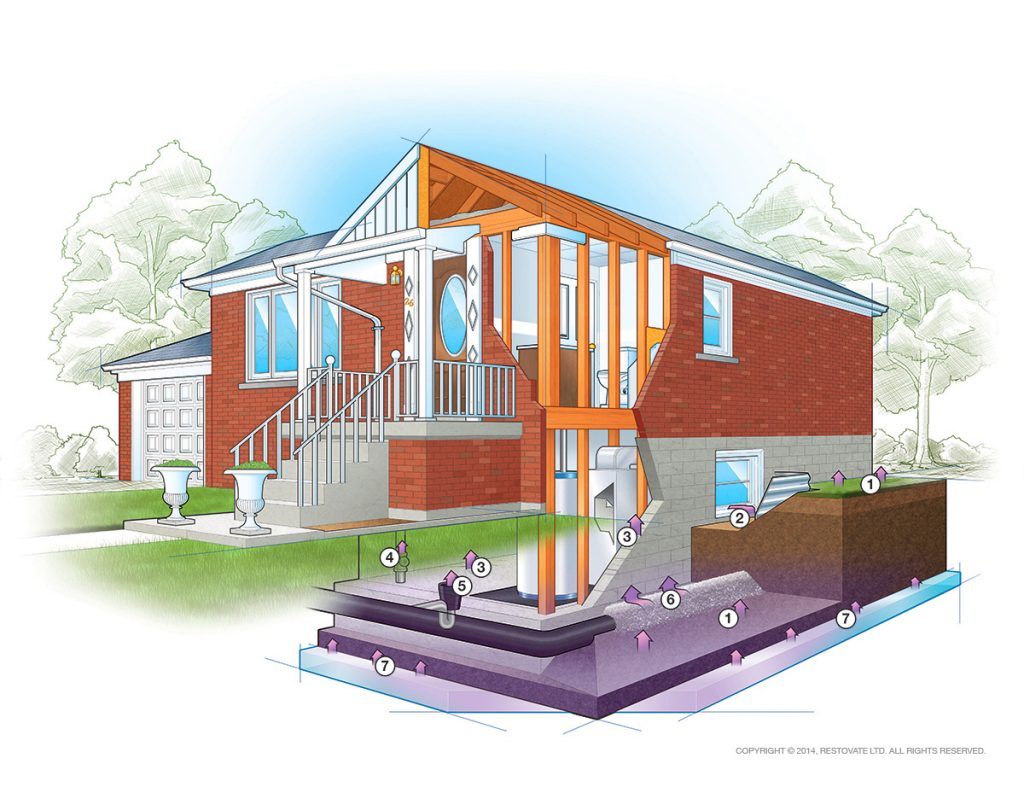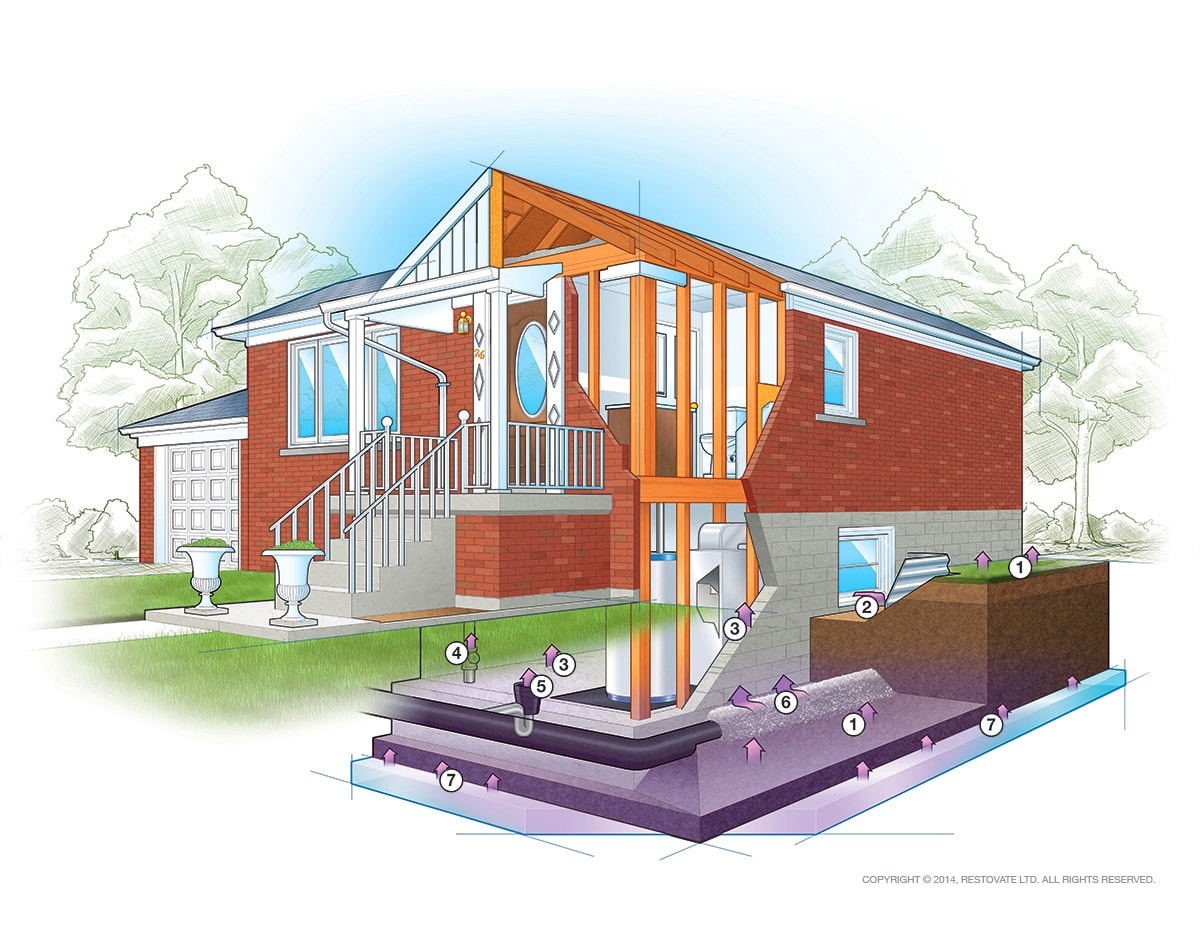 Radon can enter your home in the following ways:
Soil
Windows
Cracks in walls & floors
Loose pipe fittings & support posts
Floor drains & sump pumps
Wall & floor joints
Groundwater
RELATED: