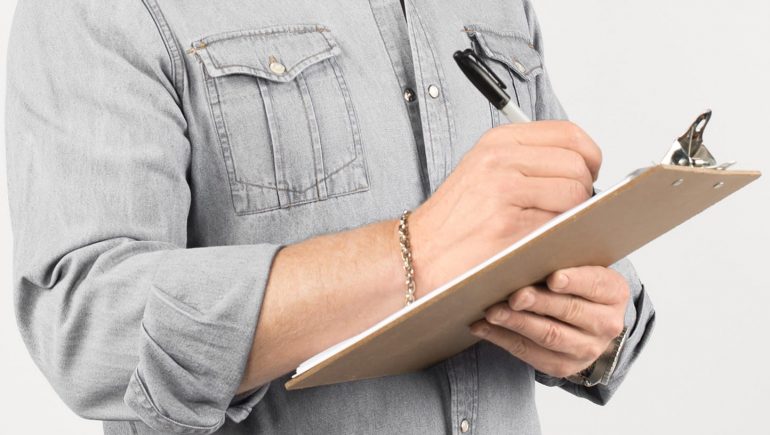 How To Hire A Contractor: Get It In Writing
By Mike Holmes
Tuesday, April 24th, 2018 @ 8:17pm
The days of handshake contracts are OVER. Nowadays, a contractor isn't a contractor without a proper contract.
Before hiring a contractor review their proposal and quote. They should include every detail concerning the job, as well as their contact information. If anything is vague or unclear, it's never a good sign. It's best to move onto another contractor.
"A contractor's proposal should include every detail concerning the job, as well as their contact information."
Contracts
It's the contractor's responsibility to provide you with a contract containing every detail about the work that will be completed on your property, including the supplies, materials and products they will be using, the subcontractors (if any) who will be coming onto the property and doing any work, as well as a detailed payment schedule.
The contract must be clear, legible, easy to read and should also have firm start and completion dates. Homeowners should also make sure that somewhere in the contract it states that they will not pay for any costs above the quote unless agreed to in writing.
Did You Know?

Contractors are not allowed to charge more than 10 percent above the original quote unless agreed to in writing by you, the homeowner. A good contractor will know ahead of time of any major changes regarding your renovation.
Be Careful What You Sign:
A contract should be typed, legible and easy to read. There should be no fine print. And remember – always trust your instincts. If it doesn't feel right, it probably isn't.
Terms
It isn't a bad idea for homeowners to include some terms in the contract, such as the times the property is available to them and that the contractor agrees to clean up at the end of each work day. This helps maintain clear lines of communication and expectations.
Mike's Top Red Flag:

Never Pay In Cash

Always pay by cheque or certified cheque. It's important to keep a paper trail in case you ever have to go to court. And always get a receipt for every payment you make to the contractor—and have it signed and dated by the contractor, too!
Permits
Municipal governments issue permits for renovations, electrical work, plumbing and heating and cooling jobs.
It is the homeowner's responsibility – not the contractor's – to obtain all of the proper permits for work completed on their property. As such, it is the homeowner's responsibility to make sure that the contract states that all permits will be supplied by the contractor and that all work will be completed to building code by certified and licensed contractors and sub-contractors.
"It isn't a bad idea for homeowners to include some terms in the contract."
By getting the proper permits homeowners ensure that municipal inspectors will examine the work completed on their home and that it meets minimum building code.
Payment Schedules
Before any work begins, a contractor will ask a homeowner to secure the job with a down payment. It shouldn't be more than 10 percent of the total cost of the job or $2,500. Homeowners should never pay a contractor more than $2,500 before they've even step a foot in their home.
There are exceptions to the 10 percent rule but they need a good reason, such as pre-ordering custom specialized materials, like cabinets.
Homeowners should avoid payment schedules based on time. The best renovations are the ones that move forward at a good steady pace – conditions permitting – and the best payment schedules are tied to work completed.
That means that any payment made to the contractor after the initial deposit must be in relation to how much work is completed—20 percent of the job gets done, 20 percent of the budget gets paid; another 30 percent of the job gets done, another 30 percent of the budget is paid.
Example:

Homeowners should agree to pay no more than 10 percent of the total cost of the renovation as an initial deposit, or on the first day when work begins. A second payment of 25 percent should be given when all electrical, plumbing and HVAC work is complete, followed by a third payment of 25 percent when the insulation, vapour barrier and drywall have been installed. Another 25 percent is given when priming and painting is finished, with the final 10 to 15 percent given once the homeowner is sure they are satisfied with the work completed. Homeonwers can wait up to 30 days after the renovation is done to provide the final payment. This helps ensure that any problems that might arise within the first month get fixed.
So if a job costs $30,000 and the only progress the contractor has made is demolition, they shouldn't be paid more than $3,000.
Construction scheduling isn't perfect and sometimes delays happen. If a delay does come up in the work schedule, a good contractor will set up a change order, sign off on it, then ask the homeowner to sign off on it and then provide the homeowner with a revised construction schedule, along with a revised bill.
---
Move Mountains With Milestones
Payment schedules tied to specific milestones keep jobs moving forward. The most common milestones or stages are: Rough-in, drywall and completed.
The rough-in stage refers to the point in a renovation when anything that has to do with the foundation, subfloor, framing, sheathing and roof are done, and all the electrical and plumbing has been roughed-in.
Roughed-in:

When everything but the finishes and fixtures have been installed related to electrical, plumbing and in some cases, HVAC. At this point, walls, flooring and ceilings have not been installed to allow for any changes or modifications, but all of the mechanics that go behind them are complete.
The drywall stage is the point in the renovation when the drywall can go up and the contractor can start closing in on the job – that means all electrical, plumbing and HVAC is done.
The last stage is usually called completed, but the project isn't exactly 100 percent complete – it's more like 90 percent. That's why only 90 percent of the total budget should be in the contractor's possession at this point.
It's a good idea for homeowners to hold onto the last 10 percent of the total budget as retention to make sure everything has been completed properly – they are permitted to do this by law. Once they know it is – usually no more than 30 days after the contractor has finished working on the job – they can deliver the final payment.
It's important that homeowners do not make a payment until each stage or milestone is complete. Contractors will work more efficiently if it means they will get paid sooner. If they have already been paid for work they haven't done, they are less likely to make it a top priority.
---
The Fair Exchange Of Power
A contractor's power is their work and their skill. A homeowner's power is money. A contract that ties payments to completed project milestones sets out all the rules for the fair exchange of these two powers.
If a homeowner hands over more money than the value of the work completed on their home, they can become vulnerable to the contractor postponing their job. In most cases, the contractor will work on other jobs that they still need to collect on. A good contractor wouldn't do this, but then again, a good contractor wouldn't ask for 50 percent of the budget for 15 percent of work.
Respect

It goes a long way but it's a two-way street – you have to give it to get it. Doing your due diligence is necessary, but at the same time, you have to be respectful. Not just with your contractor, but also with all the trades that work on your property. It's not smart to be rude to people working on your home.