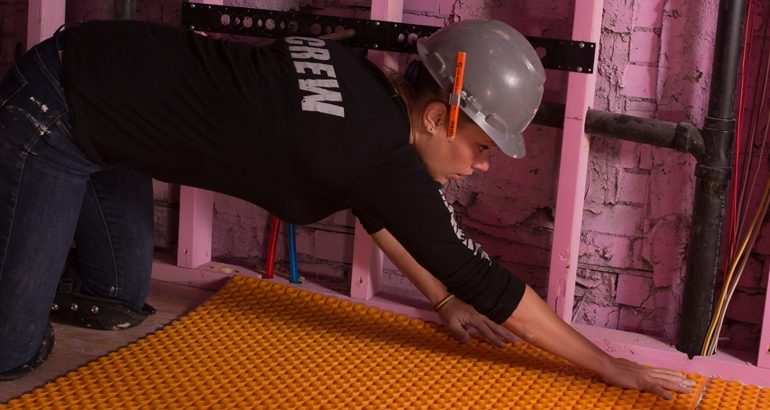 In-Floor Warming Systems by Sherry Holmes
By Sherry Holmes
Wednesday, April 18th, 2018 @ 3:48pm
As a Holmes crewmember, I'm often asked about different products that we use on our shows. One of the most commonly asked questions I hear is, 'What's the orange stuff you use in bathrooms?' Well, the orange stuff is what keeps my brother, Michael's feet warm. If you watched Holmes+Holmes Season 1, then you know what I'm referring to. The orange products that you always see us using on our shows are Schluter products. I've been using Schluter for years and am always amazed at how well they perform and the advancements Schluter continues to make. Over the last several years, in-floor warming systems have become a popular trend in homes across the globe. Before new and advanced technology took effect, in-floor warming systems were only considered for pre-construction builds. Today they can easily be installed in an existing home. I've even installed a lot of them personally! While lots of people may still think about this as a luxury feature, they offer a lot of benefits for your home.
Types of In-Floor Warming & How it Works
There are two types of floor warming – electric and water-based systems.
Electric floor warming systems use cables or resistance wire heated by electricity, while water-based systems circulate water from a boiler or water heater through polyethylene tubing below the floor. Another difference is that the electric systems are normally designed to warm the floor, while the water (hydronic) systems actually heat the room and can replace other central heating systems.
You know how heat rises? That's how hydronic floor warming works, warming a room from the floor up – spreading it evenly throughout the whole room. In-floor warming systems don't need to run as high or cycle on and off like conventional furnaces and radiators have to do, to keep things warm.
Electric floor warming systems, on the other hand, provide consistent temperature, so you don't get hot or cold spots on the floor. Plus, walking on a warm floor on a cold winter's morning just makes me feel the chill a lot less. As an added bonus, because heated floors still feel warm in decreased air temperatures, you can even keep your thermostat a little lower in the winter, and still stay comfortable.
These systems are energy efficient, which means lower energy bills each month – and now that I'm a homeowner, I really appreciated those savings.
What Kind of Floors Work Best
I'm the Tiler of the Holmes family, so I love that stone and tile floors are especially known to keep their heat, meaning floor warming systems work more efficiently. If you've seen heated floors before, you'll notice that you often see them installed in bathrooms, kitchens, and other rooms that have tile flooring.
Schluter's electric floor warming system includes uncoupling technology in their DITRA-HEAT line, which keeps your tiled floors and grout from cracking. I may love tiling but I don't love having to redo my work, so I used DITRA-HEAT in a lot of our jobs.
The Future of Floor Warming
Floor warming systems are programmed using a separate thermostat from your furnace. The system attains the desired temperature that you set, providing a comfortable and consistent temperature without overheating.
Nothing's better than a hot bath after a cold day on the job site – but who likes putting their bare feet on a cold tile? This year, I stopped by the Schluter booth at the International Builders Show and was blown away by the advancements Schluter has made, especially with their latest touchscreen, programmable DITRA-HEAT Wi-Fi Thermostat. The thermostat controls your DITRA-HEAT in-floor warming system. It provides convenience, control, and easy access to my in-floor system from my mobile device, meaning that before I come home after a long day, I can make sure my heat's turned up and ready to go, while I warm my tub. I absolutely love the new thermostat and can't wait to use it for one of our jobs and at home