Schluter® – Systems is the largest and most innovative supplier in the tile and stone installation industry. They have been setting international standards within their industry for more than five decades. Schluter® – Systems offers an extensive product line of systems and materials used for setting tile and stone. In addition to their quality products, Schluter® – Systems also provides workshops, seminars and online courses to educate users on the proper installation of their products. Learn more about how Schluter Systems and some of the In-Floor Warming Systems work.
Schluter-DITRA-HEAT
Mike explains how Schulter-DITRA-HEAT is the first electric floor warming system that combines uncoupling in a single layer with the heating cables for a warm tile floor that is not susceptible to cracking.
Schluter Drain Install
Mike Holmes and Mike Holmes Jr demonstrate how to install a Schluter Drain. The shower is completely waterproof and features Schluter Kerdi Board and KERDI-LINE Drain. The Schluter system in the shower is clean and life lasting but most importantly 100% water tight. Watch as they renovate this small bathroom for accessibility and achieve a perfect slope that leads right to the drain because of the curbless design.
"Schluter has grown from the very first days they've started. I've been using their products for years and each and every year they get better and better."
– THE HOLMES'
CONTRACTORS / TV PERSONALITIES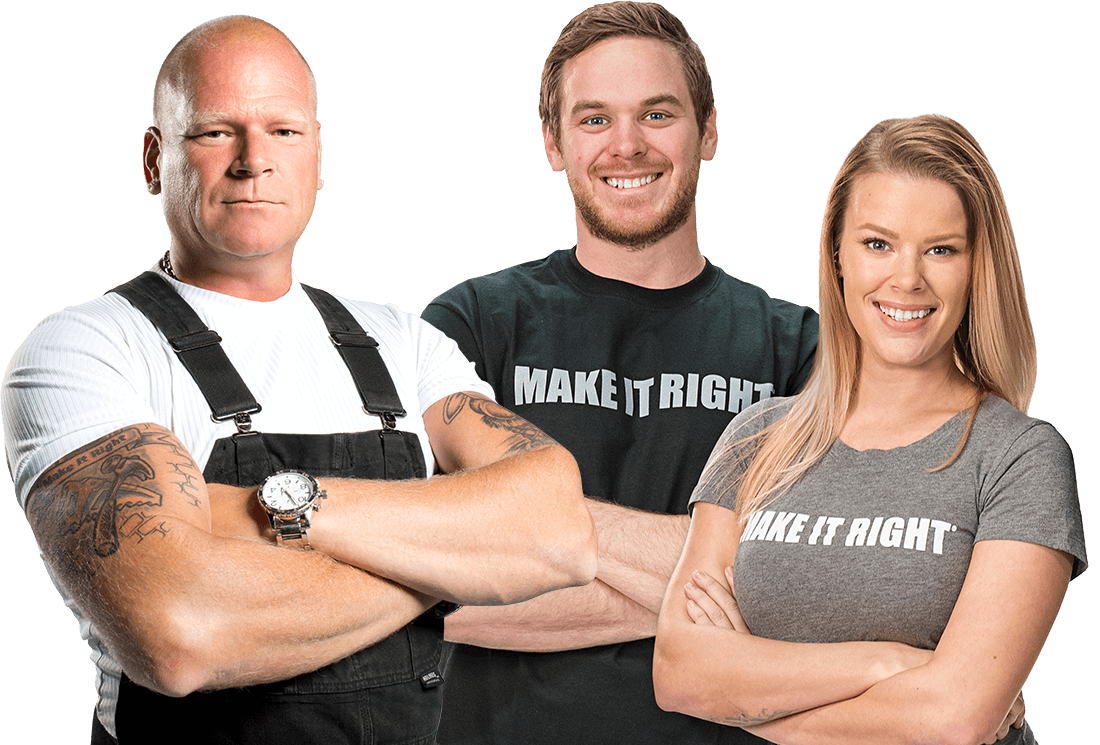 Mike Holmes
PROFESSIONAL CONTRACTOR / TV HOST
Mike Holmes Jr
PROFESSIONAL CONTRACTOR / TV HOST
Sherry Holmes
CONTRACTOR, PART-TIME DESIGNER & WEEKEND DIYER
Schluter Systems Official Website
For more information on Schluter® please visit: www.schluter.com and check us on these social media channels
Schluter® KERDI-DRAIN-H
Relocating a drain for a shower can be extremely challenging and potentially expensive in many remodeling and renovation situations. Residential environments that present these challenges include slab-on-grade construction, basements, high-rise condominiums, apartments and even many wood frame homes where multiple trades would be required to relocate an existing drain. Commercially, any building with suspended concrete, post-tension concrete or old, vertical chases can present major challenges as re-coring concrete is a costly operation. To overcome these challenges Schluter Systems has developed the Schluter®-KERDI-DRAIN-H with a 2" horizontal outlet. Learn more through Sherry Holmes' article about relocating a drain using Schluter KERDI-DRAIN-H
Schluter® KERDI-DRAIN-H – Installation Process
Schluter® Ditra
Schluter® DITRA is designed specifically for ceramic and dimension stone installations. It provides uncoupling technology to help prevent tiles and grout from cracking. Due to its polyethylene make up, it serves as a waterproofing layer, protecting moisture-sensitive substrates.
Schluter® Ditra-Heat
Schluter® DITRA-HEAT is an electric floor warming system that is ideally used under tile flooring. It is the only one that has integrated uncoupling technology, which allows for in-plane movement by balancing the movement stresses between the substrate and tile, protecting tile and grout from cracking. The polypropylene makeup of DITRA-HEAT helps keep moisture from penetrating it.
Schluter® Kerdi
Schluter®-KERDI is a flexible, sheet-applied, waterproof membrane, and vapour-retarder. It was developed as a waterproofing membrane to be used specifically with ceramic and stone tile coverings. KERDI is great for tiled showers, residential steam showers, curbless showers, bathtub surrounds, and other tiled areas where water may be present.
Schluter® Kerdi-Board
Schluter®-KERDI-BOARD is a versatile tile substrate and building panel. It can also be used for creating bonded waterproofing assemblies with tile coverings. KERDI-BOARD allows the installer to arrange and construct a vast range of substrates and building elements to install ceramic and natural stone tile that are flat, level, plumb, square, and dimensionally stable. The panel can be used for bonded waterproofing assemblies and can easily be tiled over using the thin-set method. The Kerdi-Board is perfect for incorporating a shower bench or a knee wall in your bathroom.
Schluter® Kerdi-Band
Schluter®-KERDI-BAND is a waterproofing strip that is best used for sealing butt joints and floor and wall connections with KERDI and DITRA membranes as well as KERDI-BOARD building panels. The strip provides a watertight seal, preventing leaks and mould. It bonds tightly to inside and outside corners without rounding at surface transitions.
For more information, visit: www.schluter.com