"Anyone who works in the trades is already a hero to me –girls, boys, young, old– Because the work isn't easy, it's underappreciated, undervalued, and bottom line, it's tough work that requires even tougher skin. But every time I go to a tradeshow or trade school, and I see more and more women there, interested, engaged, and dedicated to doing the best at what they do, I'm hopeful about where this industry is headed." – Mike Holmes.
The Make It Right Charity and The Holmes Foundation, offer Scholarships and Bursaries that are designed to encourage Canadian college and university students to complete their academic training.
Research shows that many students who enroll in post-secondary education, including those enrolled in construction courses, drop out before completing their training due to a lack of funds or support. This is particularly true for women in the trades and needs to be addressed and rectified.
Since, it's inception in 2006, The Holmes Foundation and the Make It Right Charity has awarded 150 Make It Right® Scholarship and Bursary awards, including 20 Renovation Technician Awards of Excellence to Conestoga College, totaling over $225,000.00.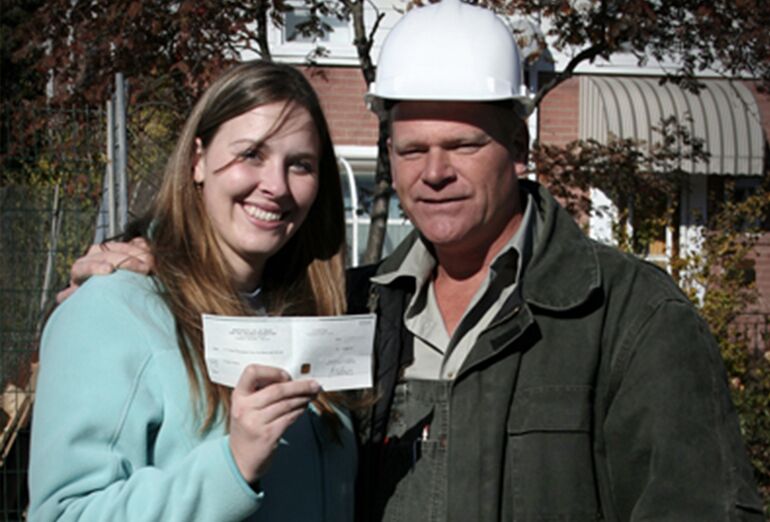 Mike Holmes with the first two Holmes Foundation recipients, Charity Adams & Stephen Magneron.
The Holmes Foundation has sponsored other initiatives, including Conestoga College's Construction Community Outreach Programs, 2018 Skills Ontario Gold Carpentry Competition, and 2017 Skills Ontario Hammer Challenge, to name a few.
Let's #EndSkilledTradesStigma and work together to encourage youth to consider a career in the skilled trades and technology sector. There are many viable, lucrative, and creative opportunities to explore.
Career in Skilled Trades and Technology offer:
Financial stability and less student debt

Flexibility in career choices and places to find work

Creativity and pride in creating our built environment and improving lives

Frontline sustainability. Be part of the solution to a cleaner and healthier environment for all

Your donation supports our mission to encourage and support students wanting to consider a career in the skilled trades by offering Make It Right Charity Scholarships and Bursaries to anyone enrolled or entering into a Canadian College, University or apprenticeship or advancement program like WIST – Women in Skilled Trades General Carpentry Pre-Apprenticeship.