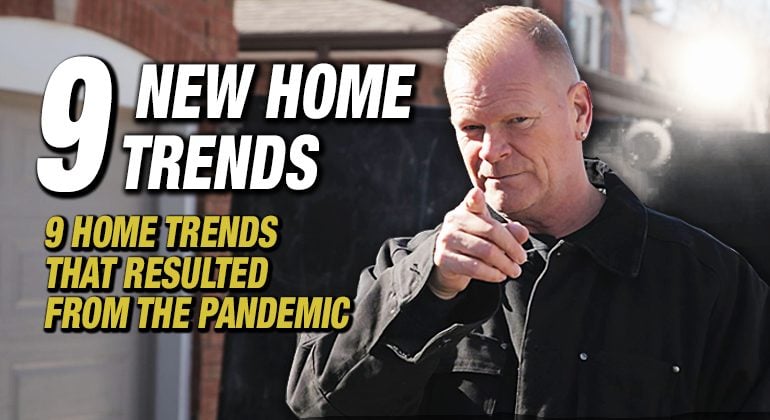 9 Home Trends That Resulted From The Pandemic
By Mike Holmes
Thursday, December 10th, 2020 @ 12:57pm
I have been watching the change in home trends carefully this year. The pandemic has changed the way we live in our homes and what we expect out of our homes. It has changed how we spend our renovation dollars, where we want to live, and refocused our renovation efforts.
#9 Moving Away from Dense Areas
---
I've always loved living away from the city, but generally Canadians are showing an interest in moving away from highly congested areas to suburban settings. I've heard that from several of my Holmes Approved Homes builders. According to RE/MAX, 32% of Canadians no longer want to live in urban centres. 
As some workplaces shift to a completely work from home set up, commuting to work is becoming less of a factor, so where there used to be a necessity of living in a denser city, now families have the opportunity to sprawl. I personally love having space on my property.
#8 Increase in Home Renovations
---
For homeowners who are not thinking about buying or selling during the pandemic, home renovation projects are becoming increasingly popular. 
Altus Group (based out of Toronto) calculated that Canadians spent more than $80 billion on home improvement projects in 2020. This makes sense on many levels. Here's why.
We're spending more time at home (even me!), so you start paying attention to the small repair jobs that have been left idle for too long. Or your needs out of your home have likely changed.  You may have needed to convert that guest room into a home office or a gym (like my daughter Sherry). 
Remember though- first spend your money on things that need to be FIXED around the house. Your new kitchen cabinets can wait. Your leaky roof cannot.
This is a list of design changes we have seen come out of the pandemic.
READ MORE
#7 Indoor Spas & Indoor Pools
---
44% of Canadians desire a home with more space for personal amenities, according to a report published by RE/MAX. This includes liveable backyard spaces, indoor pools and converting their bathrooms into home spas.
Even minor upgrades to your washroom can help make it feel more luxurious, or make it more functional. Updating your sinks and fixtures can switch up the vibe of the bathroom to make it more spa-like.
If you are looking to put in a new pool in your background, I highly recommend talking to the pros at Leisure Pools (if you are in Canada). They provide a lifetime warranty on all the pools they install, and you can actually get the process started in a couple of days.
#6 More (and Creative) Storage
---
We all rushed to stock up on toilet paper when the lockdown first happened. We stocked up on canned food, hand sanitizers, paper towels and more. It makes sense that homeowners are thinking about increasing storage spaces when they renovate or buy a home now.
#5 Dedicated Home Office Space 
---
Open concept living spaces have been popular for many years. I, myself have knocked down a few walls on projects. But these days, homeowners aren't rushing to bring down their walls. Why? Open spaces with no barriers are not good for working in privacy. I expect to see more privacy nooks and closed off spaces in home designs for the next few years.
With so many people switching to permanently working from home, having a dedicated home office setup just makes sense. For me, my garage became my office when I wasn't filming.
READ MORE
Many homeowners are asking their builders about soundproofing. How many Zoom calls have you had interrupted with background noise? If your kids are attending school virtually, soundproofing should be a consideration.
#4 Flex Rooms
---
This year made us all pay attention to how we use our home. Some of our dining rooms became homeschooling classrooms, the nook under the stairs because a creative storage area and the guest room became a home gym.
My daughter Sherry converted her extra bedroom into a home gym. According to Keith Buis from Gibraltor Homes, a Holmes Approved Home builder, the pandemic has really increased the need for multi-purpose rooms, that can serve as a play area, a TV room, and a home office.
"Flex rooms or multi-use rooms are being added with design features so that when people are on virtual calls, they have something built-in behind them showcasing their home. Maybe a bookcase, shelving or a niche that they can decorate for the season or have their awards / trophies, etc. showcased when on a Zoom meeting."
– Lorena Sawchyn Emerald Park Homes Ltd. (Holmes Approved Home Builder)
#3 Home Additions
---
For families with older members, a main floor bedroom is becoming popular. People also want to maximize their living spaces, especially if the whole family is going to be at home all day. Specifically, homeowners are requesting a room off the main living area that has glass doors for visibility (if you have kids around). 
A main floor bedroom is a great addition to your home, especially if you plan to age in place. Not having to navigate staircases as often when we age is an important consideration for many.
#2 Expansive Outdoor Spaces
---
I am not used to being home for longer than a couple of days at a time. Between filming, travel and the office, I don't get to spend a lot of time at home. This summer, when filming and travel was shut down, I had the opportunity to redo my deck – and turn it into a pretty awesome outdoor living space. 
I see a lot of homeowners doing the same-converting their outdoor spaces into livable spaces. Garden beds, planting herbs, fire pits and practical furniture are just a few upgrades people have been making. I think this trend will continue well into the new year.
READ MORE
#1 Healthier Building Materials & Indoor Air Quality
---
I've talked to several of my builders, and most of them are getting a lot more questions about how their new home or their renovation can contribute towards a healthy indoor environment. 
I love to hear from homeowners that they are taking the time to improve their indoor air quality. Specifically, homeowners are asking about the dangers of radon gas. 
The way we build and renovate is shifting – and I think that's a good thing. We're seeing our lifestyle impacted by a major shift in the way everyday life is functioning, so it only makes sense that our homes would follow suit. 
READ MORE