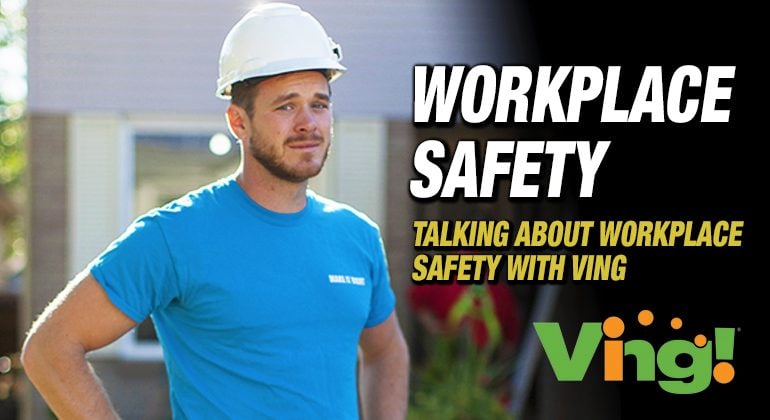 Talking about Workplace Safety with Ving
By Mike Holmes Jr.
Thursday, December 10th, 2020 @ 11:07am
Recently I sat down with Tony from Ving – one of our Holmes Approved partners to discuss the importance of workplace safety. As contractors, it's important for us to come home to our families in the same condition we left for work in. For homeowners, you want to know that your renovation team is well-versed in safety protocols, taking care to use the right personal protective equipment (PPE) and following all safety measures necessary to do the job right. 
Obviously, accidents are never planned, but by taking the right steps to prevent them, we're creating far fewer opportunities that an accident will occur on our job sites.
For the full story, check out this blog on the Ving website.
How Can We Prevent Further Accidents on the Job Site?
---
Research shows that your rate of forgetfulness skyrockets after a training event within 24 hours, and even upwards of 90% after 30 days. So it's about keeping those little bits of information at the top of mind, and readily accessible for workers to prevent those accidents.
Microburst training allows you to access quick training videos right on the job site and interact with the information to help refresh them about proper safety training or critical on the job information. Because how often do you sit through a day of training and have it go in one ear and out the other?
This stuff makes a difference because it allows our contractors to constantly refresh their training right on the job site. That means they're working with the latest information that's top of mind thereby cutting down on accidents on the job site. That matters. 
Here are some of the biggest safety hazards we discussed.
Messy, Disorganized Job Sites
---
A messy job site is also a dangerous job site. My dad has a story about a near accident when he was younger because of this. He and his dad were tearing down a ceiling, and the old panels were littered across the floor. His dad told him to clean everything up before they continued with work, but my dad, being young at the time, didn't want to listen to the "old man" and moved his ladder to continue pulling down the rest of the material.
What he didn't realize, was that he'd placed one foot of the ladder over top an open vent. It had been covered up by some of the garbage on the floor, so he just didn't notice. When he went to step on the ladder, the balance was way off, and it gave way, causing him to fall. Fortunately, he wasn't hurt – and he learned his lesson after that, but it goes to show that a messy job site can be covering up potential hazards for you and your workers.
For my dad, being able to work with his dad was a valuable experience because he was able to learn from a generation who had already seen it all. Even if he didn't always listen at first – the knowledge his father passed down to him proved to be invaluable on the job site. And I know that later on, my dad was able to able to show him the new techniques and practices his generation had been using to make the job site more efficient. That's a cycle that's continued with my generation and my dad's these days, too.
RELATED
Keeping Ladder Safety Top of Mind
---
For homeowners, some of the most dangerous jobs you can do at home probably involve your ladder. Whether it's hanging decorations, pruning some tall trees or plants, or any of the other numerous jobs that require a ladder – it's key that you always use them safely. 
Ladder accidents tend to increase at the end of the year – so please climb safely and observe proper safety techniques. For example – you want to observe the four to one rule. For every four feet the ladder goes up, bring it one foot out. Always have a second person holding the base of your ladder – and don't overreach. Take the time to climb back down, and reposition your ladder in a safer spot. 
Here's a fun video I did where I reacted to some fan photos sent in of dangerous ladder safety
As contractors, safety needs to be at the top of our mind on every single one of our job sites. We need to find ways to reduce risk on our job sites and prevent accidents. Microburst training lets us constantly update our knowledge base to ensure we're doing the job the right way. And that means we're doing the job safely. 
Read Next: 11 Common Causes of Workplace Accidents from Ving