THE MAKE IT RIGHT CASH BACK CARD
Shop and Be Rewarded. It's that Easy!
Register for the MAKE IT RIGHT Cashback Card and instantly save money and receive benefits on everyday purchases. Along with earning Cashback and Shopping Points on a variety of products and services, you will also gain access to exclusive contests, give-aways, discounts, promotions and more. Best of all, joining is absolutely FREE!
As a member you can log into the Cashback App anytime and browse thousands of online sites and store locations. You can also purchase and redeem (or gift!) a variety of eGift Cards right from your mobile phone. eGift Card brands include The Home Depot®, Loblaws®, Petro-Canada™, and many more!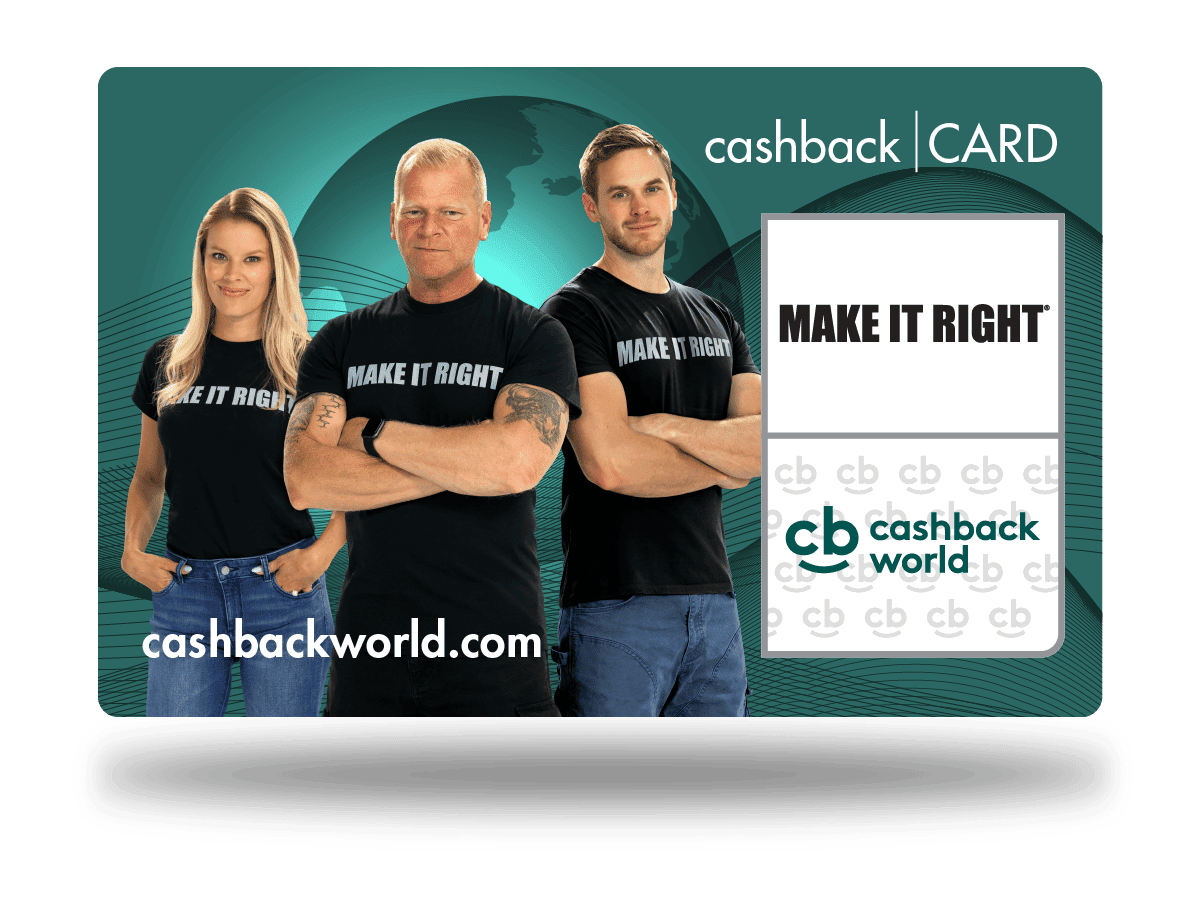 OVER
140,000
LOYALTY MERCHANTS ARE WAITING FOR YOU!
How you receive your money is up to you. Once you earn $10, you can choose to have it automatically deposited into your bank account, or, if you prefer, you can have it saved on your MAKE IT RIGHT Cashback Card profile. The money accumulated can be applied to future purchases, saving you even more money!
"This card will save you money whether you are shopping for materials for your next reno, or your everyday items"
MAKE IT RIGHT® CASH BACK WITH CASH BACK WORLD
Sign up for FREE online
Click HERE to complete the online registration form.
Check your inbox for a confirmation e-mail and click on the activation link.
Start shopping (by the way, when you sign up, you also receive 3 FREE Shopping Points you can use towards fantastic Shopping Point Deals).
The MAKE IT RIGHT Cashback Card opens a world of opportunities and allows you to become apart of a worldwide Shopping Community that is established in 48 countries with 14 million members.
Happy shopping!