Eaton is one of the most reputable global power management companies in over 175 countries. They believe in providing people with the tools needed to use power more efficiently, safely, reliably and sustainably. Their vast line of products are found in industries and markets throughout the world such as residential, commercial and institutional buildings, data centers, utilities, industrial facilities, mining, oil and gas, and machine original equipment manufacturers.
Eaton Connected Solutions
We've worked with Eaton for many years now and their connected products are the best in the industry. You can trust them to do the job right and safely. 
"I trust Eaton EV Chargers to Make It Right and do the job safely."
- MIKE HOLMES
PROFESSIONAL CONTRACTOR / TV HOST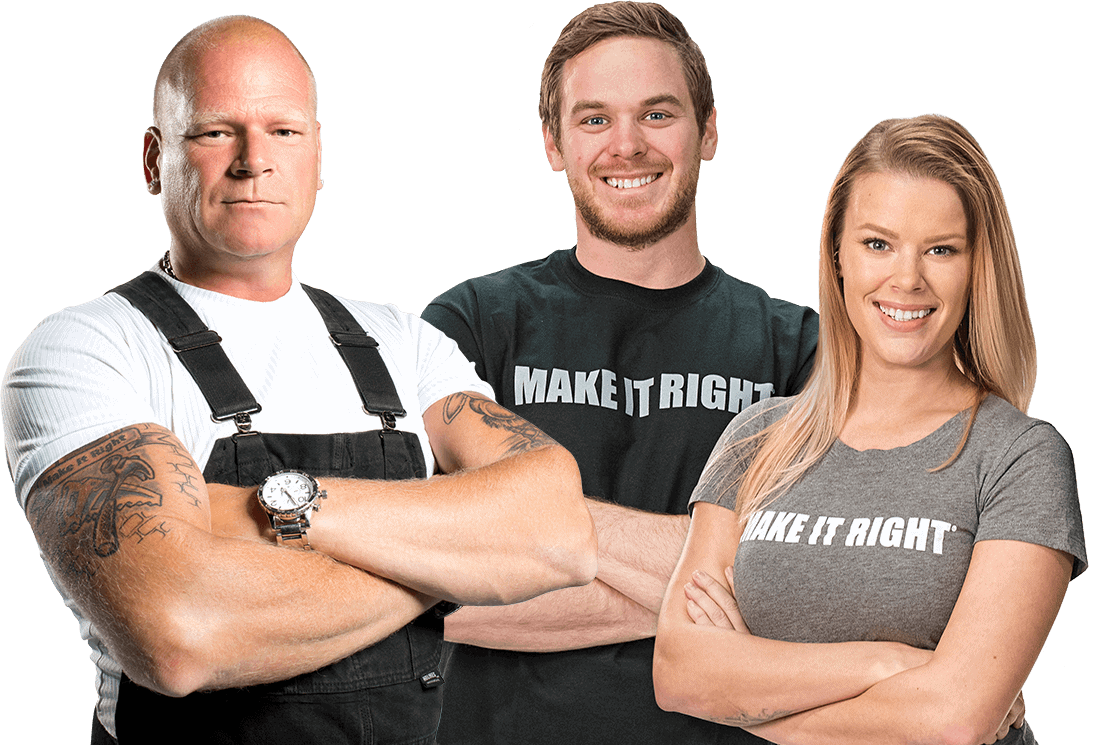 Mike Holmes
PROFESSIONAL CONTRACTOR / TV HOST
Mike Holmes Jr
PROFESSIONAL CONTRACTOR / TV HOST
Sherry Holmes
CONTRACTOR AND TV HOST
Eaton Product Photos
Eaton's innovative connected device solutions allow users to control and monitor their electrical systems for enhanced efficiency, convenience, and safety. Check out some of their products here.
Eaton Official Website
For more information on Eaton products, please visit Eaton.com/residential or find us on the social media channels above.
Eaton Complete Home Surge Protection
Eaton's Complete Home Surge Protection is designed to safely direct energy away from your home electronics and appliances such as televisions, computers, entertainment systems, washer and dryers, ovens, dishwashers, microwaves, refrigerators, air conditioners, furnaces and much more. A licensed electrical contractor can install it at your home's breaker panel, so if there is ever a surge, the device will stop it from travelling through your home. It's the ultimate surge protection for your home.
Why Are Surge Protectors Important?
Michael Holmes On How To Protect Your Home From Electrical Fires
Wi-Fi Smart Devices
Wi-Fi smart switches, receptacles, and dimmers from Eaton are set up quickly and easily with Amazon's Alexa App–no other hubs or controllers are necessary. Plus, Frustration-Free Setup starts the connection automatically. Schedule lights to go ON and OFF–and even DIM–to fit your daily routine. Save energy and feel more comfortable and secure. You can even add voice control using an Amazon Echo device. 
What Are Wi-Fi Smart Devices?
Eaton's Wi-Fi Smart Device Products
Sherry Holmes with Eaton's Wi-Fi Smart Voice Dimmers
Eaton Green Motion EV Smart Breaker Chargers
When it comes to electric vehicle (EV) charging, Eaton sets the standard for quality and innovation. Their EV Chargers align with their commitment to delivering the best products to homeowners. As a Holmes-approved product, Eaton's EV Chargers guarantee a high-quality charging experience, providing peace of mind and safety to homeowners. 
Eaton Arc Fault Circuit Interrupter Protection
Outlet Branch-Circuit (OBC) AFCI receptacles can contribute to overall homeowner safety by monitoring the electrical circuits for the presence of dangerous arcing conditions. AFCI receptacles are designed to recognize an arc fault and quickly trip to stop the flow of electricity to prevent the electrical system from being an ignition source of a fire.
What Is An Arc Fault Circuit Interruptor?
Mike Holmes Explains Arc Fault Breakers
Eaton Ground Fault Circuit-Interrupter Protection
GFCI breakers & GFCI receptacles provide superior safety and ensure electric shock protection in areas where electricity may come into contact with water such as kitchen countertops, bathrooms, swimming pools, hot tubs and out­door receptacles. GFCI breakers immediately break the circuit when electrical current leakage is detected, reducing the risk of shock and electrocution. GFCI receptacles will render itself inoperable if no GFCI protection is present and a red indicator light will blink notifying the user there is no power and the device must be replaced.
What Is A Ground Fault Circuit Interruptor?
Mike Holmes: What Is A GFCI Breaker?
Eaton Plug-On Neutral Solutions
Eaton's innovative BR and CH Plug-On neutral portfolio is a line of load centres that has been masterfully redesigned to ensure reduced installation time which means quicker and easier installation than the competition. The short body redesign of the BR electronic breaker optimizes the gutter space and saves time with an easier installation. Plug-On neutral design eliminates the pig tail connection providing you with time and labour savings. Self-leveling tabs for quick drywall offset, only one in the industry with this feature and an inboard neutral to increase gutter space for easier installation of conductors. Using products such as the Eaton Plug-On Neutral can help reduce the risk of electrical fires and not only that but will leave you with a clean and professional look. 
Plug-On Neutral Videos
Watch Mike Holmes Jr. talk about the innovation behind Eaton's Plug-on Neutral load center with the help of Eaton's master electrician Frank Cozzolino. A load center that provides a clean, easy and labor-saving solution for contractors in the multi-family and single-family residential construction markets.
Looking for an electrical contractor you can trust?
When it comes to installing an EV Charger in your home it's important to hire a Licensed Electrical Contractor to do the job. They will also need to assess your current panel, to make sure it can handle the extra electrical load. Think safety first! Check out Eaton Certified Contractors to find a licensed electrical contractor in your area.
HOLMES ON HOMES PODCAST
What You Should Know About Electrical Code And Hiring A Licensed Electrical Contractor