KINETICO WATER TREATMENT SYSTEMS


Headquartered in Newbury, Ohio, Kinetico is a global manufacturer of reliable, economical and sustainable water treatment systems for the residential, commercial and OEM markets. Kinetico products are used and recommended by millions of people all over the world.
Since 1970, Kinetico has been improving lives through better water with thoughtfully-designed products that meet the diverse water treatment needs of people all over the world. Kinetico water softeners and customized filtration systems are highly-engineered to provide peace of mind with their efficient, effective, economical and reliable operation.
Experience a well-hydrated life. Water that's freed of both natural and man-made issues. Water that tastes better, works better in your plumbing and appliances, makes skin and clothes feel better and saves money and time too. Experience life hydrated by Kinetico.
"We love working with Kinetico because they take a smarter approach to solving water problems.
Their systems treat water more efficiently, effectively and economically."
– THE HOLMES'
CONTRACTORS / TV PERSONALITIES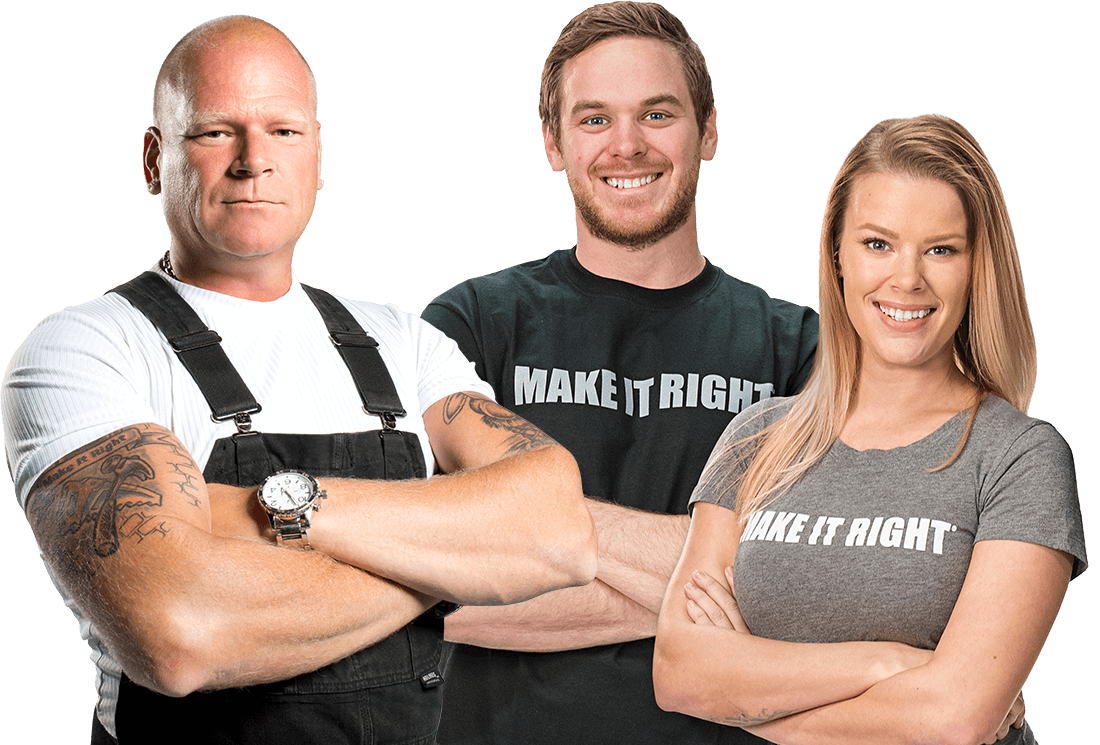 Mike Holmes
PROFESSIONAL CONTRACTOR / TV HOST
Mike Holmes Jr
PROFESSIONAL CONTRACTOR / TV HOST
Sherry Holmes
CONTRACTOR, PART-TIME DESIGNER & WEEKEND DIYER
Kinetico Product Photos
Click below to view photos of our water softeners and drinking water systems
Kinetico Official Website
For more information on Kinetico please visit: www.kinetico.com and check us on these social media channels.
Mike Holmes' Kinetico Water Solutions Install
KINETICO PREMIER SERIES® XP
---
Kinetico has taken its best water softener and made it even better. With improvements that make them more efficient and effective, Kinetico Premier Series XP softeners are ideal for all homes and treat a variety of water conditions.
With up to four available tanks you can combine softening and dechlorination in a single unit to save money and space while ensuring a continuous supply of soft, dechlorinated water even during regeneration.
Designed for homes with larger plumbing and high water use, Premier Series XP softeners deliver generous flow rates without forfeiting water softness.
One tank is always in service while the other tank is either on standby or regenerating which ensures you will always have a supply of soft water. Even if you have a house full of guests or are washing multiple loads of laundry, you'll never run out of soft water.
Kinetico K5 Drinking Water Station
---
The K5 features QuickFlo® technology to deliver a strong, steady stream of high-quality water when you want it. Fact is, the K5 produces more water faster than any other comparable system so you won't need to ration or wait for your water.
The K5 significantly reduces more contaminants than any other drinking water treatment unit. The K5 is certified by WQA to NSF/ANSI Standard 58 for PFOS/PFOA removal.
You can customize the filters in your K5 according to the specific water challenges you're facing now or that you may encounter in the future.
Thanks to EverClean® Rinse, the K5 uses high quality water to clean itself which keeps the system in top working order and extends the membrane's life.
KINETICO SIGNATURE SERIES®
---
Tried and true engineering and design went into our Signature Series water softeners. If you are not faced with difficult water problems, yet you want your water to be better than it is, a Signature Series system is right for you. Its twin-tank design, combined with non-electric, demand operation mean your water issues will be history. And so will any hassles or inconveniences you may have experienced with other water systems. What you'll have is an unlimited supply of soft water.
Kinetico Signature Series water softeners are modeled after our original twin tank, non-electric water softeners that have been solving the water problems of millions of people worldwide for decades.
Powered by water flow (kinetic energy) instead of electricity, you can count on Signature Series water softeners to solve your hard water and iron problems without creating new ones. They're reliable, economical and the perfect fit in many homes.
Ask Mike – Water Issues In Your Home
Mike Holmes answer your questions about the quality of water in your home
Water, we drink it, cook with it, and use it in daily tasks. It is an essential part of our daily lives, but how well do you know your water and how clean it is? The water sources in our homes can be filled with contaminants from lead and calcium, to bacteria and viruses, and even radon. However, with the proper filtration systems, Kinetico's water filtration solutions, you can ensure that the water flowing in your home is clean and worry-free. On this podcast episode, Mike Holmes is joined by water experts Dan Lake from Elgin Pure Waters and Michael Crepeault from Kinetico Waters, as they dig deep into the issues that can be found in your water, what signs to watch for to know your water is unsafe to use, testing your water, and finding the right filtration system for your home. Whether you rely on municipal water or well water, this episode will cover what you need to know to improve the quality of water in your home.