HOLMES NEXT GENERATION
Holmes Next Generation is premiering on CTV Life on November 5th, 2020!
It's a family affair in this latest series from television's favourite contractor as the mighty Mike Holmes joins forces with his daughter Sherry and son Michael to rescue homeowners from dysfunctional homes, shady contractors, and DIY Projects
Media
Click below for Photos & Videos from "Holmes Next Generation"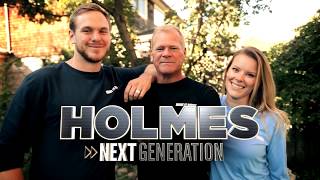 Holmes Next Generation Preview
Mike is back to Make It Right for homeowners who are dealing with dysfunctional homes, shady contractors and do-it-yourself projects gone wrong. And this time, he has his kids Mike Jr and Sherry Holmes along for the ride! Watch Holmes Next Generation on the DIY Network (US).
Holmes Next Generation
Behind the scenes photos from the set of Holmes Next Generation
SEASONS & EPISODES
Below is the full list of seasons and episodes related to "Holmes Next Generation"
EP101: One Good Deed Deserves Another
EP102: Hiding in Plain Sight
EP103: Far From Home
EP104: And Baby Makes Three
EP105: Old is New Again
EP106: Nightmares & Dreams