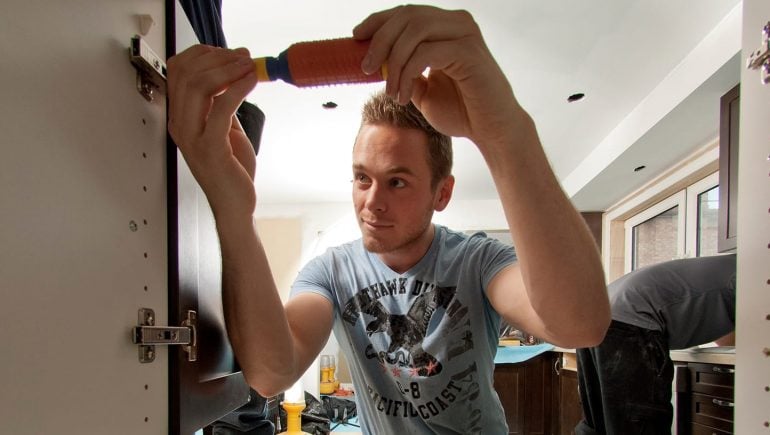 Your Post Kitchen Reno Checklist
By Mike Holmes
Thursday, April 19th, 2018 @ 6:39am
Before your contractor declares that your kitchen renovation is complete, make sure of the following: 
Mind The Gap
The kitchen cabinets are straight, level, properly anchored to the wall and there are no gaps between the cabinets and the walls and ceiling.
---
Keep Them Inline
Cabinets line up evenly with each other and appliances.
---
No Obstructions
All the cabinet doors and drawers can open all the way without bumping into one another or appliances.
---
Staying On Track
Cabinet doors and drawers can open and close easily with no warping or swelling. Also make sure cabinet hardware is securely fastened.
---
Safe Distance
All electrical outlets within 6 feet of the kitchen sink are GFCI protected.
DID YOU KNOW?

Not every outlet within 6 feet of the kitchen sink needs a GFCI device because all outlets wired downstream of the GFCI receptacle are protected by the upstream device
---
Seamless Results
There are no defects in the countertop surface and all seams are minimized and line up properly.
---
Caulked & Locked
here is indoor silicone caulking where the countertop meets the wall and/or backsplash to prevent spills and dirt from getting into the crevice, also making it watertight.
Tip From A Pro:
Latex caulking can lead to mould!
---
Plumb Job
All plumbing fixtures are secured and operate correctly. (Hot on the left, cold on the right.) Also make sure drains and traps are in place and drain effectively, and the drainpipe is properly strapped and secured.
---
The Right Hook-Up
Dishwasher hook ups are correct and the drain line is connected before the trap.
---
Tiles & Tribulations
Tiles are level and all the grout lines are symmetrical and evenly spaced.
---
Seal Of Approval
All porous tiles (stone) are sealed, including the backsplash, but your grout is not. If it is, make sure your contractor used a breathable sealant, but no sealant on your grout is preferable.
---