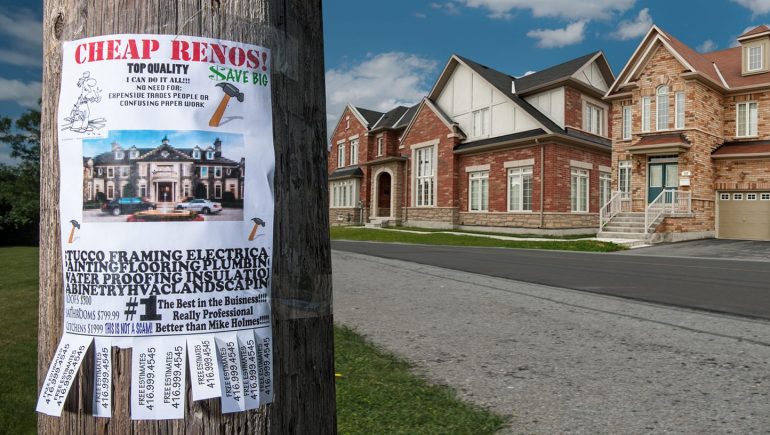 How To Hire A Contractor: Do A Background Check
By Mike Holmes
Wednesday, April 18th, 2018 @ 3:59pm
Licenses
Although a license doesn't necessarily guarantee a good job, a good contractor will have a valid license. Making sure a contractor has one is the first step in checking them out. Plus, licensed contractors are more likely to carry workers' compensation and know how to satisfy building code requirements.
Government issued licenses expire annually, so homeowners should ask to see their contractor's license and make sure that it's valid. It is a homeowner's legal right to request to see a valid license from anyone working on their property.
Insurance
There have been cases where uninsured homeowners become responsible for personal and property damage that was caused by their renovation. For example, if a neighbour's house is damaged due to strong vibrations caused by work related to your renovation and you are uninsured, you become responsible for any required repairs, as well as their costs, which in some cases has bankrupt homeowners.
Insurance coverage looks after both public liability and property damage, and should be in the $1,000,000 range per occurrence.
Liability insurance should cover the homeowners' family, any workers or other people that might find their way onto the property while construction is underway. It should also extend to public property, such as nearby water mains, as well as neighbours' homes or other surrounding properties.
Homeowners should make sure that the policy they get includes all of the contractors involved, as well as the possible theft of building materials and equipment. Some policies only cover the theft of fixtures and materials that were once physically attached to the house and then literally ripped off. However, many thefts involve tools and materials lying around the job site that have mysteriously 'disappeared'.
Any contractor that works on your home should also carry valid insurance, including full Liability and Worker's Compensation insurance. Homeowners should ask for the policy number and call to check that it's legitimate and valid.
When a contractor has insurance it protects the homeowner in case any accidents happen on the job site. This can include property damage, such as someone dropping an expensive vase or scratching an original oil painting, or injuries that occur while working on the home, such as someone accidently falling off the roof. If a contractor doesn't have insurance and someone gets injured while working on your home, the injured party has a legal right to file a lawsuit against you.
If a contractor doesn't have valid insurance, they can obtain temporary insurance to cover the work being done on your property. Some contractors might refuse to take on a job if you ask them to have insurance. In most cases, you're better off not hiring them.