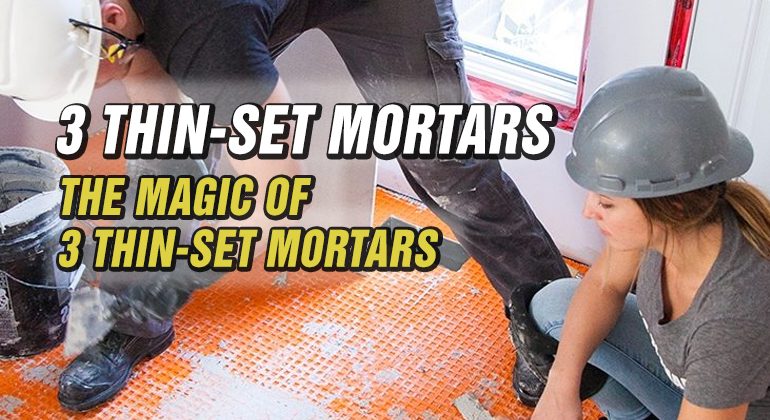 The Magic Of 3 Thin-set Mortars
By Sherry Holmes
Monday, April 16th, 2018 @ 1:17pm
Thin-Set Mortars Explained
We've all encountered grout at some point, whether it's the grout between tiles in a bathroom, kitchen backsplash or tile flooring. You don't have to be a homeowner to either know or be able to identify grout in a home. But what you may not know is that grout is not the magic material used to glue down a tile or stone to a surface. So if it's not grout doing the job, what is? Hint: It's also not glue.
Differences Between Grout and Thin-set Mortar
---
Grout is a mortar or paste used to fill gaps between tile and stone and is usually a powdered mix of cement, lime, colour pigment and sometimes sand. It gives a finishing look to tile and natural stone projects and provides strength to the tile or stone installation. So you know what is used to fill the gaps between tiles, but how do the tiles adhere to the surface they're installed on?
The most common adhesive used for setting tile and stone is thin-set mortar.
What Is Thin-Set Mortar?
It's a mixture of sand, cement, and chemicals and is typically available in either white or gray. Some thin-set mortars include latex and other polymer additives to help increase bonding strength.
Types of Thin-Set Mortars
---
Not all thin-set mortars are made to perform the same. When working with thin-set mortar, you must use the right one for the job, and that will depend on the location and the surface you are adhering the tile or stone to.
There are two types of thin-set mortars, unmodified and modified.
Unmodified is a blend of Portland cement, sand, and water retention agents that the installer would mix with water. This type of thin-set mortar is also referred to as dry-set mortar. It is dependent upon moisture for hydration to gain its strength.
Modified is similar to unmodified thin-set mortars, as it also consists of a blend of Portland cement, sand and water retention agents, however, it also includes additional polymers, such as latex in either powdered or liquid form, helping to increase its performance, flexibility, and bonding strength. This type of thin-set generally gains its strength by losing moisture. It gets stronger as it dries or cures. It is often the ideal choice when setting tile over materials such as plywood, OSB or drywall.
When to Use a Modified Thin-Set Mortar
---
If you're looking to set tile over a membrane, you typically shouldn't use a modified thin-set mortar, as the drying process takes far longer than unmodified thin-set mortar. This is due to the mortar being sandwiched between 2 impermeable materials, being the membrane and tile, which does not allow for fast drying. The moisture can't escape, so it may not cure properly.
With standard modified thin-set mortar the Tile Council of North America says it can take from 14 to more than 60 days to cure properly. In this case, an unmodified thin-set mortar would be best suited, as the mortar is able to properly hydrate and cure faster (typically within 24 hours).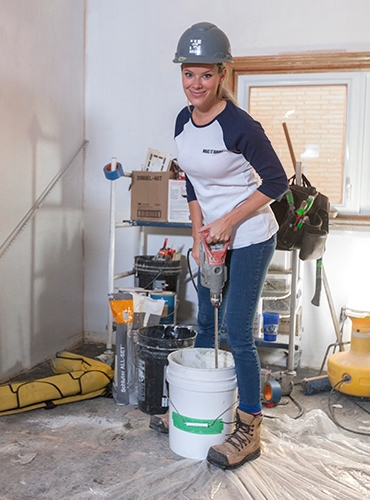 Schluter Thin-Set Mortars
---
I was excited when Schluter launched their new Schluter thin-set mortars. The first time I tried one of the new thin-set mortars was on the job site while renovating a bathroom with my brother, Michael. We used the Schluter thin-set mortars to apply the Schluter membrane around a tub surround and to set tiles on top of the membrane.
I've loved mucking around with the Schluter products for years, so I wasn't surprised that this was no exception – and that it worked great, too. The key to using the Schluter thin-set mortars is to always follow the directions listed on the package. This is important for the consistency and performance of the thin-set. Each Schluter thin-set mortar has its own specific directions, so make sure you read before mixing and applying.
New Schluter Thin-Set Mortars
---
Schluter recently developed three different thin-set mortar products that have been approved and specifically formulated to set porcelain, ceramic, and stone tile over Schluter boards and membranes. These new and advanced products include Schluter SET, Schluter ALL-SET, and Schluter FAST-SET.
Schluter SET is a premium unmodified thin-set mortar. It can be used to set tile, including large and heavy tile and is approved for use over Schluter boards and membranes. It provides a sag-resistant, smooth and creamy consistency and is easy to handle and spread.
Schluter ALL-SET is a specialized modified thin-set mortar and is engineered for use both under and over all DITRA and KERDI products – perfect if you're including a heated floor in your next bathroom remodel. I know, I said not to use modified thin-set to install tile over a membrane. Schluter has done a lot of testing in the lab and in the real world to develop a modified thin-set that cures completely in 12 hours when used to install tile over a membrane. I love this because now we can use one high-quality thin-set for all of the tiles we install, no matter what is underneath.
Schluter FAST-SET is a specialized modified rapid-setting thin-set mortar that is ready to grout in 4 hours, which is ideal for fast-track projects. It is also suitable for use both under and over DITRA and KERDI
All three of the products not only make the installation process easier but they also allow tile installers to use a single source for their tile installation systems, all while guaranteeing product compatibility. The best part about using Schluter's new thin-set mortars is when they are used with certain Schluter products, an extended lifetime warranty is available.
All Schluter thin-set mortars are premium grade for high performance and have a smooth, creamy consistency, making it easier for tile installers to work with. They are sag-resistant and suitable for use with porcelain and large and heavy tile applications.
READ NEXT