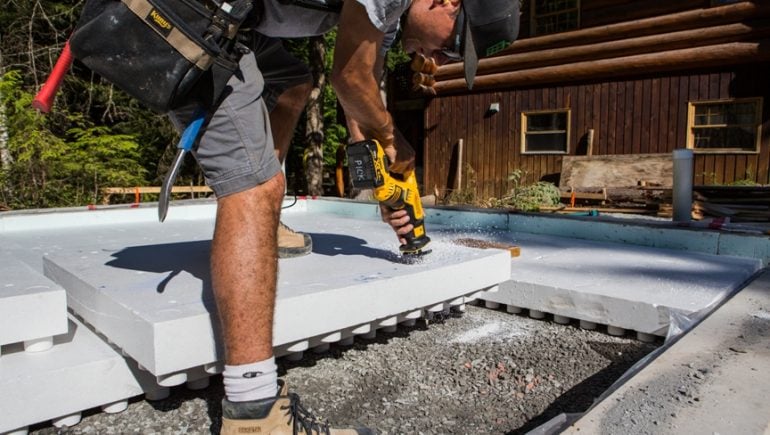 Block Radon From Entering Your Home
By Mike Holmes
Friday, August 17th, 2018 @ 8:07am
My son and I have been talking about the dangers of radon gas for years now. You'll even see in our show, Holmes and Holmes, that we test all our projects for radon gas – and have taken steps to mitigate it.
My Holmes Approved Homes builders like RDC Fine Homes, Charette Custom Homes and Sonbuilt Custom Homes Ltd.have stepped up to build better homes that guard against radon because they believe in building healthier homes. I also partnered up with Radon Environmental who supply testing and mitigation products to my builders.
Presence of Radon Gas
---
Radon is present in every indoor environment so everyone should build with a radon mitigation plan in mind, regardless of where they live. The geological make up of the soil and bedrock certain areas are prone to have higher levels of radon – but any home can have dangerous levels of radon, regardless of geography.
Did You Know?

In Canada Calgary, South Western Ontario, and the Interior of BC are examples of areas where high radon gas levels have been recorded but there are many more. In the USA certain states have recorded high levels, including PA, NH, NC and MN
Building it Right with Radon Guard and Radon Block
---
Testing for radon is easy. You can order a radon testing kit or have an Indoor Air Quality Test performed by a home inspector.
But as a builder, how do you prevent radon entry? I'd like to introduce two products to you; Radon Guard and Radon Block. Both products are the only Canadian Construction Materials Centre (CCMC) approved alternative to the prescriptive gravel and vapour barrier in the code.

Radon Guard is, a structural sub slab insulation panel that creates continuous ventilation below the slab, and Radon Block is, an engineered vapour barrier that blocks Radon from diffusing into the home. By using these products, coupled with a 4" vent pipe from below the slab that exhausts outdoors, builders are making it right and above code standard, which will go a long way towards radon proofing a home. 
RDC Fine Homes Project
---
The RDC Fine Homes project is a new build set on the mountain in Whistler, B.C. They're all about delivering a healthier home that's as energy efficient as possible. For this project, they've partnered with Radon Environmental to install the Radon Guard and Radon Block to guard the home – and its homeowners from radon gas! In the event the home still tests high for radon gas once completed, a sealed radon fan will be added to the home, to truly mitigate the issue.
Installing Radon Guard and Block
---
Radon Guard and Radon Block can be installed on any site by labourers or carpenters. It takes two people roughly four hours to install the Guard and Block in a typical home.
How Radon Guard looks after it's been placed.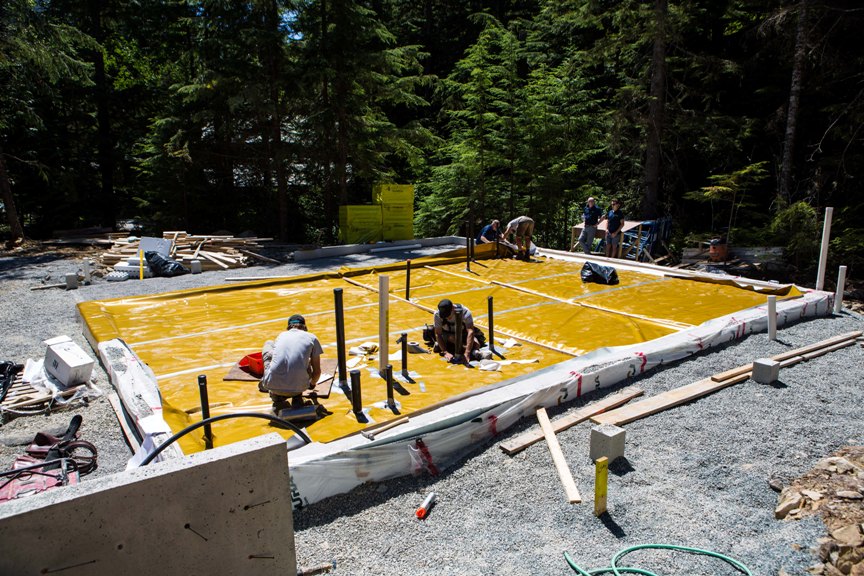 Protecting from Radon at The Construction Stage
---
Important Considerations for Builders
---
Builders need to consider three key points when considering installing Radon Guard instead of traditional gravel:  
They are getting insulation value as well as the better airflow under the slab.
Gravel tends to clog over time, leading to reduced airflow
The gravel can itself be the source of Radon under the home.
If you are a builder looking for products that make it right, I'd recommend looking into Radon Guard and Block. If you would like more information, you can contact David Innes, Director of Sales at Radon Environmental Management Corp.: david.innes@radoncorp.com.