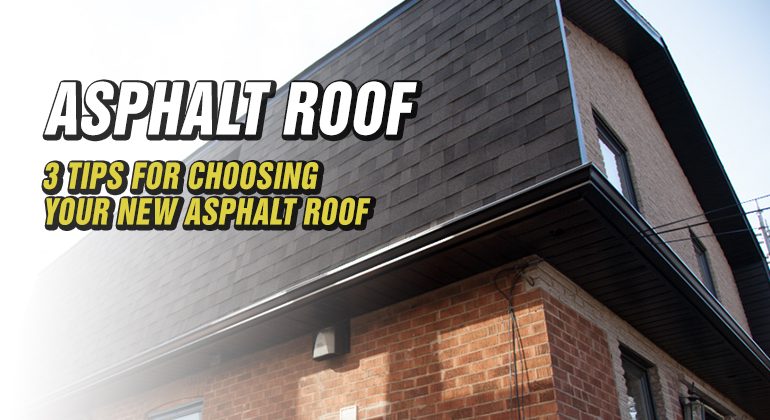 3 TIPs for Choosing Your New Asphalt Roof
By Mike Holmes Jr.
Thursday, June 13th, 2019 @ 11:31am
Taking care of your roof is a very important part of your home maintenance. As a key component of your building envelope, a roof is a system that needs to work together-that includes the underlayment, the flashing and the sheathing and of course the shingles. I always recommend protecting your home from the outside in, and your roof is a big part of that defence system.
Think About Curb Appeal: Buying Or Selling Your Home
Your roof can impact the curb appeal of your home, whether you are selling or staying put. When it comes to a house, if the outside looks bad you can guess that the inside probably won't be any better. The outside can usually tell you how much maintenance was put into the home overall.
A good roofer will fix flashings and soffits and replace missing or sagging shingles—and let you know if your chimney needs repairs. These aren't expensive fixes, but if your home needs them and you go without, they can scare away buyers.
Don't just think about landscaping and putting nice outdoor lights out to entice buyers. Your roof is a big part of your curb appeal so pay attention to an asphalt shingle roof that has shingles that are curling, have black streaks running down it, or worse, water leaks. If you have determined that it's time to replace your existing roof, research your options.
RELATED
TIP# 1 Research Your Shingle Options
---
Your roof's first layer of protection is the shingles. During a rain or windstorm, the shingles are likely to get damaged first. Obviously, your roof protects your home year-round, but in the fall and winter any weak spots in your roof will really be tested. That's why it is so important to have your roof inspected by a professional on a regular basis.
There are plenty of shingle choices out there. Asphalt shingles are the most common type of shingles. 
The upfront costs of a metal roof are higher than an asphalt roof, but metal roofs are durable and fire resistant and to me, definitely worth the investment. I also know that a metal roof isn't for everyone. No matter what roof type you choose, quality of the materials and quality of the installation is key. A roof installed properly and with high quality materials will protect your home for years.
For homeowners looking to do a have their roofs done on a budget while maintaining a fairly attractive look and weather tightness of their home, asphalt shingles are a cost effective solution.
You will also have to decide on the colour, size and type of asphalt shingles. Do you want architectural shingles or laminated shingles? Do you want a metal roof? It is tempting to rely on your contractor's recommendation for shingles, but you are the one who has to live with that roof for decades. Make sure you research your shingle options and the cost to install your roofing materials.
TIP# 2 Research Your Roofing Contractor
---
The hassle of re-roofing is a headache for everyone. Find a good roofing contractor who doesn't cut corners. Finding a roofing contractor is no different than hiring a regular contractor. Stay away from "fly-by-nighters," including contractors offering to do the work for cash.
If your roof is improperly installed, it can create major issues on the inside of your home. I always say when it comes to home construction, you get what you pay for.
Here are some questions to ask your roofing contractor:
What is the manufacturer's warranty on the roof?

How will the shingles perform when subjected to high winds and extreme weather?

Are these shingles susceptible to ugly streaks?
Watch below Roof It Right, a series with Mike Holmes Jr & Sherry Holmes helping some lucky homeowners get their roofs updated with shingles protected by Scotchgard Protector by 3M and Atlas Roofing
TIP# 3: Get Involved In Picking Your Shingles
---
If you have found a good contractor, their advice will be valuable. However, I encourage all homeowners to do their own research on the shingles as well. If you've watched our TV shows, you know that we are constantly in search of ways to use sustainable, recycled building materials, including eco-friendly roofing.
I love working with 3M and was very excited to hear they have launched a smog-reducing roofing granule for roofing shingles. In fact, this was even in Time Magazine's Inventions of the Year for 2018.
My wife, Lisa, and I are always thinking about ways we can reduce our carbon footprint by making small changes, like eliminating our plastic water bottle use. As a contractor, I try to bring that mentality to our jobsites – so learning about building materials that actually BENEFIT the environment? You know I wanted to learn more.

How Can Roofing Shingles Help The Environment?
3M's smog-reducing roofing granules are a cost-effective way to fight smog pollution. Essentially, the granule in these roofing shingles will help clean our air in a similar way that our trees do. Many homeowners and businesses have taken steps to accomplish an environmentally friendly build by incorporating sustainable architecture like a green roof. Green roofs have many benefits and one of them is to help clean smog and pollution from the air. 3M has now come out with a new material that will help battle the smog and pollution problem, for a much more affordable price.
On a recent job we had these shingles installed. Our 30 square foot roof is equivalent to planting two trees. How awesome is that? It contributes to better air quality.
Watch another episode of Roof It Right on the importance of choosing the right shingle for your home.
This is how it works:
The 3M Smog-reducing Granules contain a specialized coating layer. This layer is activated by the sun to fight smog.
The sun's UV rays create radicals that react with nitrogen oxides in smog.
This breaks them down into a salt deposit.

The deposit gets washed away as a plant usable form of nitrogen.
To find a contractor that can make your home a smog-fighting hero, click here.
Healthy Homes
We must continue to think of more sustainable building practices and ways to lessen our effect on the environment. As builders we need to do our best to incorporate materials and products that will contribute to healthy homes and helping the environment. That's why I am a strong advocate for using low VOC paints, testing for mold and testing for radon. By using products like 3M's new smog-reducing granules in their shingles, we are certainly taking a step in the right direction.
If you're unfamiliar with radon and some of the effects it can cause to your and your family then watch my PSA video below.
Sustainable Building Practices
By the year 2060 it is expected that we will have a population of over 10 billion people on the earth. Currently we are at around 7.7 billion people. As our population continues to grow, we continue to take from the planet and we must continue to think of ways to set environmentally friendly building practices in place to try and compensate for what we take. That includes diverting waste from the landfill responsibly – and recycling and reusing whatever possible.
It also means using products that don't harm the environment. I love when companies take that mandate one step further and actually develop products that HELP the environment.
If a new roof isn't in your plans this year, regular roof maintenance should certainly be part of your home maintenance checklist every season. Check out roof maintenance tips here.
READ NEXT