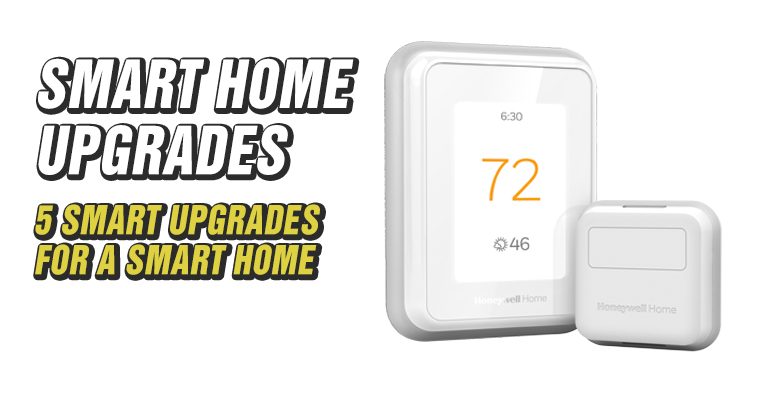 5 Smart Upgrades For A Smart Home
By Mike Holmes
Thursday, August 15th, 2019 @ 4:42pm
A smart home allows you to stay connected to your home while you are away, and it can also help with energy management. Even builders these days are being challenged to incorporate smart devices into their homes. And homeowners want to see that! Instead of looking for homes with fancier finishes, homeowners are looking for builders that offer smart upgrades as part of their builder packages. 
Smart home technology lets you stay connected to your house when you can't be there. When my son and I renovated the suburban house in Holmes and Holmes season 2, we integrated tons of smart features like blinds, receptacles, a security system and a Napoleon fireplace I can control with my phone. 
They're convenient, safe, and personally, I think they're pretty slick. But for those of you who are still new to the smart home game, where should you start? Here are 5 smart home devices that you should consider for your home.
5. Smart Security
---
A smart lock essentially replaces the need for keys, opting for a digital key. Now, there's still a physical key – but for the most part, you'll be able to lock and unlock from your phone, or the lock's touchpad. You can also assign family members codes so they can enter your home while you are away.
I have the Schlage Sense Smart Deadbolt because of the additional security features. This one has a built-in alarm system and that means peace of mind! A smart lock will also send you notifications when someone enters or leaves the home.
I love mine because it means when I'm away from home, and I need someone to come in to walk Charlie or bring in the mail, I can simply send them a digital key, and when they no longer need it – delete their access. That means no extra keys floating around.
I know when Sherry has her hands full with baby Cali, it can be a real lifesaver. She can easily lock and unlock her door without the need to fumble for her keys.
I've heard from some homeowners who hesitate to add smart locks to their homes because they think they're a higher security risk. A good smart lock is secure from hacking attempts, and when it comes with a strong deadbolt, you've got a secure door.
Some of my Holmes Approved Homes builders have started using smart locks on their build sites. They'll know when the sub trades show up to the job site every morning. For me, it means I know when one of my kids stopped by to borrow one of my tools.
Security doesn't stop with the front door. Consider installing home security cameras and systems that allow you to monitor the action directly from your phone. In the event that someone attempts to force open your door, or break a window, with smart looks and smart home security systems, you'll receive an alert straight to your phone, no matter where you are.
4. Smart Appliances
---
What are the benefits of smart appliances? First and foremost – they're energy-efficient which means money saved on your monthly bills. A lot of them connect directly to the manufacturer and can run a diagnostic when something goes wrong alerting your repair person of the problem BEFORE they arrive at your house. 
The ease and convenience of being connected directly to your phone and home automation hubs can't be ignored either. My fridge is even programmed to make me a cup of coffee in the morning. How slick is that?
I also love having my washing machine and dryer connected to my wifi. GE makes a great one. With an app, you can extend your dryer cycle, receive an alert when your cycle is complete and even customize your settings.
See below "Holmes vs Holmes Brains or Brawn"  where I debate the signature features of our favourite GE Profile Range with Mike Holmes Jr.
3. Smart Lighting
---
Well-placed lighting around your home is a great security feature. Setting lights on a timer while you're away can make the house look lived in, and motion-detecting lights around a home can go a long way to deterring would-be thieves.
But you know me, I like to go the extra mile when I can. Think about this: if you've set your lights on a timer and they flick on at 7 pm each night and shut off exactly at 11 pm – someone watching the house over a few days might recognize the pattern and realize the homeowner is away.
This is where my smart lights come into play. Smart lights can let you program the lights for different times throughout the day – all from your phone. Some smart lights can even activate when you enter a room and shut off when you leave. And that means energy savings for you.
I also recommend having smart receptacles installed in your home. If you have left your home and think you may have left your iron plugged in, you can remotely switch it off. Or you can turn lamps on and off to trick someone who may be watching your house while you are away.
Watch Below To See How I Explain Smart Lights
2. Smart Thermostat
---
Smart thermostats are an upgrade I recommend to every homeowner, even if they're a little uneasy about taking the plunge into smart upgrades. Why? Smart thermostats save you money on your energy bills.
You can control your home's heating, cooling, and ventilation remotely, and you can see your home's energy consumption in real-time. You can set your thermostat on a schedule so that you're not wasting excess energy – and some thermostats are even able to learn your schedules on their own. That means you'll always walk into a home that's set for the right temperature.
We've been incorporating smart thermostats wherever we can on our projects. Check out the Honeywell Home T9 smart thermostat. It has an intelligent motion detector, so it can deliver the right temperature to the rooms that are occupied. How smart is that! Resideo 
1. Home Control Hubs
---
What's the best way to manage all your smart devices? A home control hub lets you manage your locks, lightings, security, thermostats, even your smart speakers – and all from your phone.
My Eaton Home Automation Hub connects me to all my smart home gadgets. I love it because it's ONE app that controls my smart features. How slick is that? It even let me have a little bit of fun with my kids…
Smart home products are designed to make our lives easier but they offer way more than that! A home outfitted with smart technology can offer energy savings and peace of mind, too.