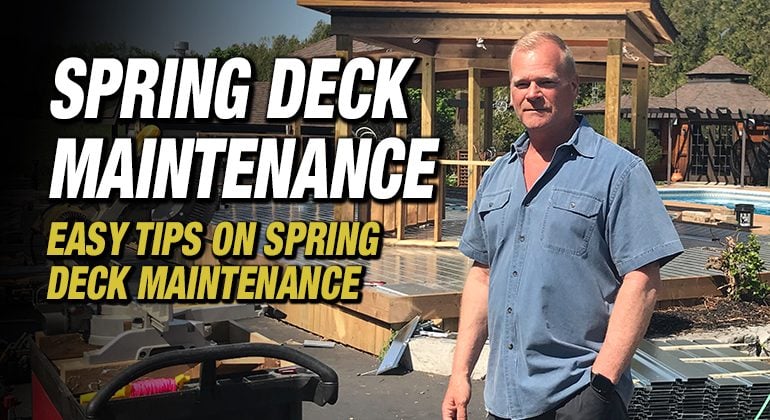 Spring Deck Maintenance (EASY Tips)
By Mike Holmes
Sunday, April 11th, 2021 @ 2:02pm
Do you pay as much attention to your outdoor structures as you do your main home? You should – they require just as much maintenance as the rest of the home. Exposure to the elements, without the proper care can make them break down much more quickly – or become a danger.
Why Do You Need to Maintain Your Deck?
---
A deck is a structure, just like the framing in your home, your foundation, your walls and floors. But your home's structure is protected by a building envelope (i.e., a roof, exterior siding, strapping, house wrap, etc.). 
Your deck's structure doesn't have the same amount of protection. It's exposed to the elements and day-in and day-out, therefore it's more prone to wear and tear. 
Regular inspection and maintenance can extend your wood deck's life by 10-15 years. Here are some simple tips you can follow when inspecting your deck:
Look for the warning signs
---
Inspect your deck for loose screws and protruding nails, corroding fasteners and rotting wooden boards to help you determine whether or not your deck needs repairs. 
If you are unsure of your deck's safety contact a professional, such as a certified deck inspector.
Protect Fasteners From Corrosion
---
Connectors and fasteners exposed to weather are prone to corrosion. Using zinc coated or stainless steel fasteners and connectors is highly recommended because they are resistant to corrosion, which helps preserve your deck's longevity.
Fix Loose Connections
---
One of the more frequent issues is loose nails, as well as loose or wobbly connections. They can lead to serious structural issues and if not fixed, can cause injuries. 
Over that time, there's a very good chance that many deck connections could have worn out, including along stairs, railings, joists, ledgers and deck boards.
Replace loose nails with galvanized, all-purpose deck screws that provide a more secure connection than a regular nail. If you have loose or wobbly connections, you can often strengthen your deck with metal hardware.
Regular Maintenance and Checks
---
Your deck should be inspected twice a year, once in the spring and at the end of summer before fall. Regular deck maintenance and checks improve its safety and extends its longevity.
Check Out Flashing
---
Your deck's ledger board should be protected by proper flashing (around it and over it), which is usually provided by the home itself. The flashing helps channel away moisture. If water gets behind the ledger board it can rot it from the backside.
RELATED:
Look for a Continuous Load Path
---
Your deck must be structurally sound by forming a solid connection between the deck and the house, through the deck frame and into the ground, also known as the continuous load path. Make sure that:
The ledger board connects the deck to the house using proper fasteners, such as structural screws, connectors and/or bolts.

The deck's floor joists are properly secured to the beams.

The horizontal beams across the deck are connected to the top of posts using metal connectors.

And finally, the bottom of each post is attached to the concrete footing using a metal post base or column base.
Note: Post base connectors strengthen the attachment to the ground by preventing moisture from compromising the structural strength of the wooden post.
Watch for Water Drainage
---
When it rains, watch where the water is draining off your deck. All water should drain towards the front of your deck, not back towards your home.
Inspect The Ledger
---
Where wood meets wood (butted boards) or wood meets concrete are the most common places for hidden rot. If you haven't protected your deck in a long time or not at all, take something hard and pointy like a flathead screwdriver and poke around. You will probably find soft or even hollow boards that require replacement.
RELATED:
Look Under The Deck
---
Check to see if the posts are cracked and/or crooked. Are there concrete piers under the posts and if so, have they heaved? There is no sense in refinishing the surface if the substructure is rotten and/or unsafe. 
Clean The Deck
---
This is simple. Don't let leaves and other debris pile up in corners. I would spray it with a garden hose and use a deck cleaner. You could also use a pressure washer if you have one, but use the low power setting to avoid damaging the wood.
A Professional Deck Inspection
---
If you hire a professional home inspector to take a look at your deck, they will be inspecting the overall structure including: 
Footings

Deck posts

Beams

Connectors

Ledger boards

Railings

Stairs

Deck boards 
The inspector will then list any major safety concerns, or deficiencies within the structure, and offer a timeline on when those issues will need to be addressed.
Just for safety – if your deck is more than five years old, it should be inspected as soon as possible, and at least every three years beyond that. I read about too many deck accidents in the summertime – accidents that could have been prevented. 
Over the course of it's lifetime, which in some cases can be 10-20 years, sometimes more, many of your deck's connections could have worn out; boards, posts, joists, railings and stairs could have started to decay or rot. This is an accident waiting to happen. Don't be a headline. Make sure your deck is regularly maintained.
RELATED:
Read Next: I had a composite deck that I took down. I redesigned it entirely, pulled out my hot tub and created extra seating areas. Check out my Ultimate Deck.