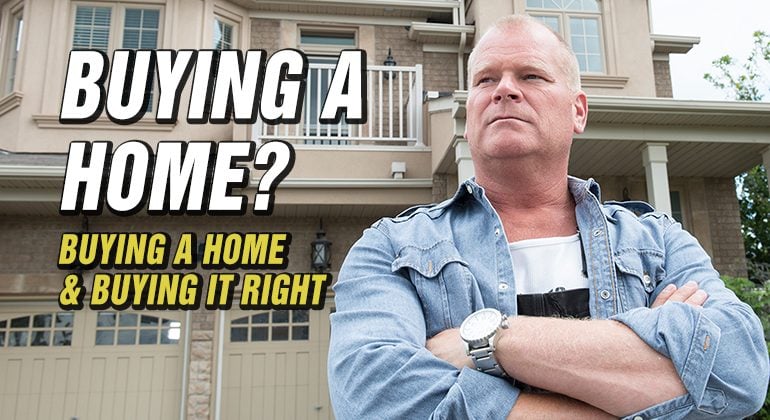 Buying A Home and Buying It Right
By Mike Holmes
Thursday, September 19th, 2019 @ 12:17am
I have always talked about my four phases of Homeownership (Buying It Right, Owning It Right, Protecting It Right and Selling It Right). It all starts with buying a home, so I'm here to tell you how to buy a home right in a seller's market.
Do you plan to buy in a seller's market?
---
In a seller's market homebuyers jump through hoops just to buy a decent home. So homebuyers better start stretching, because that's exactly what they're going to have to do to their budgets. Listen, I get that homeownership is an exciting process, but don't rush into decisions.
A seller's market has a tendency to push buyers to do things they normally wouldn't do, and commit to things that puts them in a vulnerable position. Usually, that means pushing beyond their financial capacity and getting in way over their heads in debt. And for what? For something that seems pretty basic: an affordable, safe home.
It's tough, I know. You have this idea of the kind of home you want, and you think it's totally within your reach. But with the way things are going, some buyers might be looking at paying close to a quarter more than they thought they would in some Canadian markets. This could lead some homebuyers to make some very bad decisions.
Bad Decisions when Buying A Home
---
What kind of decisions? Well, for one, buying a home you know you can't afford, which is scary enough. But now I'm hearing about homebuyers who are not getting a home inspection to avoid a bidding war.
So what's going on here? Essentially, potential buyers are making their purchasing decision out of fear. They want to avoid a bidding war because they want to spend less. But they end up buying a home that could cost a fortune to repair. If the name of the game is saving money, not getting a home inspection doesn't make any sense.
Bidding Wars in a Seller's Market
---
I can understand the motivation behind homebuyers wanting to avoid bidding wars at all costs. I recently heard of one story where someone got a bad case of buyer's remorse after getting swept up in a bidding war. The result? They had to walk away from a $20,000 deposit.
But you want to talk about buyer's remorse? How about buying a $500,000 house on a $400,000 budget, only to find out it's going to need $80,000 in repairs just a week after moving in.
This isn't an exaggerated scenario either. I've heard, seen and dealt with a lot worse.
Unless you've got an unlimited budget, I get peoples' phobia against bidding wars. But homebuyers need to know that by running away from a bidding war, they could be running straight into a battlefield filled with landmines.
Not Getting a Home Inspection?
---
Homebuyers who purchase a home without first getting a home inspection are essentially playing Russian roulette with their finances…and their sanity.
I've seen firsthand the chaos, stress and anxiety a house with problems can put a family through. And if people are already overextending themselves just to buy the house, what makes them think they can handle any future repairs? I might be a risk taker, but that's just going against better judgement.
Is it a seller's market? Yes, but that doesn't mean we throw reason out the window. Buying a house without getting a home inspection is like buying it with a blindfold on. Seriously. You might as well, because you have no idea what you're getting into. Or how much it's actually going to end up costing you.
Buying A Home Can Be Risky
---
Buying a home is an exciting process. But no matter what, you're taking a risk when you a purchase a home. But a home inspection – a good one – minimizes that risk for you. By getting a home inspection, you will have a better idea of what you're investing in. In fact, a home inspection can give you negotiating points that can actually drive down the selling price of the house.
I know what some of you might be thinking: In a seller's market, if you get a home inspection that turns up some bad news and you try to renegotiate the selling price, the seller is just going to move onto next buyer. But then you have to ask yourself, is this necessarily a bad thing?
Maybe they're doing you a favour. In most cases, they are.
If you lose a bid on a house that's one, overpriced and two, going to need some major repairs, you don't want it. Trust me, you don't. Nine times out of ten, it's not worth the aggravation it will cause you. Life isn't fun when you're giving everything you've got for a house you can't even live in.
So please, do yourself a favour. Get a home inspection before buying a house. For an investment this big, you want to base your decision on skill and knowledge. Not fear.
Need a Home Inspection?

First Time HomeBuyers
---
First time homebuyers need to be extra cautious when buying a home in a seller's market. Do your research on what it will cost to maintain the home seasonally. Even if you were smart enough to get a professional home inspection done, there is no way to predict that your furnace may fail next year or a storm may damage your roof. Be prepared for these extra homeownership costs that may pop up. It's natural to feel overwhelmed and rush into a home buying decision, especially when there's a budding war. But don't fool yourself into thinking that you can do bigger repairs around the house yourself. A DIY job gone wrong will cost you more in the long run. Here are some more tips on buying a home for first time home buyers.
Taking your time is especially important if you are buying an older home. Here are some red flags to look out for.
READ NEXT