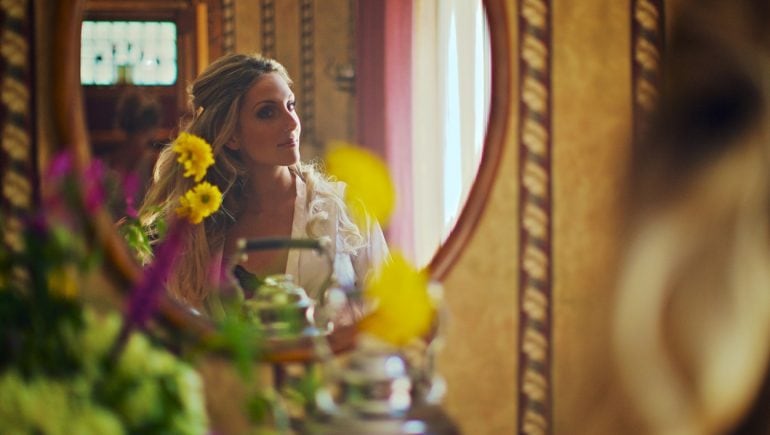 My Perfect Wedding
By Guest Post
Friday, November 9th, 2018 @ 4:36pm
Article By: Lisa Marie Holmes
Recently I have been asked by several people what it was like having our wedding day filmed by a production company with a large crew. In short, it was so much fun and an incredible honour. Michael (or Mike Jr. as most people know him as) and I have been working with this particular production crew for almost 4 years through the filming of both season 1 and season 2 of Holmes and Holmes (H&H). Naturally, they have become like an extended family to us and they were absolutely welcome guests on our wedding day.
In season 1 of Holmes and Holmes they captured our engagement and it has been a privilege to work with so many loving, hard working, and caring individuals. In season 2, the crew filmed our wedding prep as well as the wedding day itself and it's always fun watching the evolution of our relationship unfold on the television screen! I was thrilled to watch the episode on HGTV Canada. The crew does a great job of capturing mine and Michael's special moments (even the tense and stressful ones too as I promise you we are not perfect and having the cameras nearby does not stop us from holding back our emotions haha) and we are so thrilled to be able to share those moments with all of you!
Not long after Michael proposed to me, and I said "YES!" Michael and his dad, Mike Holmes Sr. (Big Mike), went into business together. Now, I am sure that anyone who has played a role in planning a wedding, whether you were the partner, maid of honour, best man, sibling, parent, friend, or psychologist (haha.. but seriously…), you know how crazy wedding planning can sometimes get. Now, despite my valiant efforts to NOT turn into "bridezilla" I cannot deny that there were some really stressful moments along the way. I would consider myself a very unconventional bride and I value the importance of a wedding day but for me, every day needs to feel that special. Hindsight is 20/20 and now that I have gone through the whole wedding process there are definitely things I would have done differently! Read my post to find out what I would have done differently so that you can take these thoughts into consideration when you make the next step with your partner!
Juggling it all.
---
Throughout the planning of the wedding I was in my 4th year of naturopathic medical school doing my internship and seeing patients 4x/week, we had just brought our fur baby Caicos home a month before the wedding, AND Michael and his dad were full steam ahead with their business endeavours! Juggling patient visits, planning a wedding, as well as supporting my busy fiancé made for quite the stressful year. Despite Michael's intention to be very involved with the wedding planning, it only added more to his plate and at this time he was away traveling for work every 2 weeks. Between me not having a clue how to plan a wedding and Michael being away all of the time for work, I am surprised that we pulled off such a spectacular day! Luckily for us, we had some great help from my sister (maid of honour), wedding planner (my mother), and the wonderful community that we surround ourselves with to help lighten the load and push us in the right direction.
Dreaming of my wedding day.
---
Growing up I was never the type of girl that dreamt about her future wedding day. The only vision I ever had of the "special day" was that I would be barefoot, it would take place outdoors, and we would be surrounded by nature (check, check, and check!). Despite how unconventional that idea was, it was the one thing that I held on to throughout the wedding planning process. Since I was the first person out of all of my different groups of friends and family to get married (high school, Western University, medical school, etc…), I had no idea how to plan a wedding. I tried to keep it as simple as possible but even a simple wedding can have its moments. Furthermore, because I was finishing my last year of school, finances were definitely tight. That added a lot of stress when we were budget planning. However, I mastered a few great ways to cut costs and save money on the wedding day which you can learn about here in this blog!
Mike Jr. and I made the most of our year and a half of wedding planning by finding the best work-life balance that we could even when we were doing long-distance. I often visited him on site and traveled with him as much as possible. During those days when I couldn't be by his side while he worked we often had long FaceTime chats dreaming up our special day.
After all of the juggling, long days, and late nights we did planning for this one special moment it was totally worth it in the end. Before we wed I seriously didn't think a ceremony would have been as impactful as it was. You can read more about how married life has changed our relationship here in this blog post.
The most special moment.
---
If I were to choose the most special moment for me on our wedding day it would have to be the moment I began to walk down the aisle. I started my walk with a smoke medicine ceremony held by two people that I hold very close to my heart (click here to learn more about smoke medicine. You may be more familiar with the term "smudging"). I then met my dad at the top of the aisle and proceeded to walk down the aisle towards Michael where he was standing at the end, along side our closest friends and family beaming from ear to ear. My heart truly skipped a beat. It is a moment that I will remember forever – the sun was shining over the tree tops in the distance, the air was warm, the river was gently flowing, and I couldn't help but smile and cry at the same time (makeup ruined! haha).
Beyond that incredible moment, the next top 5 highlights on our wedding day would have to be:
Our big wedding kiss! Michael picked me up in his arms and I was officially the happiest girl in the world!
Getting thrown in the air by all of the men in the wedding parties – not once might I add, but 3 times!! (hair ruined! haha)
Mine and Michael's first dance to our song is "Bloom" by the Paper Kites
Listening to all of the speeches – I know they can be boring for everyone else but hearing and feeling the love from those we hold closest to us was really important to us. They were words that we will hold on to forever.
Dancing and eating all. night. long.
I just want to take a moment to thank everyone who was a part of mine and Michael's wedding day. From the family members who stepped up and made both of us feel loved, to the friends who showed up and made us feel supported, all of the way to everyone who captured and shared our special moments from the production teams, the networks, and the magazines. It has been such an honour and privilege and as a Canadian I couldn't feel prouder to share with you the intimate moments from our most cherished day. There have been so many wonderful people playing a special role in mine and Michael's love story – and that includes all of the audience viewers too! So thank you for sharing the love! May it spread like wild fire.