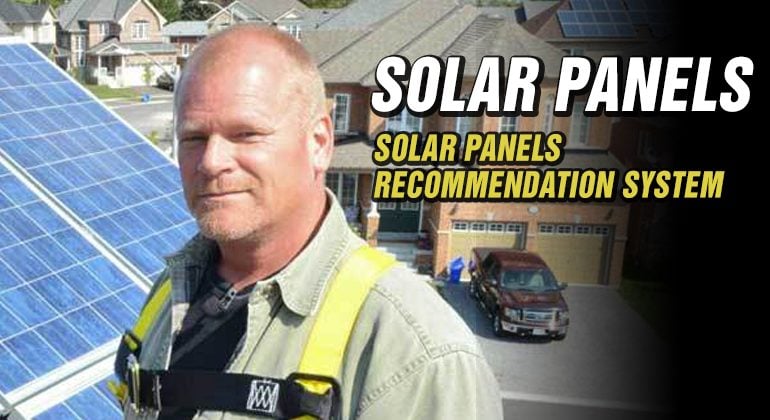 Solar Panels Recommendation System
By Mike Holmes
Thursday, April 18th, 2019 @ 4:49pm
If you have watched my shows, you know that I am a big supporter of technologies and products that are long term solutions for homeowners. I am seeing more and more builders moving towards Net Zero energy homes, and solar power is a big part of that. I think solar energy is a smart investment for homeowners.
Solar Energy isn't a Trend
---
Nowadays, a dream home has less to do with the fancy finishes and more to do with savings. I love that. Because it means homeowners are smartening up and working with their builders to build better homes.I work with many builders that incorporate solar energy in their builds.
One of my partner builders (Effect Home Builders) recently built an off the grid office in Edmonton. It features some of the latest in green technology and incorporates everything from solar panels to triple pane windows. And it looks good. You can read more about the most energy efficient office in Edmonton here.
The Demand for Solar Panels
---
I recently asked homeowners on Twitter what they would spend their money on if they had 20k. It was exciting for me to see many people respond with "solar panels". Clearly there is a desire to go off the grid, but many people are intimidated or confused about the process. Here are some common questions people ask me about solar panels:
Don't I need to budget for a new roof as well?

No. Most solar projects are retrofitted to existing structures, so don't think that solar panels are for new builds only.

How do I know if my roof is a good candidate for solar panels?

The best home for solar panel installation is a south-facing. EnergyGeeks has developed an online system that identifies the best solar fit for your home. More on EnergyGeeks below.

Will solar panels actually pay off in the long run?

Solar panels can harness more energy than you need to power your home. Some municipalities even offer a buyback program for solar energy. Look into rebates and programs offered by your province – you never know where it might pay to make upgrades.
I had 40 solar panels installed on my garage. My son Mike Jr also had solar panels installed on his metal roof when he renovated his bungalow. Since then there have been many advances in solar energy and technology, allowing you to reduce your electricity cost and consumption. This is important because it is estimated that in 30 years, we will be using 75% more energy than we currently are. We need to take steps NOW to meet that demand.
Choosing The Right Solar Option
---
With so many options available for solar panels and so much confusion, EnergyGeeks have come up with an easy way for homeowners to explore solar power online. I've been working with them for a few years now, and they were recently featured in National Geographic.
EnergyGeeks has created the industry's first online solar recommendation system, which brings together all solar resources under one platform.  They launched this tool in 2016, and since then the company has helped over 2,000 customers to date go solar with their proprietary solar recommendation system. They are actually the fastest growing solar company in North America. How many solar panels do I need to install? WIll my roof support solar panels? What sort of solar makes sense? 
I asked them to breakdown their online system, read below.
"We established EnergyGeeks as a response to what we felt was broken in the solar industry – the actual discovery, shopping and purchasing phase of implementing solar into a household," says Mackie Hilborn, co-founder and CEO of EnergyGeeks. "By creating a streamlined process and putting it online, customers are able to shop for solar from start to finish, from the comforts of their own home and with the assistance of our experienced EnergyGeeks representatives." As a customer wanting to go solar, you log onto EnergyGeeks' website to complete the following steps:
Complete your unique energy profile and identify your solar goals.

Run EnergyGeeks' proprietary matching algorithm to identify the best solar fit for you and your home..

You select your idea solar option.
This three-step system is imperative in the solar industry as it is not a "one size fits all" installation. Every home has a different set of possibilities, limitations, and regional guidelines to follow. Sifting through these options on your own can be very time consuming, confusing, and may lead to a poor customer experience. The EnergyGeeks platform solves these problems for you and gives you back time towards things that are more important, such as spending time with family and friends.
At its core, EnergyGeeks makes it easy for people to join the clean energy revolution, save you time during the solar installation process, and put money back into your pockets. To learn more about EnergyGeeks, please visit https://www.energygeeks.com/partner/mike-holmes/
Advantages of Going Solar
---
Solar energy is a LONG TERM solution. The cost of energy keeps going up so if you can minimize that cost it's a smart investment. Here are some other advantages of going solar:
Saves you money in the long run

You can take advantage of government grants

The sun is a renewable energy source

Solar panels will likely increase the value of your home

Protects against the rising cost of electricity 
To get started on your solar panel recommendation system, head over to the EnergyGeek's website.