MIKES ULTIMATE GARAGE
In "Mike's Ultimate Garage" viewers get an all-access backstage pass as Mike Holmes builds his ultimate dream garage with his son, Mike Jr.
This two-hour special follows the father and son duo through every tough lesson and hard-earned victory, while Mike Jr. learns there is no blueprint when it comes to working with family.
Media
Click below for Photos & Videos from "Mikes Ultimate Garage"
Mike's Ultimate Garage
Check out behind the scenes photos from Mike's Ultimate Garage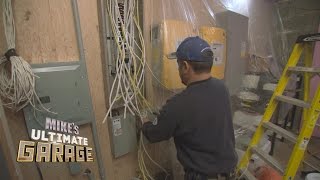 Electrical – Mike's Ultimate Garage: Inside Look
Solutions Electrical take Mike's garage from awesome to ultimate by combining tried and tested electrical installations with top products, the top pros and the top innovative technology, putting this garage on the map and off the grid. LED lighting supplied by Zortech Industries Inc., DelphiTech LED Lighting & Regal Lighting Design.
Exterior Insulated Finish System – Mike's Ultimate Garage: Inside Look
When it came to the exterior of his garage, Mike wanted a system that not only provided a great insulation but also a unique look. Watch as the pros at Dessano Stucco install the DuROCK CanaROCK Pre-fabricated Panels and PUCCS exterior insulated finish systems.
SEASONS & EPISODES
Below is the full list of seasons and episodes related to "Mikes Ultimate Garage"
Mike's Ultimate Garage Special – 2 x 44:50