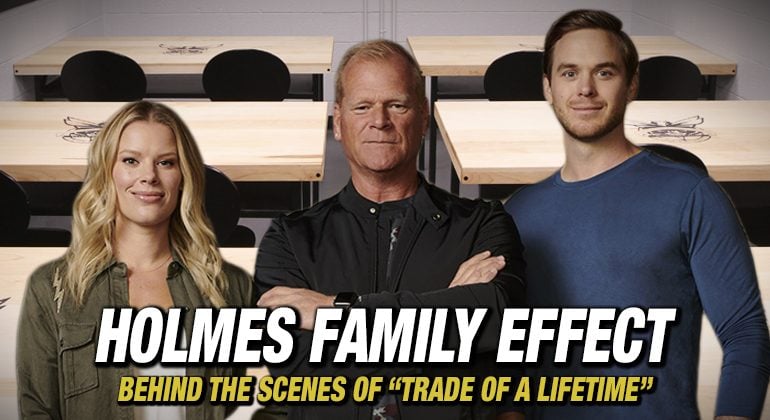 Behind the Scenes of Holmes Family Effect: Trade of a Lifetime
By Mike Holmes
Thursday, April 15th, 2021 @ 11:39am
To me, anybody who works in the trades is a superhero. I remember watching my dad when I was young thinking that he was Superman, and I knew that I wanted to be just like him. I'm so fortunate that two of my kids followed my footsteps into this career, and I've watched them become leaders for the next generation of skilled trades people. It makes a dad feel proud for sure. 
I'm passionate about the skilled trades – and I want to see more young people getting involved. We can do that by making the trades more accessible to people of all ages and genders – and to me, the perfect place to get a taste for it, is in a school shop class.
Classes like shop are becoming more and more rare – and so, when we realized we had the opportunity to help out a local high school that still offered a trades class to its students, we knew we had to jump at the chance. 
Our Hero
---
Frank is the trades teacher at Judith Nyman Secondary. Due to his sheer grit and determination, he's been keeping the program running by spending his nights and weekends picking up supplies so that his students have materials to work with.
The Project
---
We knew the classroom would need a lot of work, but when we saw it in person, we realized just how MUCH we'd need to change. We opted to swap the spaces, and knock down a few walls. And we needed to give Frank his own personal office space to work out of. As it stood when we arrived, his "office" space was totally taken over by equipment – and he didn't have any space to work!
This classroom needed to serve students for years to come – and a lot of the machines available were out of date, so we wanted to update the equipment too.
Contributor Highlight: The Ontario Masonry Training Centre 
---
We've actually worked with the Ontario Masonry Training Centre for years – but for this job they really stepped up. This is a group that understands the importance of supporting the next generation of trades people. If we can get them interested when they're young, we can help set them up for a life long career right out of high school.
They provided all the tools the students would need to learn – mixers, handsaws, hand tools, scaffolding and whatever else you can think of. Not only that, since the school is so close to the Ontario Masonry Training Centre, they can continue to support the student body for years to come by offering training seminars by actual tradespeople.
The program provides a great life cycle – the students can learn about masonry, and get some good hands on experience, and when they graduate, if there's interest, they already have a field they know they can look into joining. 
The Big Reveal
---
For this reveal, I feel like there wasn't a dry eye in the house! Maybe that was just me…
This classroom got the serious refresh that it needed. With a new layout that took advantage of the space, an office for Frank, and the latest up to date tools and machines for the students (not to mention some new tech to enhance their own learning) the education this class provides just got taken to the next level.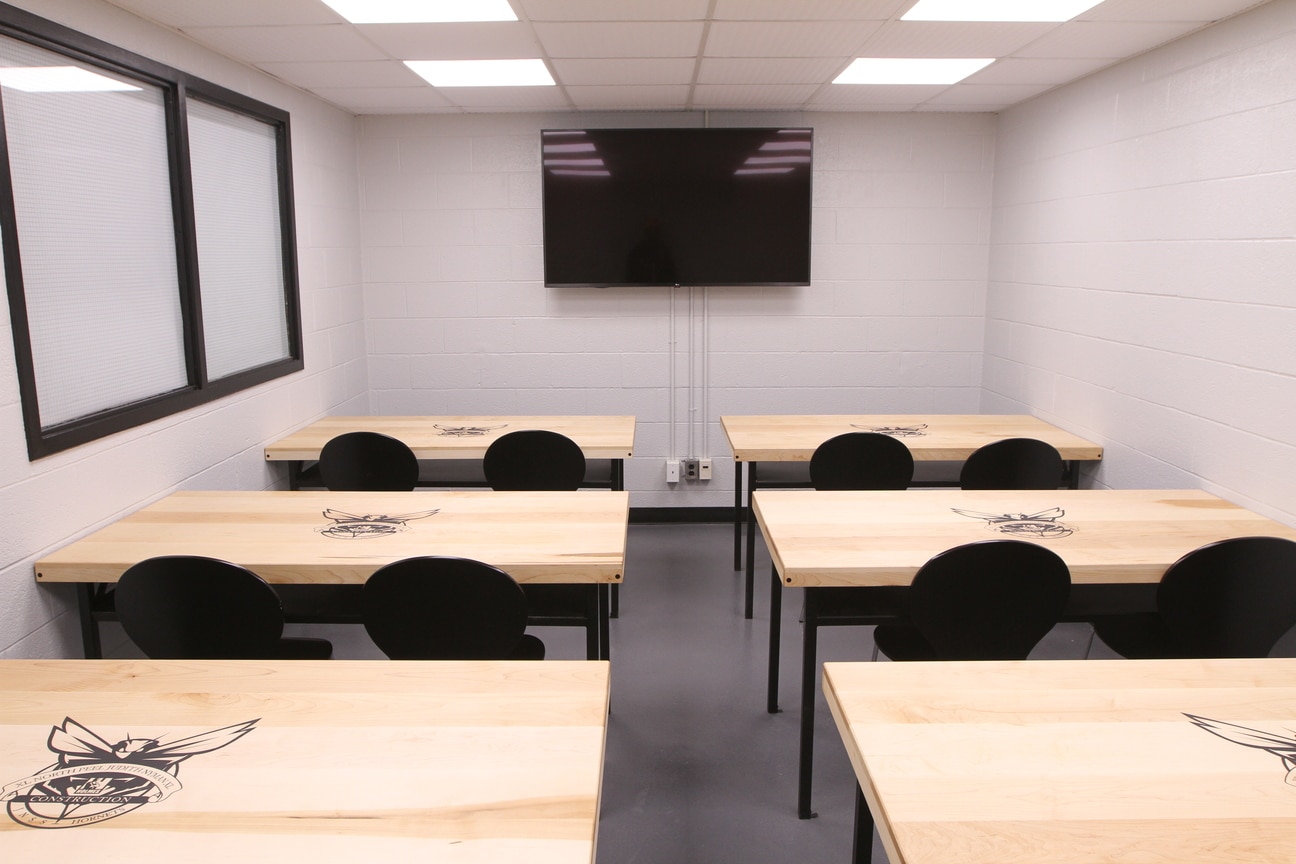 Not only that – but our nominator, Riley, was officially offered an invitation to join MY crew as an apprentice. I'm so excited to have a member of the next generation on my team.
I can't wait to see what these students accomplish.
READ NEXT: