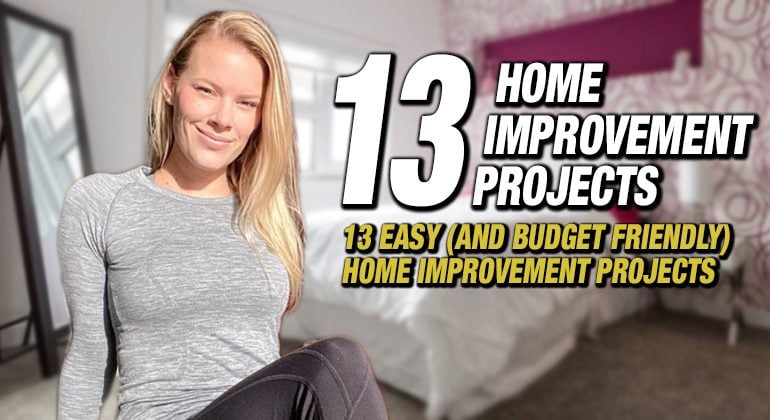 13 Easy (And Budget Friendly) Home Improvement Projects.
By Sherry Holmes
Tuesday, August 11th, 2020 @ 9:56am
Think your home could use a little sprucing up? It's not always possible to take on large scale home improvement projects, but here are some ideas to do a mini makeover on a budget:
13. Paint your front door
I love unique colors for front doors – it makes a great first impression! I spray painted  my friend's front door a nice teal colour, which worked out really nicely. Consider bright front door colors, like yellow or blue. They make a statement and are great for curb appeal as well.
Tip: While you are at it, you might as well add a new door mat (I love the layered door mat look), some solar lights and a couple of planters. Instant front porch makeover on a budget!
12. Refresh Your Rooms With Paint
This is one job my dad will say is the perfect DIY job. If you do screw up, it's not a big deal. Not only can a fresh paint job brighten up the home, using a few clever painting tricks, can make a smaller room feel much larger.
RELATED: PAINTING TIPS FOR THE INTERIOR OF YOUR HOME
11. Declutter the mudroom
Mudrooms are great for additional storage and taking off those wet winter boots, but they don't have to look ugly. Cute wall hooks for jackets and nice storage baskets can give your mudroom a quick and easy face lift. Adding a nice decorative mirror in the mudroom is also a great idea. Not only is it functional, it also creates the illusion of a bigger space.
RELATED: 7 GREAT DESIGN AND DÉCOR IDEAS FOR YOUR MUDROOM
10. Add some greenery
A few small planters on your porch or around the house really do make a difference. Speaking of greenery, I also love herb walls. It's a great DIY project for the kitchen wall!
 9. Install an Accent Wall
Accent or feature walls can be an easy DIY project that will instantly change the vibe of your room. You can play with different colors, materials, or have fun with frames and artwork. People usually think of bright, funky colours when they hear "accent walls", but you don't have to be super dramatic with your paint color.
 8. Have Fun with Wallpaper
Wallpaper is easy to install, depending on what type of wallpaper you get. Like painting, it's a good DIY project for beginners.
 7. Transform overlooked spaces
Got some room under the stairs? It's a great place to build a little dog house, library or wine rack. If your space is bigger, you build a little play area for your kids. It's all about taking advantage of every inch of your home.
 6. Remove a popcorn ceiling
I personally don't like the look of popcorn ceilings. They actually collect dust, and we don't want to be breathing in that stuff. So roll up your sleeves and scrape off that old popcorn ceiling for something new! You'll have to move all your furniture out of the way and cover up everything that can't be moved. Don't forget to cover any vents and electrical outlets with plastic!
To do this job you'll need: rags, putty knife, mesh sanding pad with handle, sprayer, liquid dish soap, drywall compound and a floor scraper. Also, don't forget your safety gear and PPE.
Note: If your home was built before 1979, test for lead and asbestos before starting this project.
5. Install New Door knobs
This is such a great way to personalize your home, and such a simple thing to do. Door hardware has come such a long way. You can do matte black, or aged bronze depending on your style.
 4. Add some bling to your closet and pantry doors
Get rid of the original hardware in your house. Upgrade to stylish pieces that reflect your personality and match your decor.
Schlage Canada has an excellent Style Selector tool on their website.
 3. Install Barn Doors for Your Closet
I love the look of barn doors. They are practical and stylish, and fantastic for small spaces. I like them for pantry doors, closets and mudrooms as well.
TIP: sliding barn doors can save you a little space compared to closets with traditional swing doors
2. Spruce up your front porch
There are so many decorative elements you can incorporate on your front porch. Decorative lanterns and planters are an easy upgrade that can show off your own sense of personal style.
RELATED: Need inspiration for your entryway? Check out some awesome Holmes Approved entryway ideas.
 1. Add solar lights
You can totally transform your home's curb appeal with a new set of outdoor lights. And no installation needed! This is a super easy DIY makeover and they look so pretty in the evenings.
Adding some new life to your home doesn't have to break the bank. Small projects can be completed quickly and will have an immediate impact on the way you feel about the room. Use some of these tips to plan your next mini makeover. Don't forget to share photos with me on Facebook!