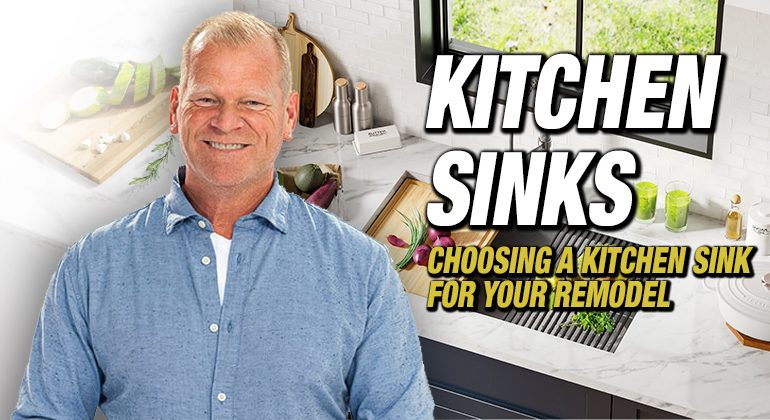 Choosing A Kitchen Sink for Your Remodel
By Mike Holmes
Thursday, February 4th, 2021 @ 2:01pm
Kitchen and bathroom renovations are a good way to increase the value of your home. Even if you are not selling, a beautiful kitchen lets you use that space for socializing and entertaining as well.
Most tasks part of your kitchen renovation are NOT DIY jobs. You especially need to stay away from plumbing and electrical and knocking down walls yourself. 
So where CAN you play a major role? Picking your kitchen reno materials and finishes.
Let's talk about kitchen sinks styles and materials, an important part of the functionality and look of your kitchen. Do you pick style over function? How do you pick your kitchen sink material? 
Read on for a breakdown of what you need to consider when buying a kitchen sink.
Single or Double Bowl Sink?
---
Think about whether you want a single bowl sink or a double bowl sink. I personally like having two basins. You can perform separate tasks, and use one basin for drying your dishes as well or for hand washing. I don't like using a dishwasher, I prefer to wash dishes by hand. A double sink is great for that. 
If you don't think you'll get use out of the double sink, you can opt for one larger bowl instead which has a couple of benefits including being able to fit larger items like baking sheets, and less plumbing work required during installation.
You don't have to go with a 50/50 split either. You can have a larger left bowl (or right) or have both the sinks be the same size. And if you want the best of both worlds, check out Kraus' low divider sinks which offer you the larger space that a one bowl sink would, while incorporating the benefits of a double bowl sink just without the risk of splashing water on the counters.
"Consider your kitchen habits before choosing single vs. double basins."
Which Mounting Style Should I choose?
---
Undermount Sinks:
These sinks make cleanup easy because it eliminates the mounting rim that sits on top of your counter. 
Drop-In Sinks:
If you are looking for an easy option to replace your existing kitchen sink, a drop-in or top mount sink is perfect for you. Now I don't like to see homeowners taking on renovation projects around the house themselves, but if you are really adamant about installing a sink yourself, a drop-in sink is the best option. 
Farmhouse Sinks:
Farmhouse sinks are a timeless kitchen piece, however, with more styles and materials, introduced, this trend continues to grow. A farmhouse sink features a bold apron front that replaces part of your countertop and adds visual appeal to your kitchen. Farmhouse sinks come in a variety of colours that create an instant focal point in your space, adding that natural "wow" factor to make your kitchen stand out. 
The Kraus farmhouse sink collection combines the spacious washbasin design with a farmhouse apron style that places the sink basin closer to you, reducing the distance you have to lean to position yourself comfortably over the sink. This means less knee pain and back strain for an easier time doing the dishes.
Workstation Sinks:
Now, these are sinks that REALLY increase the functionality of your kitchen. Workstation sinks have built-in ledges to allow specialized accessories to be placed within the sink.
You can get accessories that slide across the built-in edge, saving space on your kitchen countertops. Meal preparation and clean up made easy.
Check out the Kraus Kore™ Workstation. It comes with a heavy-duty cutting board, a roll-up dish drying rack, and is fade resistant. As with all Kraus sinks, this comes with a lifetime limited warranty.
It's perfect for kitchens of any size, including smaller compact spaces and lets you work right over your sink. 
RELATED
Choosing A Sink Material:
---
Stainless Steel:
These are very durable and easy-to-clean. Most kitchens have a stainless steel sink. Choose a higher grade though. Kraus uses TRU16 Stainless Steel, the thickest stainless steel on the market, for added durability. 
Porcelain (Cast Iron):
This is great for homeowners who like a vintage style. 
While porcelain enameled sinks are traditionally made with a cast-iron core that can be relatively heavy, Kraus Pintura™ Series kitchen sinks offer the high-end look of this sink style with the benefits of a durable and lightweight steel core making it easy to install and maintain.
Fireclay:
This sink material utilizes a refined clay blend that is coated in enamel glaze and kiln fired at high temperatures that result in an extremely durable surface. Fireclay sinks  are handmade, so they can be a bit pricier. However, these sinks are very resistant to staining and scratching.
This sink has an extra-thick coating of enamel glaze creates a resilient surface with unmatched resistance to scratches and stains.
Granite/Quartz:
If you want a seamless look from your countertops to your sink or hate water spots, this is the sink for you. Granite is a high-end sink material that is both durable and easy to clean, a great feature for those who spend a lot of time in the kitchen cooking and cleaning likewise.
A Kitchen Sink For A Clean Home
---
Building products have come a long way, and everyday new and better products are developed that contribute to creating a healthier lifestyle for homeowners. Now more than ever builders, contractors and building product experts are focusing on building and renovating homes in ways that make them cleaner and healthier. 
All sinks in the DexTM series feature clean streamlined contours with gently rounded corners and a non-porous surface that is easy to clean and maintain as it reduces places where dirt and grime can hide.
The best advice I can give anyone interested in a home renovation is to pick products that contribute to a clean home. The good news is making smarter, healthier choices for your home and your family is getting easier.
Choose Your Sink Accessories:
I highly recommend looking into some sink accessories to add a beautiful touch to your kitchen and also making it more functional.
Bottom Grids – Protects your sink against scratches and dents
Colanders – Free up your hands and counter space
Cutting Boards – Over-the-sink cutting boards are a great way to prep your meals without using counter space.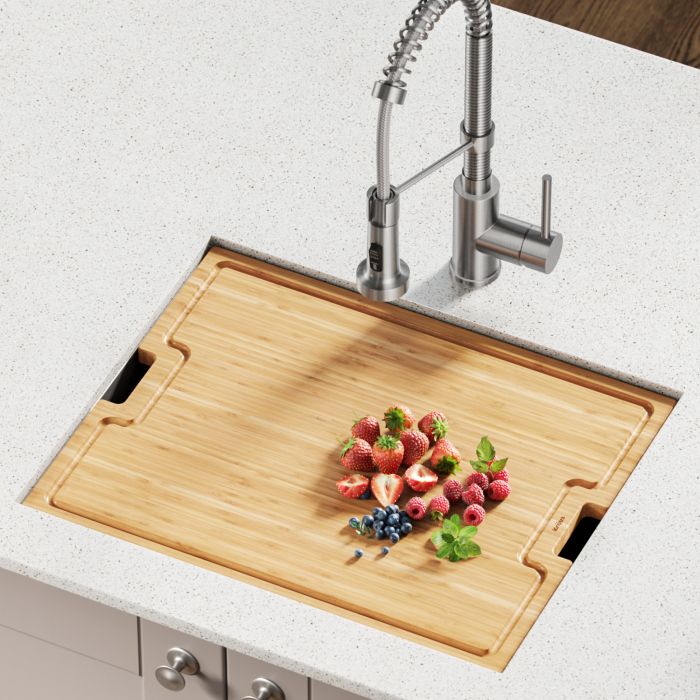 Roll-Up Dish Drying Racks – You can place the rack over your sink to dry your dishes or use the mat to provide a cushion between your hot pots and the counter top. Check out your options here
READ NEXT: