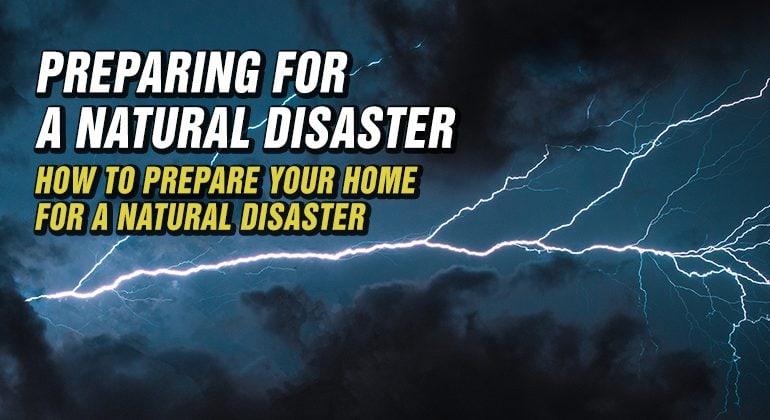 9 Essential Tips To Prepare Your Home For a Natural Disaster
By Mike Holmes Jr.
Sunday, April 22nd, 2018 @ 11:06pm
These days, when a natural disaster strikes, you can usually count on a power outage to follow. Losing power can mean a lot more than getting stuck in the dark. Without power, your furnace or sump pump may stop working, these are the internal defence systems of your home and making sure they work when you need them most is key to protecting you and your home. Also, many of your electronics and household appliances that you depend on daily can be affected by a power outage. These include your refrigerator, electric stove, lights, heat, air conditioning, washer, and dryer. You also lose the ability to charge cell phones and other devices that you use to communicate, etc.
Where you live can play a major factor in what kind of disaster you experience, and therefore, how you should prepare. If you live near a waterway like a river, lake or ocean, there is a higher risk of flooding. Homes near heavily wooded areas could be more at risk for potential fires, trust me – I have seen both cases with my own eyes. A small investment combined with pre-planning is always a good idea to keep you safe and protect your belongings during the unexpected.
9 Ways To Plan In Advance:
---
9) Never try to use alternative heat sources like the oven or a barbecue to warm up inside the home or garage during a power failure.
8) Lock away valuables and original documents – Place these items in a safe within your home or at a family or friend's home. Also, consider opening a safe deposit box at your local bank where you can store such items.
7) Document your possessions – Create a list of your belongings and how much each item costs, take photos and keep receipts. It's good to know what you own in the event your home and possessions are damaged and will make filing an insurance claim a little less painful. I go around and take pictures with my tablet and have them stored on the cloud in case the device is damaged.
6) Review your homeowner's insurance policy – Get familiar with your policy and what it covers. Some policies will not cover natural disasters and you may have to purchase fire or flood insurance if needed.
5) Test your smoke and carbon monoxide detectors monthly – Make sure they work properly and batteries are replaced 2 times per year. Carbon monoxide detectors should be replaced every 5-7 years and smoke detectors should be replaced every 10 years.
4) Make sure your pipes are insulated to keep them from freezing – If you live in an area where you experience cold or winter-like weather, you do not want your pipes to freeze or burst, potentially leading to floods.
3) Have your trees trimmed and maintained – Have any dead or diseased branches or trees cut and removed. In case of a major windstorm, you don't want any trees or branches to strike the power lines.
2) Keep an emergency kit readily available – Make sure it is fully stocked with bandages, flashlights, canned food, etc. and keep one in your car as well.
1) Have an emergency disaster plan – Make sure you and your family know the game plan, where all of the emergency EXITS are in the home, and a safe place to meet if you were to get separated. You want to have at least two ways to safely evacuate your home. It can be tragic when you don't have a plan to escape, wildfires can spread faster then you may think and flash flooding can be extremely dangerous so make sure you have a plan that you have discussed with the family.
Protect Yourself With a Generator
---
I find if there is one thing you need in preparation for a natural disaster or power outage, it's a generator. Generators provide peace of mind and protection during a period where there is no power. In the event of dangerous weather or driving conditions, you may be told to avoid leaving your home. A generator can keep you connected to the news, providing basic power and functions. Having a safe source of power to operate your home means protecting your family.
Generators are available in different sizes and can be fuelled by different sources such as propane or natural gas to meet everyone's needs. The number and size of systems you want to power will determine how much wattage you will need from your generator. The two main types of generators are portable and standby. A portable generator is exactly what it sounds like – portable. It's gasoline or propane powered, requires refuelling and must be plugged into your appliances or subpanel to provide power and does not need to be installed. A portable generator is great if you only want to provide power to a few items and for remote locations that prohibit a bigger back-up system.
If you're looking to power a greater portion of your home or if you're away from home for long periods of time, a standby generator may be ideal. It is permanently installed outside your home and must be in an open area away from windows and doors. Because all generators produce carbon monoxide, you want to make sure that CO doesn't seep into your home. A licensed electrician and gas fitter must be involved in the installation process. A standby generator automatically kicks in and provides power directly to your home's electrical system through a transfer switch – like the power that comes in from the grid. It also turns off automatically when power to your home is restored. Watch below to see my top 5 favourite things you can do with a power generator.
When using a generator always take safety precautions. Before using your generator, read the owner's manual. Each system has different safety precautions, and you want to make sure you are operating your unit safely.