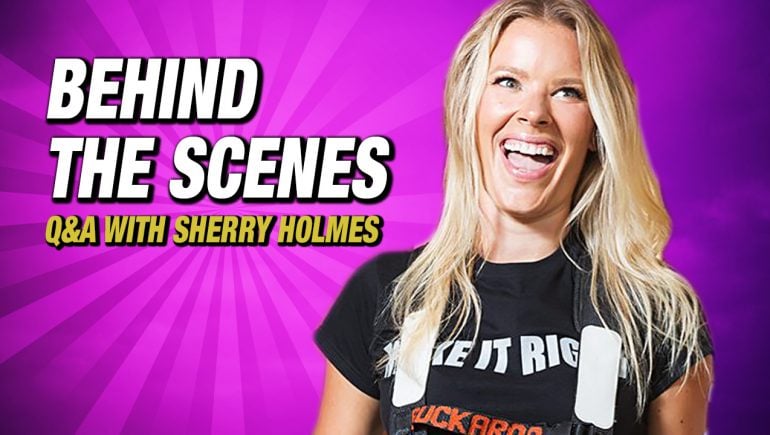 Behind The Scenes with Sherry Holmes (Q&A)
By Sherry Holmes
Monday, October 26th, 2020 @ 11:47am
We get asked a lot of questions about our TV shows, what our family is like behind the scenes and so much more. That's why I wanted to take a couple of the questions I get most often and answer them here for you.
Do you ever revisit the homes you have fixed up?
---
Yes, we do sometimes. I would love to visit a lot more but I haven't had the time because I'm always working on new projects. I do enjoy seeing the work we've done and seeing what the homeowners have done with the place. It's a nice nostalgic feeling when I revisit a home.
What you and your family and your crew do is amazing. My question is – I always wondered how you find them? 
---
It's actually a question we get asked quite a bit and we find them mostly through online inquiries. We have a Contact Us form on our website where we get tons of emails.
We ask them to send us an email and explain their story to us. We've also done call outs through social media and sometimes we've taken on jobs from word of mouth.
For Holmes Next Generation, we helped a lovely woman Lorraine, who lives right across from us. While we were working on another show (Holmes and Holmes Season 1), her husband would come by and chat with us. Sadly, not long after he passed away and left some work around the house unfinished. We transformed her space for her, and all of us had tears in our eyes at the reveal.
INQUIRY?
Do you have a podcast? 
---
We are working to launch a Holmes on Homes podcast, sponsored by Improve Canada.  My dad and I have been doing Facebook Live broadcasts from there.
And if you didn't see the news, we actually just partnered with Improve Canada which is Canada's largest home improvement centre, located in Vaughan. You can watch the partnership video announcement below.
Who is the prankster of the group?
---
I'd like to say me but it's not entirely true. I don't really pull too many pranks because I always mess something up. But I would probably go with Derek or Michael since they always like to have the most fun and they love to scare the crew. 
RELATED

DIY Television doesn't tell you everything and there's a lot that happens behind the scenes.
Click here for 3 Things DIY TV doesn't tell you.
Do homeowners get any say in the final product or is it a complete surprise when you do the reveal? 
---
It depends on the different series we film and it also depends on the house we're currently working on. We also take into consideration what homeowners want and what they're asking for. Those are the kinds of questions that are important to ask. 
Sometimes we might ask "Do you want a white kitchen? Do you want a blue kitchen?" Because we need to know the basics, but of course surprises are a lot of fun and I would say that mostly it is a surprise for the homeowner. 
It ruins the fun when the homeowners know exactly what we plan on doing, because of that I do prefer if it's a surprise. But we always take into consideration what people want and what they need. 
For Holmes and Holmes Season 3, we helped a family with a teenager with a critical illness. We wanted to make the main floor of the home completely accessible for him when mobility is an issue for him down the road. We took a tiny corner in the downstairs area and converted that into a potential bedroom for him with a pull out couch. The family was VERY surprised to see what we had done with the place.
READ NEXT:

My brother Mike Holmes Jr answers more questions about Holmes shows