HOLMES MAKES IT RIGHT
Holmes Makes It Right is about renovating, but this is not your typical renovation rip-off series. Mike will be taking on disasters that other contractors would run away from. The kinds of circumstances where you don't just need a contractor, you need a miracle.
Mike is done inspecting and is putting his tool belt back on to get his hands dirty once again. He is getting back to the kind of work he did before there ever was a TV show— Helping people, Making It Right
Media
Click below for Photos & Videos from "Holmes Makes It Right"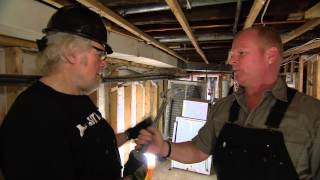 HMIR: Rock 'N' Demo
Rock legend Randy Bachman from the Guess Who and BTO visits Mike on set for some inspiration. Although Randy does all of the music for Mike's new show, Holmes Makes It Right, Mike takes care of business and puts him to work. Watch the duo collaborate on a demo that will rock the house.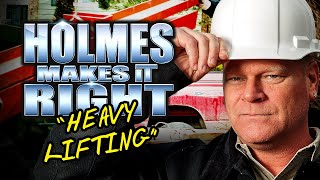 HMIR: Heavy Lifting
Mike and his crew need to install two steel beams weighing at least 400 pounds each. Just getting them inside the house is a challenge. But when Mike discovers the house isn't level he has to rethink the entire operation. See Mike take on the heavy weights and why most contractors stay in shape.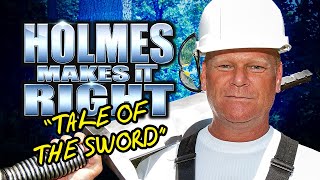 HMIR: Tale of the Sword
If Mike was going to build a castle you better believe he was going to to do it right. He brought in a 450 million-year-old stone and put a sword in it to give every kid that visits the park has a chance to feel like a hero in their own kingdom. Watch the legend unfold and how Mike did it.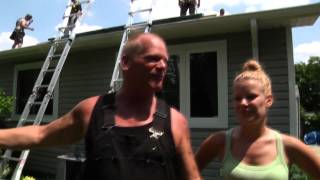 HMIR: Cake Fight on Set of "A Case of Shingles"
What started out as a routine birthday celebration on the set of Holmes Makes It Right turns into a full-out cake fight. Watch Sherry deliver some sweet payback as she unleashes her wrath on Damon, using birthday cake as her ammunition and Damon's face as her target.
SEASONS & EPISODES
Below is the full list of seasons and episodes related to "Holmes Makes It Right"
Season 1
EP1001: A Case of Shingles
EP1002: Building Castles
EP1003: Ventilation Blues
EP1004: Caught in a Trap P1
EP1005: Caught in a Trap P2
EP1006: Urea Got Me
EP1007: Title Fight
EP1008: If the Shoe Fits
EP1009: Money For Nothing
EP1010: Labour of Love
EP1011: Breaking Through
EP1012: A Lift Up
EP1013: Over Their Heads
EP1014: Mystery Staircase
EP1015: Building Hope
EP1016: Starting Again
EP1017: Ain't Seen Nothing Yet
EP1018: Log Jam
Season 2
EP2019: House Sandwich
EP2020: Below Board
EP2021: 5 Years Old
EP2022: Broken Record
EP2023: Hoofed Roof
EP2024: High Water
EP2025: A Tear in the Fabric
EP2026: Here in Spirit
EP2027: Five Alarm Chili P1
EP2028: Five Alarm Chili P2
EP2029: Lawn and Order
EP2030: Great Wall of Crap
EP2031: Flood Suckers
EP2032: Another Storey P1
EP2033: Another Storey P2
EP2034: Investment Gate
EP2035: To Mike, From Aggie
EP2036: Walk the Planks