Scotchgard™ Protector for Roofing
Atlas Roofing Corporation
is a trusted manufacturer
of shingles with
Scotchgard Protector
Scotchgard™ Protector for Roofing
The right shingles can give your home a beautiful, distinctive finish. Unfortunately, most roof shingles available today are susceptible to ugly black streaks caused by algae. Scotchgard™ Protector is an industry-leading defense against black streaks caused by algae, and shingles featuring Scotchgard™ Protector are the only Holmes approved roofing solution for algae protection. Why is that important? Because Mike Holmes accepts nothing less than top-performing products that are proven to last. Learn how to protect your roof straight from Mike Holmes.
Trusted. Proven. Durable.
People all over the world trust Scotchgard Protector more than any other brand of protection. It's the recognized leader, proven to be durable and effective.
A lifetime of protection against black streaks caused by algae.
Shingles featuring Scotchgard Protector use 3M's unique ceramic-coated granules. These granules are engineered to precisely release copper ions into the dew on your roof and resist weathering.
Decades of science behind every shingle.
3M pioneered the science of algae protection. The result is protection of your home's beauty and against black streaks caused by algae. And lasts the life of your roof. For more information, visit: www.3m.com/resistblackstreaks
ROOF IT RIGHT WEB SERIES
Mike Holmes Jr. and Sherry Holmes grew up watching their celebrity dad, Mike Holmes, "Make It Right."
Now it's their turn as they host an exclusive five-part web series, Roof It Right, in which they team up with
Atlas Pro™ contractors to replace ugly, streaky roofs for two lucky homeowners.
EPISODE 1
"The Introduction"
EPISODE 2
"The Contractors & Homeowners"
EPISODE 4
"Advice From The Pros"
"I've been a contractor for over 35 years and I've seen it all. And I know the right products for the right job," says Mike Holmes. "I only partner with brands that share my core values – quality, integrity and trust. 3M has all of those in spades."
– MIKE HOLMES
PROFESSIONAL CONTRACTOR / TV HOST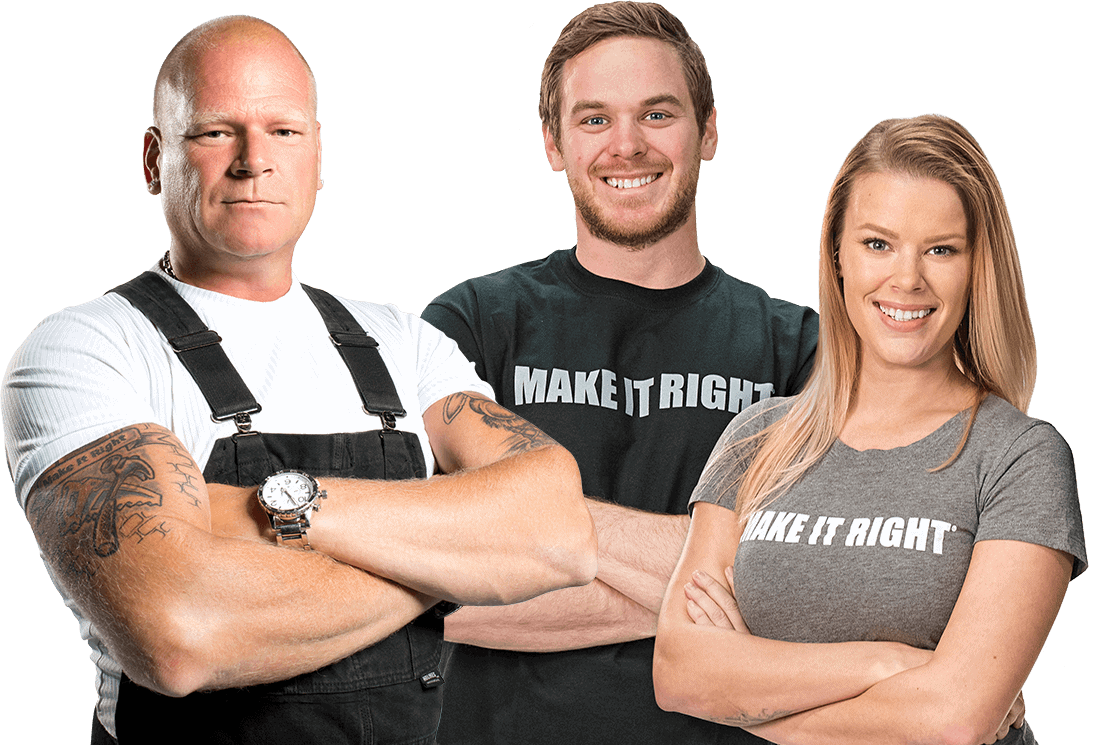 Mike Holmes
PROFESSIONAL CONTRACTOR / TV HOST
Mike Holmes Jr
PROFESSIONAL CONTRACTOR / TV HOST
Sherry Holmes
CONTRACTOR, PART-TIME DESIGNER & WEEKEND DIYER
About 3M
At 3M, we apply science in collaborative ways to improve lives daily. We are experts in delivering creativity, simplicity and efficiency both in your home and in your office. From bandages to tape, sandpaper to paint remover, we have over 100 years of experience helping you make sure that whatever project you're tackling is done right.
Building on our long-standing leadership in environmental stewardship and commitment to customer-inspired innovation, we are focusing our Sustainability strategy on overcoming the global challenges that serve as barriers to improving every life. This means addressing challenges like energy availability and security, raw material scarcity, human health and safety, education and development, while keeping our vision for growth in mind.
For more information, visit: www.3m.com
WAKE UP CALL WEB VIDEOS
Watch the Holmes family waking up homeowners about ugly black streaks caused by algae found on their roof shingles and how
Scotchgard™ Protector can protect your homes curb appeal.
Scotchgard™ Protector Official Website
To find a contractor representing shingles with Scotchgard™ Protector please visit: www.atlasroofing.com/scotchgard or check out the Scotchgard™ Protector page below for more information.