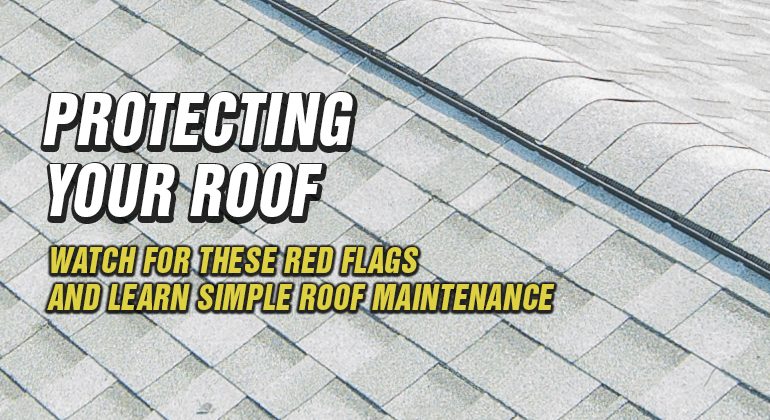 Protecting Your Roof
By Mike Holmes
Tuesday, May 7th, 2019 @ 9:54am
Roof maintenance is an important task that should be on your home maintenance checklist every year. I've seen people buy a new house and immediately start spending money on a kitchen renovation without paying attending to the outside of the house. What good are your new cabinets if there is a leak in your roof? Always start at the top.
Most of us never even look at our roofs. For seasonal home inspections, most of us tend to walk around the house and look out for foundation cracks. I get it. I can't stress the importance of paying attention to your roof and your attic enough. Don't wait until problems arise. Always work from the outside in.
Red Flags for An Asphalt Roof
---
Asphalt shingles have been the most popular choice for roofs in North America for well over 50 years. If you are buying a house, look out for these red flags as you go house hunting:
Bare Spots.
Buckling in the middle of the shingle or curling at the edges.
Large accumulations of granules in the eavestroughs.
Torn or missing shingles.
Shingles improperly laid.
2 or more layers of shingles.
Asphalt shingles being used on flat or nearly flat roofs. Asphalt shingles are meant for steeper pitches and will leak like a sieve on flatter roofs.
Although you will be able to spot some of these red flags, it's important to have your roof professionally inspected.
I've been a contractor for over 35 years and I've seen it all. For your asphalt roof, I recommend looking into shingles with Scotchgard Protector. You must have heard of "Scotchgard by 3M", but did you know they actually have a solution for black streaks on asphalt roofs? Learn more about them here
Watch the video below to learn more about choosing the right shingle in our Roof It Right series.
What Can You Expect from a Roof Inspection?
---
I often talk about home maintenance tasks that require a professional and shouldn't be attempted as a DIY weekend job. This is especially important when we talk about inspecting your roof. A trained professional will have the proper safety equipment and the proper training to check on the condition of your roof. There have been many times I'm driving by and I see homeowners up on a roof without any safety equipment at all. That's very dangerous. Leave it to the professionals to check your roof for signs of damage.
Hiring a Professional Roofer
---
Hiring a professional roofer is no different than hiring a contractor. However, there are some additional questions you should be asking your roofer.
Will you check my ventilation system?
Will you offer a variety of shingle options, such as shingles that protect against ugly black streaks?
What sort of system warranty do you offer?
To read more questions you should be specifically asking your roofer, click the Atlas Roofing blog.
Simple Roof Maintenance
---
Here are some simple roof maintenance tasks that every homeowner should perform at least once a year.
Check your shingles every year. Bare patches and curled edges could indicate that your shingles may not have much life yet. It could also indicate that your attic doesn't have proper ventilation.
Remove debris from your downspouts and gutters. If eavestroughs are clogged, water will back up under the shingles and cause damage to the roof deck.
If not already done so, install a leak proof screen cover for your gutters. I like the one from Smart Screen, it is perforated to allow water through but not leaves and debris.
DID YOU KNOW?

Your attic accumulates warm air (because warm air rises_. If your attic does not have the right ventilation systems in place, it can warm up the roof and cause asphalt shingles to stiffen up.
Next time you need to get your roof replaced or repaired, it's worth going beyond minimum code. No matter what you choose-fiberglass, metal, asphalt, whatever-always choose a quality product. If your roof is installed correctly with high quality materials, you can rest assured the inside of your house will be protected. Don't try to save a few bucks by hiring someone who is not a professional contractor or not picking high quality shingles. And while you are at it, look into installing solar panels on your roof. Most solar projects are retrofitted to existing structures, so you could have solar panels installed on your current roof. To explore solar options for your roof, try the EnergyGeeks solar recommendation system. Read more about it here.
MIKE'S TIP

Roof and gutters are related but separate. You need good drainage around your foundation, and you need gutters and downpipes to carry the water away. Your gutters, also known as eavestroughs, collect water that comes off your roof and directs it away from your foundation walls.
REMEMBER?

You never want a downspout to drain water onto a lower-level.