For over 20 years, Sika has worked closely with our retail partners to offer pro contractors and DIY'ers the same superior performing products developed and used on the most spectacular projects throughout the world. Our Sika Pro Select product range encompasses a wide array of  specialty construction products from sealants and adhesives to patchers and underlayments. Everything you need for your every day projects.  Our products can be found in home centers, hardware, lumber, masonry and retail locations nationwide. From job site to store shelf, Sika ensures that you have the right product to Fix it Once!
Sika® US & Mike Holmes
Mike is proud to announce a partnership with Sika US for a range of construction products geared toward professional and residential customers.
THE HOLMES & Sika® WEB VIDEOS
Watch Mike & The Holmes family test out all the different products from Sika®.
Sika® is known for an extensive catalogue of products created for both the professional contractor and the everyday homeowner.
Mike Holmes
Sika® Post Fix
Mike Holmes &
Sika® LEVEL-125CA
"I've used Sika products for a while and love the quality, performance and easy use of their products. Their products are great for both homeowners and professionals like myself. Sika not only makes it easy, they make it right!"
– THE HOLMES'
CONTRACTORS / TV PERSONALITIES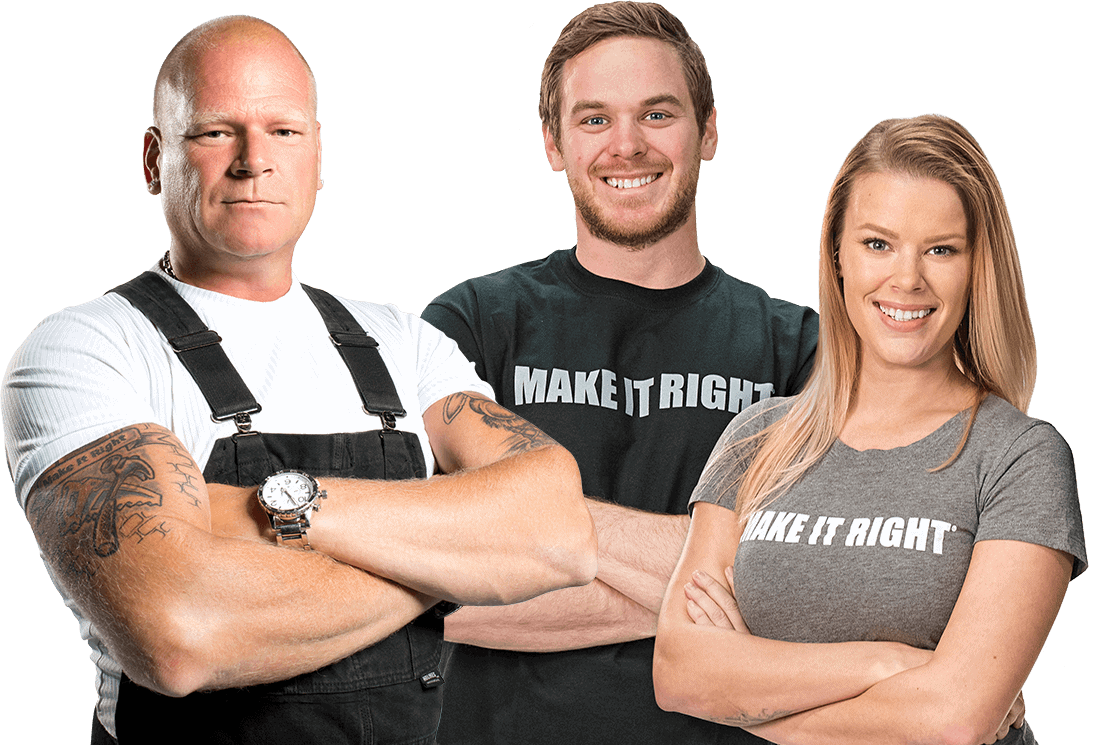 Mike Holmes
PROFESSIONAL CONTRACTOR / TV HOST
Mike Holmes Jr
PROFESSIONAL CONTRACTOR / TV HOST
Sherry Holmes
CONTRACTOR, PART-TIME DESIGNER & WEEKEND DIYER
Sika® Official Website
For more information on Sika® US please visit: www.sika.com/us and check us on these social media channels
Sika® US
Sika US offers an extensive catalogue of products created for both the professional contractor and the everyday homeowner. Their products include joint sealants and adhesives, roofing systems, anchoring and injection resins, concrete repair mortars and additives, self-levelling screeds, underlayments and primers, crack injection, expansion foams and accessories, as well as waterproofing systems.
For more information, visit: www.sika.com
How To Repair Concrete Holes
Derek Ullman (Mike Holmes' crew member) makes it right but showing you how to repair concrete EASY using Sika® FastFix Power Patch.
Disclaimer: Use safety gloves and goggles when using Sika FastFix Power Patch!
Sika® PostFix® Fence Post Mix
A two component, mix-in-the-bag expanding foam for supporting non-structural posts such as fence, mailbox, and sign posts.
Simple application – just roll, mix, cut and pour
Sets in as fast as 3 minutes
High strength and resistant to uptake of water
Seals and protects base of post
Compatible for use in cold conditions without the need for additives
Sikaflex® Asphalt Sealant
A one-component, self-leveling, sealant used for filling cracks in asphalt.
Able to fill cracks up to 1.5 in. wide 
Easy application, self-levels 
Fast tack-free time (less than 1 hr)  
Resists aging and weathering  
Excellent adhesion, bonds to asphalt and concrete  
SikaQuick® Asphalt Patch
A two-part, pourable asphaltic mix that forms a rapid curing, durable repair patch.
Simple Application- just roll, mix, cut & pour
No tamping or mixing tools required
Bonds to both asphalt and concrete
Rapid curing; can be driven on in just 4 hours
Improved repair durability  
SikaBond® Construction Adhesive
A one component polyurethane adhesive that remains permanently elastic to allow for natural movement between bonded surfaces.
Water immersible & waterproof after cure
Bonds pavers, caps, roofing, concrete, wood, tile, aluminum, foam, mirrors and more
Paintable, stainable and sandable
USDA Approved
Shrink and crack resistant
SikaQuick® Patch
An easy to use, mix-in-the-bag, fast curing patch for repairing holes/spalls in concrete.
Sets in 10 to 20 minutes (varies with temperature)
Open to vehicular traffic in One hour
Simple application, just roll, mix, cut and pour
No primer needed, just damp surface
Polymer modified for increased strength
Sika® Pro Select R-Matte® Foam Insulation Board
Sika® Pro Select R-Matte® foam insulation boards are versatile, multi-application boards with a durable white-matte (non-glare) reinforced aluminum facer on one side and a reflective reinforced aluminum facer on the reverse.
Highest R-Value: thinner profile & higher R-Value than other foam boards
Continuous insulation: eliminates thermal bridging through the framing for improving thermal efficiency
Air & water-resistive barrier: preventing air infiltration and water intrusion
Radiant barrier: white on one side and reflective on the other for universal use
Exposure rated: can be left exposed in attics/crawl spaces
Easy to install: lightweight, durable and easy to handle
SikaLevel Self-Leveling Underlayment
A one-component highly fluid, durable cementitious underlayment for interior concrete, and cementitious substrates.
Levels new and renovates old floors
Can be walked on after 2–3 hours
Floor installation in 1–3 days
Tile/Stone/Non-moisture sensitive flooring: 2–3 hours
Application thickness: 1/8 in. up to 2 in.
Polymer modified for increased strength
All concrete and cement substrates must be primed using SikaLevel Primer
SikaLevel Self-Leveling Underlayment Primer
A one-part solvent-free, acrylic-based solution used to prime substrates before the application of Sika Self Leveling Underlayment.
Ready to use, no dilution required
Must be used with Sika Self-Leveling Underlayment 
Prevents water loss from the underlayment into the substrate
Achieves excellent bond values
Fast drying for project efficiency