NEWAGE | OUTDOOR KITCHENS
NewAge is driven to take common household fixtures, and make them extraordinary by coming up with solutions for dealing with the day-to-day clutter of our busy lives. Storage is one of those things that most people don't think about until they need it. We, on the other hand, never stop thinking about it. How do we do it? We've disrupted the outdated method of large item purchasing by creating a streamlined online process, which puts the customer's needs first, making it faster and easier for homeowners to improve their space with high-quality organizational products. From garage cabinets and home bars to outdoor furniture and laundry rooms, NewAge Products is the one-stop trusted brand for anyone looking to elevate the look and feel of their home.
NewAge Outdoor Kitchen From Holmes Family Rescue
"We trust NewAge Products to Make It Right. They have a variety of products to build you the perfect outdoor kitchen, from grills to countertops to outdoor cabinets. The best part is, their products and materials are high quality, look great, and can stand up to tough conditions."
– MIKE HOLMES
PROFESSIONAL CONTRACTOR / TV HOST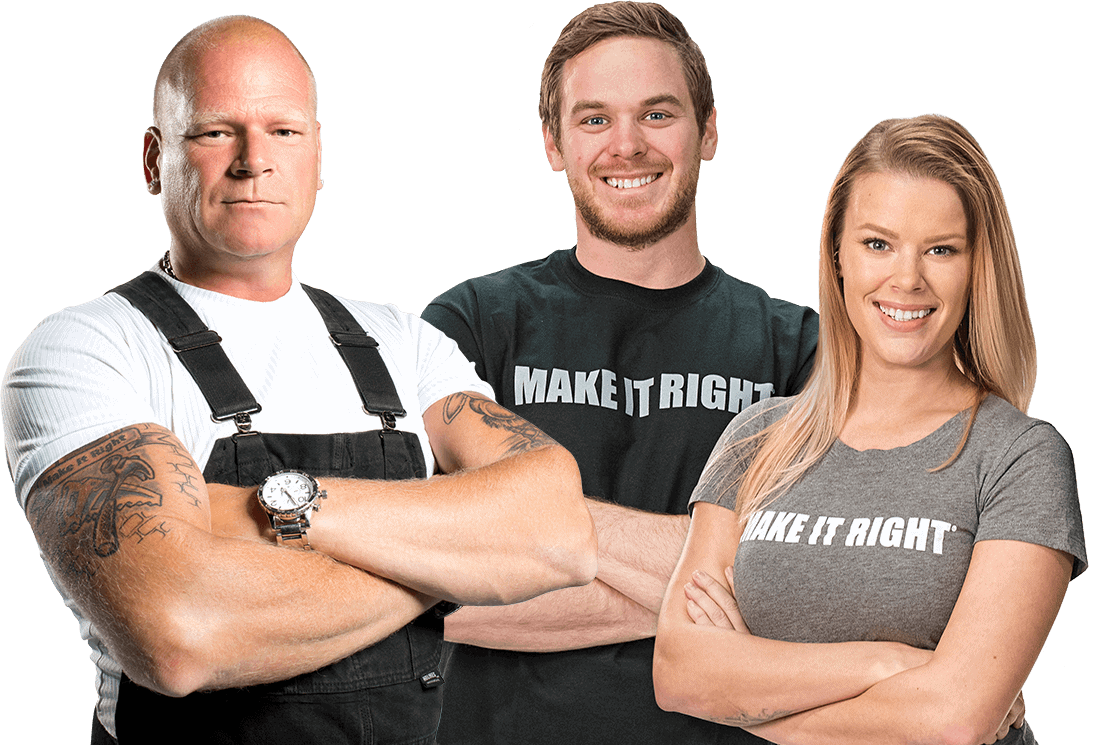 Mike Holmes
PROFESSIONAL CONTRACTOR / TV HOST
Mike Holmes Jr
PROFESSIONAL CONTRACTOR / TV HOST
Sherry Holmes
CONTRACTOR AND TV HOST

Our team is made up of talented individuals, with diverse interests, who have a passion for organizing and beautifying living spaces. The reason our products work so well is because, first and foremost, we design them for our own use.
Outdoor Gas Grills
Create the perfect outdoor living room, outdoor recreation space, or outdoor cooking area with a stylish and functional outdoor kitchen cabinet solution. Elevate and accessorize with a gas grill or charcoal grill, for a finished outdoor grill island fit for entertainment.
Our gas grills prove that fire and fresh air really are the ultimate flavours. If you love a tender rack of ribs or perfectly charred veggies, you'll salivate over our selection of grills that come equipped with premium features that allow you to cook with both power and finesse. Built from 304 stainless steel, the dual-layered grill hood locks in heat from the three high-performance 16,000 BTU U-burners. The 12,000 BTU infrared rear-rotisserie burner provides perfect heat for slow cooked, delicious results and an elevated warming rack provides plenty of space for toasting buns or melting cheese. Enjoy the benefits of charcoal grilling with our new kamado grill.
OK Stainless Steel
Get grilling, and maximize your backyard storage space, with Outdoor Kitchen cabinets. Constructed from restaurant-grade, 304 stainless steel, with reinforced double-wall doors, these cabinets are weather and corrosion resistant, for all-season durability. With brushed stainless-steel doors and bevelled aluminium handles, the NewAge Products Outdoor Kitchen cabinets provide a clean, professional look that will get your backyard organized. NewAge Products does not guarantee the compatibility of third party insert grills. Height-adjustable shelves and extra deep drawers give you the storage space to organize all your outdoor entertaining essentials. The Kamado Cabinet accommodates multiple sizes of ceramic BBQs and has an extra-deep drawer to store grilling tools and charcoal.
Grill Side Burners
The Outdoor Kitchen Side Burner Cabinet expands your cooking capabilities and is great for everything from cooking large pots of corn, to simmering sauces and side dishes. Equipped with powerful 12,000 BTU burners providing quick and even heat for the most demanding chefs, and the 1/4″ stainless steel grill is easy to remove and keep clean. Precision-control knobs make it easy to accurately adjust your heat settings, with LED accent lights to improve visibility of temperature markings for evening cookouts. The built-in pilot ignitor allows for a quick and effortless start-up, every time. Protect your burners, and gain additional counter space when not in use, with the fold-down flush-mount lid. The NewAge Products Outdoor Kitchen Side Burner Cabinet is the perfect accent to your outdoor space.
OK Aluminium Collection
Add modern, functional storage to your exterior living space with Outdoor Kitchen cabinets in Slate Gray. Constructed from aircraft-grade aluminium, these strong and durable cabinets offer plenty of weather-resistant storage to help you get organized. Slate-grey tempered glass doors with integrated handles provide a modern, sleek style that compliments any home, and the height-adjustable levellers keep your cabinets level on uneven decks and patio stones. Adjustable shelves let you customize your 2-Door Cabinet to store any sized items. The 3-Drawer Cabinet has adjustable upper drawer dividers for cutlery and tool organization, with two extra deep drawers, perfect for storing all your hosting essentials. Keep organized and upgrade your backyard living space, with NewAge Products Outdoor Kitchen cabinets in Slate Gray.
OK Countertops
Bring style to your outdoor kitchen with natural granite or restaurant grade 304 stainless steel countertops. A genuine granite countertop is the perfect combination of practicality and aesthetics, while the classic look of the stainless-steel countertop will bring an industrial minimalistic feel to any space. Capable of holding up to wet, humid conditions and extreme temperature changes, our premium countertop materials are specifically chosen for their resiliency outdoors. Our rust-resistant stainless steel and naturally UV-resistant granite tops keep their beauty through many seasons of use, and heavy-duty polyester covers further protect your countertops from the elements.
Charcoal Grills
Inspired by the legendary cooking prowess of Moroccan Tagine pots, NewAge designers created a modern-day version of this proven, flavour enhancing ceramic grill. The result is a new generation of Kamado, painstakingly researched and crafted to deliver the same renowned ancient cooking results with premium materials and contemporary style. The distinctive conical shape of the legendary tagine pot creates a hot, yet moist cooking environment. As steam from the cooking food rises, it's captured and returned downward, continually basting your dish in flavourful juices that keep it moist and delicious. The unique shape of our Kamado lid harnesses the natural upward flow of heated air. As moisture and heat rise from your food during cooking, the diamond shape architecture evenly reflects it back down to the cooking surface, creating a flavour enhancing convection that delivers five star restaurant results right in your backyard.]
NewAge
For more information on NewAge please
visit www.newageproducts.com and check us on these social media channels