NewAge is driven to take common household fixtures, and make them extraordinary by coming up with solutions for dealing with the day-to-day clutter of our busy lives. Storage is one of those things that most people don't think about until they need it. We, on the other hand, never stop thinking about it. How do we do it? We've disrupted the outdated method of large item purchasing by creating a streamlined online process, which puts the customer's needs first, making it faster and easier for homeowners to improve their space with high-quality organizational products. From garage cabinets and home bars to outdoor furniture and laundry rooms, NewAge Products is the one-stop trusted brand for anyone looking to elevate the look and feel of their home.
Mike Holmes Garage Reno on Holmes Family Rescue
"We trust NewAge products to Make It Right. Their team does their research and picks materials that not only look great, but can stand up to tough conditions. They worked directly with us to find the perfect solution for our space and backed up their products with great customer support."
– MIKE HOLMES
PROFESSIONAL CONTRACTOR / TV HOST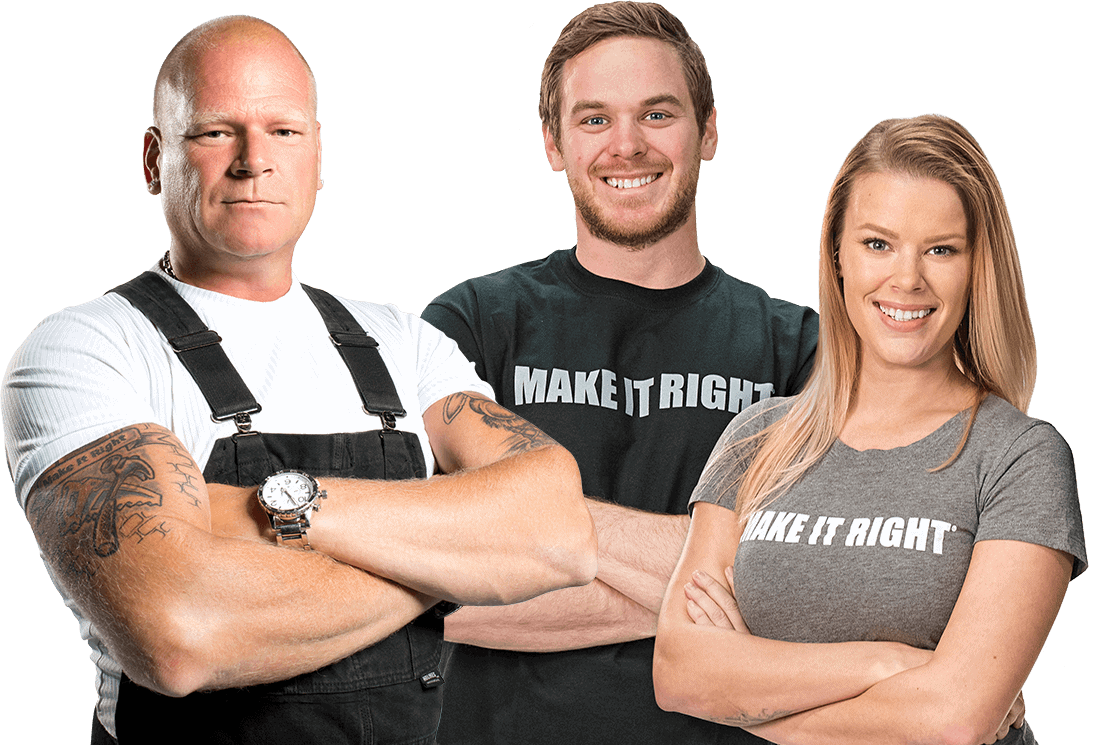 Mike Holmes
PROFESSIONAL CONTRACTOR / TV HOST
Mike Holmes Jr
PROFESSIONAL CONTRACTOR / TV HOST
Sherry Holmes
CONTRACTOR AND TV HOST

Our team is made up of talented individuals, with diverse interests, who have a passion for organizing and beautifying living spaces. The reason our products work so well is because, first and foremost, we design them for our own use.
Bold Series Garage Cabinets
Take back control of your garage with NewAge Products Bold Series Cabinetry. Combining premium quality construction and a compact space-saving design, Bold Series Cabinets keep everything organized and easy to find, without taking up a lot of space. Who knows, you might even get to park a vehicle or two in your garage again!
Pro Series Garage Cabinets
NewAge Products Pro Series collection of storage solutions are engineered for strength and designed with premium features that help you get the job done. Start your garage transformation today with NewAge Products Pro Series cabinetry.
Pro Series Wall-Mounted Steel Shelves
Take advantage of your unused wall space by stacking multiple shelves vertically, side-by-side, around corners or install directly to the ceiling. There's no wrong way to use NewAge Products Pro Wall-Mounted Steel Shelves.
Full-length wall storage that's easily accessible and perfect for bulky items, keeping your garage floor free of clutter. Pro Series Wall-Mounted Steel Shelves. 
Overhead Racks
Take your storage system to greater heights with the NewAge Products VersaRac Pro. The heavy-duty steel overhead rack with double-layered wire grids can support up to 800 lbs. of bulky items, bins, seasonal décor and sports equipment, allowing you to free up valuable garage floor space. With built-in safety features such as the diagonal support bracket for added stability and the 1.5 inch safety lip to prevent gear from sliding off, you can park your car underneath it with confidence.
Workbench Solutions
Create the perfect project workstation for your garage with the Pro Series Adjustable Height Workbench. Our steel Workbench is built tough, to handle any project with an impressive weight capacity of 2,000 lbs. giving you a rock-solid surface. Every project is unique, and you need a workspace that can adjust to meet your needs. The Pro Series Adjustable Height Workbench is the essential workstation for your garage
NewAge
For more information on NewAge please
visit www.newageproducts.com and check us on these social media channels