For over a decade, KRAUS has been transforming ordinary spaces into extraordinary kitchens and bathrooms, with the goal of bringing quality and value into every home. We focus on designing long-lasting, easy-to-install, low-maintenance solutions that help customers create a cleaner and safer living environment. Best known for kitchen sinks, Kraus offers the best value for your money by using high-grade materials, proprietary technologies, and premium value-added items. We strive to continuously raise the bar in terms of quality, function, and design. Transform your kitchen and bath with Kraus, and experience Innovation for Real Life.
Designed for Convenience
✓ Easy DIY installation

✓ Low maintenance designs

✓ Innovative materials that contribute to a cleaner and safer living environment
Why does Mike Holmes believe in Kraus products?
For several reasons: Kraus products are built using best-in-class materials. This means thicker steel, granite composites, and porcelain blends. Their products also have built-in features that boost functionality, like their workstation sinks that come with their own specialized accessories to save you space in your kitchen. Plus, their price points are affordable without compromising on quality or design. They also have a new Clean Home Series product collection that have non-porous surfaces to reduce places where dirt and grime can hide as well as reducing messy build-up for easy cleaning. Ranging from easy-to-clean sinks to faucets with touchless activation that cut down on germ transfer, and 2-in-1 filter faucets that prevent the risk of cross-contamination, Kraus products contribute to a cleaner and more enjoyable kitchen environment. That is why they are part of the Holmes Approved Products.
Industry Recognition
With industry recognition such as the NKBA 30's Choice Award at the Kitchen & Bath Industry Show and Innovation Partner of the Year for 2020 with Lowes, Kraus continues to drive change and innovation in a very traditional space.
Kraus is dedicated to enhancing the future as they continue building new innovations for real life. 
"We love Kraus products because they continuously strive to raise the bar in terms of quality, function, and design."
- THE HOLMES'
CONTRACTORS / TV PERSONALITIES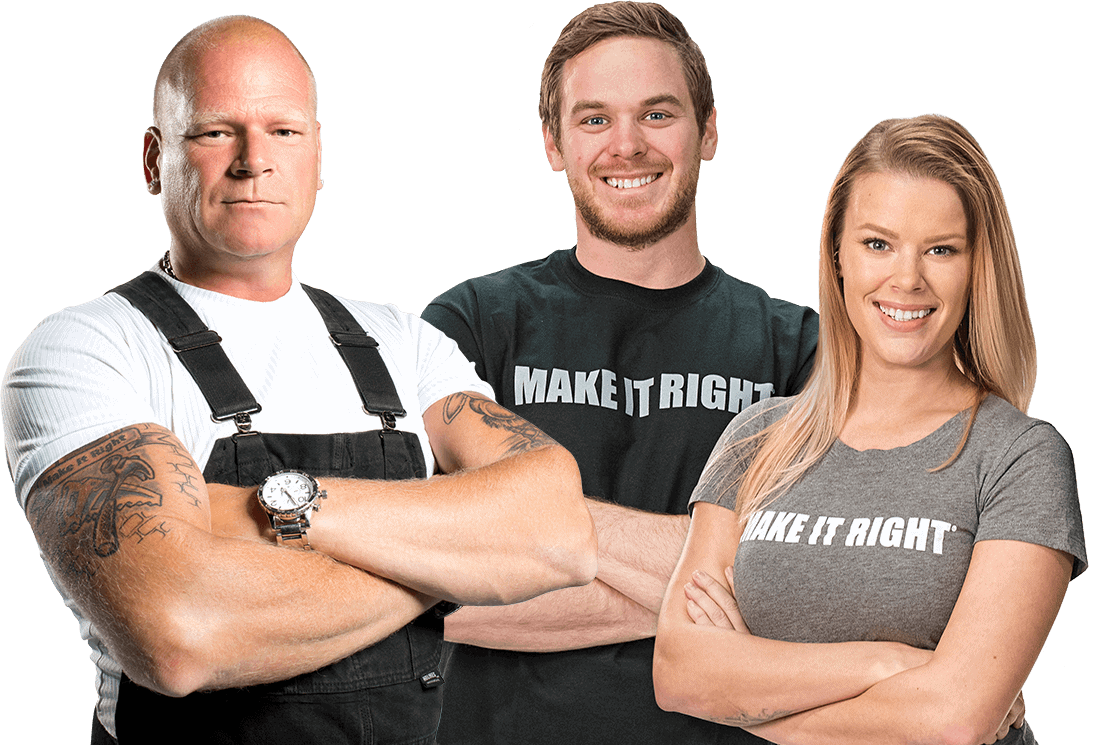 Mike Holmes
PROFESSIONAL CONTRACTOR / TV HOST
Mike Holmes Jr
PROFESSIONAL CONTRACTOR / TV HOST
Sherry Holmes
CONTRACTOR, PART-TIME DESIGNER & WEEKEND DIYER
Kraus Official Website
For more information on Kraus please visit: www.kraususa.com and check us on these social media channels
Kore™ Workstation Series
Discover a whole new way to cook, serve, and entertain with the 
Kore™
 Workstation Series. Engineered for unparalleled functionality, an innovative integrated ledge supports accessories that slide across the sink, streamlining all your kitchen tasks from meal preparation to cleanup. Custom-fit accessories – including heavy-duty 
cutting boards
, 
serving board sets
 with 
mixing bowls
 and 
colanders
, and multipurpose 
roll-up drying mats
– allow you to work right over the sink without taking up an inch of valuable counter space. All high-performance 
Kore™
 Sinks are made with KRAUS TRU16 – the thickest stainless steel on the market – for uncompromising industrial-grade durability. Available in multiple installation styles to suit your needs, this collection includes sleek 
undermount sinks
, versatile 
topmount/drop-in sinks
 that are perfect for retrofitting, and striking 
farmhouse sinks
with bold apron fronts that create a focal point kitchen's style.
Dex™ Stainless Steel Sinks – The Cleanest Sink on the Market 
Dex™ series is paving the way for the future of kitchen sink materials. Between food leftovers and other dirt and grime from daily tasks, the average sink is a perfect environment for bacteria to thrive. The series features clean streamlined contours with gently rounded corners and a non-porous surface that is easy to clean and maintain. The surface of the sink is stain-resistant and finished with a circular brushing that hides scratches that can occur over time. At a time when cleanliness is at the forefront of our minds, this Clean Home Product helps to contribute to a safe and hygienic kitchen environment for you and your family. Select Dex models are also equipped with the innovative DrainAssure™ waterway system which allows for complete sink drainage even when the sink is full of dishes. Available in multiple sizes including ADA compliant models that make this new technology available to a wider range of users, including those with limited mobility. 
Bellucci™ Sinks
Looking for an easy-to-clean sink with a little more flair? With a bold modern design, Bellucci™ Granite Farmhouse Sinks offer incredible style with exceptional cleanability. These sinks are made from a cutting-edge granite composite with the luxurious look and feel of real stone. An advanced moulding process creates a non-porous surface with an ultra-smooth topography that reduces the number of places where dirt and grime can hide. An advanced molding process creates an ultra-smooth, hydro-repellent surface which causes water to bead up and roll off so that the sink stays dry after every use. The bottom of the sink is engineered with an optimal angle to further promote drainage and prevent pooling water that can provide a breeding ground for bacteria. Made in Italy Handcrafted in Italy, the Bellucci™ Series exemplifies a stunning union of advanced engineering and statement-making style. Available in multiple mounting styles including farmhouse, drop-in, and undermount designs, these sinks are a remarkable fusion of beautiful modern design, superior strength, and innovation.
Bolden™ Commercial Style Kitchen Faucet
–
The New Standard of Faucets (Model Number: KSF-1610SFS)
Sensor Faucets
Clean home initiative spans multiple products in the Kraus portfolio. A new iteration of our best selling faucet, the Bolden™Bolden Sensor Faucet is engineered with hands-free activation, allowing you to turn water on and off with just the wave of a hand. Perfect for busy kitchens, this Clean Home™ product cuts down on germ transfer so that you no longer have to touch the faucet spout or handle when cleaning up after messy tasks like preparing raw foods. Bolden's commercial pull down design, optimized for residential use, creates a captivating industrial look with a high-arc open coil spout, and offers the advantage of a compact 18-inch height that fits where other commercial-style faucets can't. This faucet makes an excellent pairing for Kraus Workstation Sinks with a design that fits stylistically and further enhances the functionality of the workspace. The conveniently located sensor sits on the side of the faucet to avoid interference with dishwashing and other kitchen tasks. A built-in timer automatically stops the flow of water after 3 minutes in case of accidental activation. The design features a pull-down sprayhead with Reach™ technology for superior maneuverability and an extended range of motion, allowing you to bend, flex, pivot, and reach all around the kitchen sink. For ease of installation, Bolden™ comes with pre-attached waterlines and all mounting hardware included. Available in several popular finishes, which resists fingerprints, water spots, and fading, for a flawless look with minimal maintenance.
Filter Faucets
Water filtration systems are a rapidly rising trend in kitchen design, with good reason – a filter system allows individuals to obtain pure filtered water on demand, both for consumption and other kitchen uses such as cooking. To ensure easy access to filtered water, Kraus has introduced a new collection of stand-alone water filter faucets in a range of universal designs to address any homeowner's style preference. Compatible with all filtration systems on the market, these lead-free brass faucets connect to a range of under-counter units that purify water while keeping bulky filters out of sight. The high-arc spouts are perfect for filling reusable water bottles, saving hundreds of dollars on bottled water and helping contribute to a cleaner planet. All Kraus Filter Faucets can be paired with a matching primary Kraus faucet for a beautifully cohesive look.