Bosch Thermotechnology is a leading source of high quality heating, cooling and hot water systems. The company offers Bosch tankless, point-of-use and electric water heaters, Bosch and Buderus floor-standing and wall-hung boilers, Bosch and FHP water-source, geothermal and air-source heat pump systems, as well as controls and accessories for every product line.
I always do a lot of research before installing anything on my projects, because to me it's important to use the best products to give homeowners peace of mind. When I was researching heating and cooling systems,
Bosch Thermotechnology
was by far the BEST (and most recommended) solution for heating, cooling, and hot water products offering energy-efficient and environmentally responsible solutions.
If you are in the market for a water heater, heat pump system or boiler, I highly recommend Bosh Heating & Cooling.
"Bosch is the leading source of high-quality heating, cooling and hot water systems and that's why I am only installing Bosch products on my next projects"
– MIKE HOLMES
CONTRACTOR / TV PERSONALITY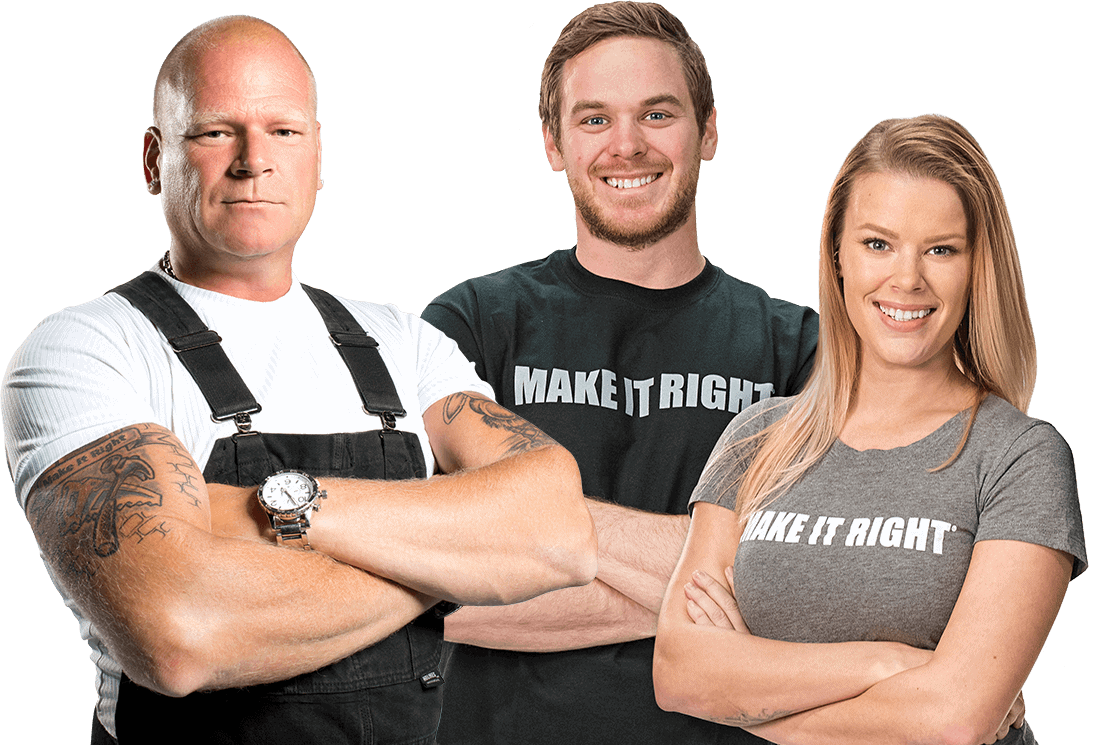 Mike Holmes
PROFESSIONAL CONTRACTOR / TV HOST
Mike Holmes Jr
PROFESSIONAL CONTRACTOR / TV HOST
Sherry Holmes
CONTRACTOR AND TV HOST
Bosch Heat Pumps Inverter Ducted Split Family (IDS)
The Bosch Inverter Ducted Split Family provides supremely efficient comfort by providing precise indoor temperature and humidity control and adjusting compressor capacity, thereby reducing operating costs and saving you money. With enhanced humidity control and higher efficiency, the performance of the Bosch IDS Family provides you with maximum comfort with minimum energy usage! 
IDS stands for Inverter Ducted Split
Quality engineering, quiet performance, and an unbeatable warranty from Bosch deliver exceptional home comfort.
Fully modulating inverter drive to precisely match the heating/cooling load
One of the quietest and most compact air-to-air systems with outdoor sound levels as low as 56
dBA
Fast response, the boosted compressor speed of inverter systems allows for quicker, smoother and more efficient heating and cooling
Consume only the energy you need
Consistent room temperature
Intelligent control, the system will adjust the output capacity to match your ideal temperature requirements. 
4 Components = 3 Different Systems
10-year Residential Limited Warranty
Please visit www.bosch-thermotechnology.us to learn more.

Bosch Greentherm 9000 Tankless Water Heater Installer Benefits
This condensing high-efficiency gas tankless water heater is the first of its kind. It delivers endless hot water on demand, along with a user-friendly high resolution color interface, easy installation, and best of all, peace of mind
Space-saving, state-of-the-art tankless design
Ultra efficient with UEF ratings up to 0.96
Auto-tuning for optimal performance
High resolution color LCD interface
Wi-Fi accessory & App increases functionality
Ability to control external pumps
Industry leading 22:1 turn down ratio
60ft venting using 2″ pipe
Ultra Low NOx Certified
Integrated freeze protection
Stainless Steel condensing heat exchanger
Please visit www.bosch-thermotechnology.us to learn more.
Bosch Boilers
Bosch Thermotechnology is a leading source of high-quality heating, cooling and hot water systems. I am excited to introduce to you the Bosch line of boilers. I love that they can offer you high-quality, cost-effective solutions to heat your home. They really have something for every homeowner.  
See below for more information on the Bosch Greenstar and Singular Combi Boilers.
Bosch Greenstar
The Bosch Greenstar is the World's Best Selling Residential Condensing Boiler System, with over 4 million sold world wide. Greenstar is ideal for providing comfortable heating and domestic hot water. Greenstar's ultra quiet operation is perfect for radiant heating with panel radiators, in floor radiant, or baseboards.
Broad BTU Output Range: Floor and Wall models with 95%AFUE and up to 5:1 modulation are available in 5 Heat-Only and 3 Combi sizes
Simplified Installation: Integral pump is standard on all models
Unique heat exchanger uses silicon in the alloy mixture to reduce service interval to every 5 years, maintain high efficiency and dramatically extend boiler life.
Combi Models High DHW Output: Up to 4 GPM DHW output on Combi models – based on ΔT at 72°F / 40°C.Large plate heat exchanger allows for lower operating temperatures and larger ΔT in DHW mode for higher efficiency and condensing operation
Many standard venting options: polypropylene (PP),flexible PP chimney liner, concentric PP kit, PVC or CPVC
Please visit www.bosch-thermotechnology.us to learn more.
Singular
Bosch Singular combi boilers are the "singular solution" for efficient, dependable home heating with up to 7.7 gallons per minute of domestic hot water production. Singular boilers are a cost-effective wall-mounted combi boiler that can be used in many hydronic heating applications.
High-efficiency condensing combi wall boiler – 95% AFUE rating
Built-in boiler circulator pump
Stainless steel primary & secondary heat exchangers for cost-effective, reliable performance
All models are field convertible from NG to LP with included conversion kit
Capable of outdoor reset with accessory temperature sensor (not included)
Eco-friendly low NOx metal fiber burner
Turndown ratio up to 10:1
2″ PVC vent up to 60′ (3″ venting up to 150′)
Exhaust gas temperature sensor ensures safe operation
10-year heat exchanger, 5-year parts, and 1-year labor limited warranty§
Please visit www.bosch-thermotechnology.us to learn more.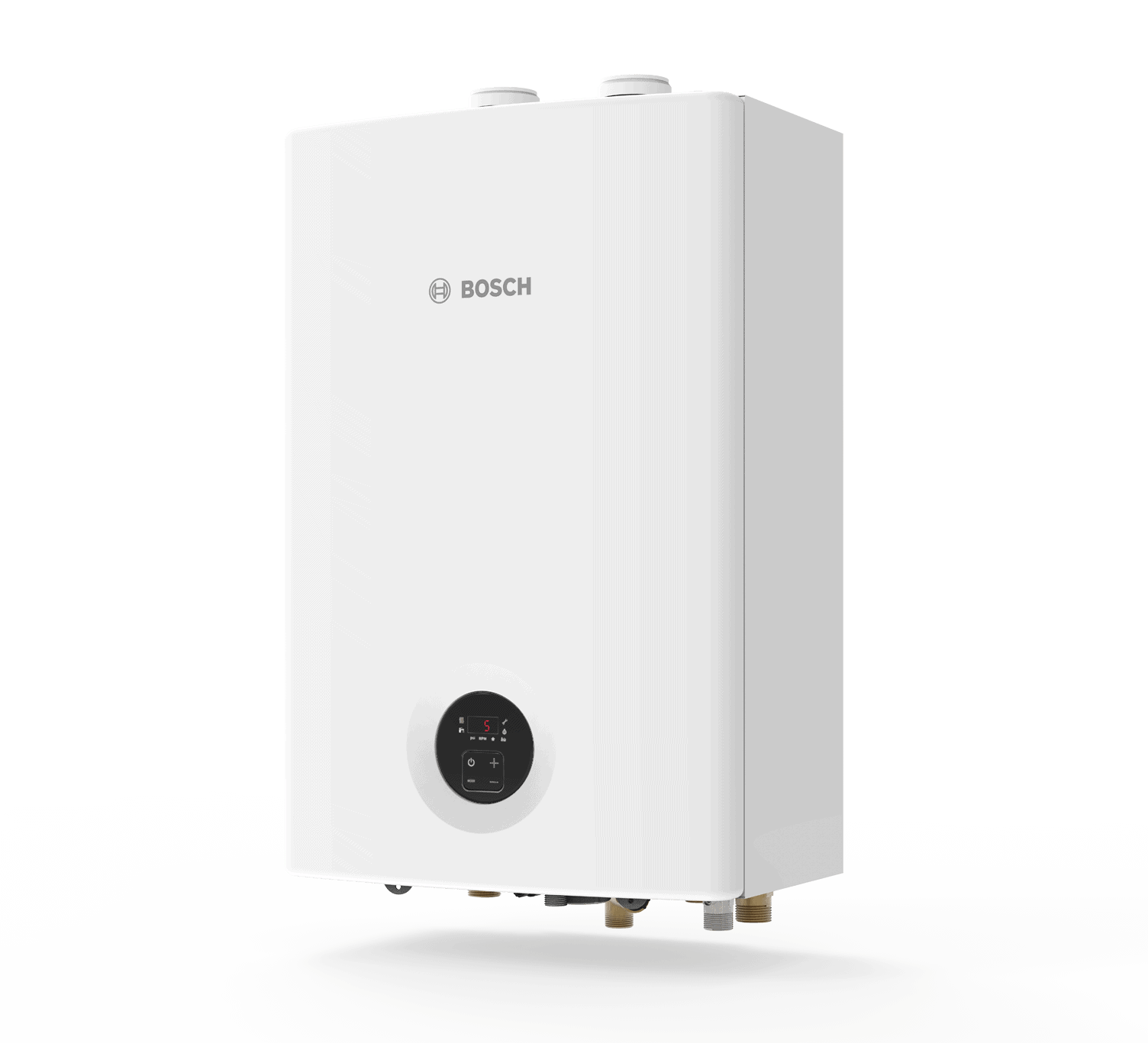 Before Everything, There's Bosch.
Simple. Reliable. Innovative.
We are committed to reinventing energy efficiency by offering smart products that work together as integrated systems that enhance quality of life in an ultra-efficient and environmentally friendly manner.
Bosch strives to bring the most energy-efficient and environmentally responsible products to global consumers. In delivering the best products at affordable prices to our markets, Bosch has established multiple collaborations and joint ventures on a global scale to bring the latest technologies to North America. All global manufacturing facilities must adhere to stringent quality standards in order to provide the trusted Bosch brand.